Online Shopping Satisfaction, Every Time
Gillian Barth

Debt-Proof Living

2009

7 Dec
It's almost Christmas and, finally, all the boxes you ordered online have arrived—gifts for family and friends. You found coupons, free shipping and cyber savings that were impossible to beat.

You mostly bought from major retailers, but there was one item that you ordered from a vendor that you didn't recognize. Your son wants noise-cancelling headphones for Christmas and you found a set of brand new Bose for $97.57. Normally they retail for nearly $300. What luck. But now you're worried. These don't look like the real Bose at all. You think they might be counterfeit.

The truth is that shopping online is not like shopping in a physical store. For one thing, fakes abound on the Internet. eBay is currently embroiled in a lawsuit with Tiffany & Co. after the jewelry giant found that 73 percent of a random sample of its products listed for sale on eBay were not real. Marked down name-brand electronics are notorious for being fakes made in China. The Federal Trade Commission warns that "Name-brand items at greatly reduced prices could be counterfeit."

No doubt authentic bargains can be found on the Internet, but you must know how to take wise precautions to ensure secure and satisfactory purchases. When things go wrong, you must know how to remedy the situation.

Before You Buy

Background. Do a background check on an unfamiliar retailer before you pay. Find the seller's phone number and actually call it. If you can't find a working phone number now, you can be certain you won't have a way to reach customer service if something goes wrong with your order. Consider this a red flag and find the product elsewhere.

Reviews. If you find a working number, don't stop there. Use a search engine to look for reviews on the retailer in question. Pay close attention to unfavorable reviews, especially when products were never received or substitutions were made without notification. You can be sure that a retailer with more poor reviews than good ones will not be reliable and not worth the risk.

Returns. Make sure you feel comfortable with the return policy. Some merchants give extra time for returns during the holidays and will even cover the cost of shipping if you return the product. Others will give you only a week and will charge a restocking fee on top of shipping, if they accept returns at all. If this is the case, you better be pretty darn sure that you can trust the retailer to send the correct product (and be sure that you want the product).

After You Buy

So you made a big mistake ordering those phony Bose headphones. You didn't know they were counterfeit and now you can't reach a customer service department to get your money back. What should you do?

Call. Your first step should always be to contact the retailer directly. If the company does not respond to your complaint, however, there are other courses of action that you can take, up to and including legal action. You can start by filing a complaint with the Better Business Bureau at bbb.org. Companies have the chance to respond directly to complaints through the BBB, and this may be enough to resolve your problem.

Report. If you feel more action is necessary, consumer advocacy websites like econsumer.gov allow you to report complaints that are then passed on to the FTC, which investigates scams, fraud and other illegal activities. These protection agencies also offer Alternative Dispute Resolution, or ADR, which uses a third party to mediate, arbitrate or negotiate a resolution between you and the offending retailer.

You don't have to let an online merchant get away with misleading or substandard business tactics. Protect yourself by doing your research before you order and then hold the retailer accountable if things go wrong.
Ground Rules for Online Shopping
Always pay with a credit card online. If you are not satisfied with your order, you can dispute the charge. You are also protected by federal law from unauthorized charges.

Never enter a credit card number into an unsecured page. Look for "https" at the start of the web address to be sure it is secure.

Do not order over an unsecured Internet connection, like WiFi at the library or coffee shop.

Make sure that your computer has anti-virus and anti-spyware software and a firewall to keep scammers from gaining remote access to your personal computer.

Delete unsolicited pop ups or emails, especially if they ask you for a login, password or personal financial information. You can be sure these are scams.

Only buy name-brand products from authorized sellers to avoid fakes.
If Things Turn Ugly
Report poor business practices to the Better Business Bureau at bbb.org and receive a response from the retailer.
Report suspicious or illegal activity to the Federal Trade Commission at ftc.gov or (877) 382-4357.
Have a third party mediate your dispute at econsumer.gov.
Learn your rights and become a smart shopper at safeshopping.org, an informational website for consumers created by the American Bar Association.
Everyday Cheapskate is a Registered Trademark.
Copyright © 2009 Mary Hunt. All rights reserved. Permission to reprint required.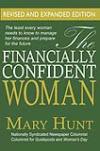 Check out Mary's recently released revised and expanded edition of The Financially Confident Woman (DPL Press, 2008).
Debt-Proof Living was founded in 1992 by Mary Hunt. What began as a newsletter to encourage and empower people to break free from the bondage of consumer debt has grown into a huge community of ordinary people who have achieved remarkable success in their quest to effectively manage their money and stay out of debt. Today, "Debt-Proof Living" is read by close to 100,000 cheapskates. Click here to subscribe. Also, you can receive Mary's free daily e-mail "Everyday Cheapskate" by signing up at EverydayCheapskate.com.