Out of the Dark Tunnel and into the Sunshine


This morning, on my way to the office, I conducted an impromptu inspection of my little world in Southern California. Despite all the threatening headlines and doom-filled stories of the day, everything was going on just as it has for a very long time.
I didn't see fewer cars on the freeway and there was not a single For Sale sign in my neighborhood. Schools were bustling with kids and teachers, restaurants were backed up for seating and the sun was shining.
Over the past few months, I've received the same email message more times than I care to count. It goes like this:
"Due to recent economic crises, the stock market crash, budget cuts, rising unemployment, unstable world conditions, outsourcing of business, the cost of insurance, electricity, petroleum and taxes of all kinds, we regret to advise you that the Light at the End of the Tunnel has been turned off. We apologize for the inconvenience."
What makes me cranky is that millions of people believe it. Through no fault of their own, they believe their lives are now intolerable and their futures are doomed to failure while they sit paralyzed in a dark tunnel. They've become victims of The Recession.
It is a fact that the national economy of the U.S. is in a downturn, and economists say we are now in a recession. It's not the first time, nor will it be the last. Whether this recession is worse than any since the Great Depression is not certain. What we do know is that we still have 93 percent employment. Out of more than 10,000 banks in the U.S., fewer than 25 have gone under in the past year. Sure, some national retailers have closed up shop and undoubtedly others will follow, but that's nothing new. It's a sure bet that we will not be facing a shortage of stores anytime soon.
This is certainly not to underestimate or diminish what many of my readers are facing now in the wake of job layoffs and challenging times. Just don't blame the economy or feel sorry for yourself. This is life. Life happens. Perhaps you can begin to see that as a good thing. Think of it as an untimed opportunity to start your own business, change careers or move to another area. Great opportunities often come disguised as crises.
Today, I am renewing my commitment to focus on only those things that are true, honorable, fair, just, pure, acceptable and lovely. I absolutely refuse to get stuck in some dark tunnel where failure is the only option. That's why I've backed my train out of the tunnel and into the bright sunshine of optimism. I've plotted my detour, my boilers are stoked and steam is pouring through my engines. It's full speed ahead.
Are you with me? If so (or if not), post a comment on my blog, "Money Rules Debt Stinks," at www.moneyrulesdebtstinks.com, and tell me why.

Published March 30, 2009.

---
Copyright © 2009 Mary Hunt. All rights reserved. Permission to reprint required.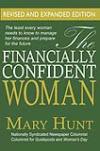 Check out Mary's recently released revised and expanded edition of The Financially Confident Woman (DPL Press, 2008).
Debt-Proof Living was founded in 1992 by Mary Hunt. What began as a newsletter to encourage and empower people to break free from the bondage of consumer debt has grown into a huge community of ordinary people who have achieved remarkable success in their quest to effectively manage their money and stay out of debt. Today, "Debt-Proof Living" is read by close to 100,000 cheapskates. Click here to subscribe. Also, you can receive Mary's free daily e-mail "Everyday Cheapskate" by signing up at EverydayCheapskate.com.