Planning a Wonderful, Enjoyable, Affordable Wedding
Jill Barville

Sound Mind Investing

2010

7 Jul
Congratulations, you're engaged! Now you must plan what will likely be one of the most memorable, important, and expensive days of your life — your wedding. You will be inundated with advice on all the elements of a "perfect" wedding: gorgeous gown, fragrant flowers, mood-setting music and a church packed with loved ones.
How much will it cost? Even with the recent recession prompting couples (and their families) to cut back, weddings in the U.S. currently have an average sticker price of $19,581, according to CostofWedding.com.
Of course, true "perfection" probably isn't attainable at any price. So it's better to make it your goal to have an affordable, yet wonderful wedding. How? Start with a budget.
Three Steps to Setting the Budget
1. Know what you want. As a couple, talk through what's important to each of you and to your families, while resisting the urge to do something just because others did it at their wedding. "You have to get rid of the competitive mindset," says Sharon Naylor, author of 1001 Ways To Save Money. . .and Still Have a Dazzling Wedding . "Your wedding doesn't have to be better than somebody else's."
2. Know the market. Each area of the country is different, so you'll need to research local trends to establish a realistic budget baseline. Naylor recommends asking recently married friends for recommendations and interviewing five or six vendors for each service.
"This allows you to gather info about what is being done in the industry and what pricing is like, and to find a vendor you vibe with," she says.
And just as with a major purchase such as a home or car, "shoe-leather shopping" will help you budget — and bargain — more effectively.
3. Set priorities and price limits. Reassess your wish list, deciding which items are imperative, which you're willing to cut corners on, and which you can do without.
"A lot of people think there are mandatory items or aspects of a wedding," says blogger Jessica Bishop of TheBudgetSavvyBride.com. "I say rules are meant to be broken.... If you and your groom don't like cake, have an ice cream bar instead! If something is just totally not you, then find an alternative that suits you best. In the end it will make for a more personal and meaningful day that better reflects who you are as a couple."
Basing your budget on your priorities and the ballpark figures you gather will enable you to plan a meaningful wedding, while avoiding unpleasant financial fallout. If there's a disparity between what you want and what you can afford, you'll have to get creative and find ways to stretch your dollars.
Five Ways to Stretch Your Money
1. Timing is everything. Use time to your advantage. By scheduling your wedding for a less popular time, day, or even hour — say a Friday evening in April rather than a Saturday evening in July — the basic economies of supply and demand will work for you rather than against you.
"Vendors have to pay their mortgages 12 months out of the year and will often knock down prices and throw in freebies just to work during an off-time," says Alan Fields, co-author of Bridal Bargains . Additionally, your favorite vendors are more likely to be available if you schedule your wedding for an off-peak day or date.
Having a long lead time to save, plan, and search for discounts also can bring your costs down.
"The more time a couple has to plan their wedding, the greater opportunity to find the deals," says pastor and writer Todd Outcalt, author of Your Beautiful Wedding on Any Budget . "Couples can think about what they need, what they want, and start looking for great values."
2. Consumer rules apply. Be a savvy consumer: do your research, shop around for the best price and quality, negotiate vendor terms, stay organized, and resist pressure to spend beyond your budget. Also, read the fine print on contracts and keep a paper trail of any changes to avoid unexpected fees.
Wise wedding shopping also requires a bit of bargain hunting — using your effort and ingenuity to find savings. From sample sales and coupon clipping to renting, borrowing, or even bartering, you can cut costs on almost every aspect of the wedding.
3. Control the guest list. The size of the guest list has a direct impact on costs — from venue and food to table decorations — so keeping it manageable is key to keeping costs down.
"Guest list inflation is where people go wrong," says Alan Fields, explaining that you shouldn't feel obligated to invite every coworker, third cousin, or person who invited you to his or her wedding. "That is a social mine field people have to navigate."
4. Do it yourself. You can do almost everything in your wedding — and do it for less: centerpieces, decorations, invitations, bouquets, bridal attire, and food. The only prerequisite is time, desire, and patience.
Even the craft-impaired can do many things themselves by following the precise instructions of an expert, whether from a website, book, or a class at the local craft store.
5. Involve your network. By enlisting help from willing friends and family, their volunteered (or discounted) skills and resources can help make your wedding preparation less costly and more meaningful.
"You want to get everybody on the same page by finding out what they want to work on and where they might have connections," says author Sharon Naylor. "Your father-in-law might know people in the limo business. That is a great way to get the friends-and-family discount.... Tapping into talents within your circle allows them to add something special and personalized to the wedding."
Putting It Into Perspective
Weddings can be as unique as the happy couple, and the available ways to spend and save are endless. If you're willing to plan according to a value-based budget, you can make your wedding not only meaningful, memorable, and enjoyable, but also affordable. And while the wedding lasts only one day, the positive things a couple can learn from planning well can last a lifetime.
"Sitting down and forming a budget…is good practice for when they are married," says pastor and author Todd Outcalt, noting that financial stress is one of the top reasons couples divorce. He advises couples to communicate regularly about finances, starting with the wedding budget. "Talk about money in a level headed, approachable way. If they really love each other, they will want to talk about a lot of things in life — to trust [each other] and lay things out on the table and talk about them."
Planning an affordable wedding involves clear communication, compromise, and compassion — important ingredients in a successful marriage. And that's what the wedding is all about anyway: your lifelong love and commitment to each other.
July 7, 2010
© Sound Mind Investing

Published since 1990, Sound Mind Investing is America's best-selling financial newsletter written from a biblical perspective. Visit the Sound Mind Investing website .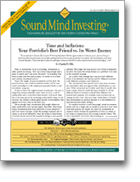 20th Anniversary Special Offer: During July, Get a Free 30 Day Trial Web Membership!