A Different View of Stewardship: Tithing Our Time
Mark Biller

Sound Mind Investing

2011

13 Jul

COMMENTS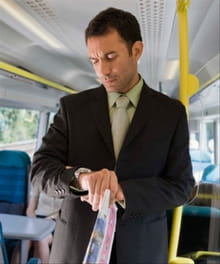 I shouldn't have been surprised when my latest mental wrestling match coincided with the roar of the lawnmower engine, since my best thinking often happens there. A new exercise program was cramping my schedule, and the battle was raging to hammer out a workable daily routine.
Many of you can relate: up at 6 a.m. to exercise, then an eight-hour (plus a little) workday, home around 6 p.m. With eight hours of sleep a goal, that leaves four hours for everything else. Let's review that list: time with my wife, playing with my children, yard work, paying bills, small group church meetings, researching investments, upkeep on the house — you can add a dozen more items, and unfortunately so can I (without even including a rare Dodgers game on TV).
Notice anything conspicuously absent from my list? I did, and it was troubling me as I pushed the mower. Time with God. As I mowed, I compared the way I manage my finances with the way I manage my schedule, and I didn't like what I saw.
When my wife and I budget, the first item we write down is our tithe. We don't adjust our tithe to fit what's left after the bills are paid, we adjust our bills to fit what's left after our tithe is paid. I'd been approaching my schedule in exactly the opposite manner.
"But," I reasoned to myself, "I ought to be doing all these things as a good Christian husband and father." Christian and secular sources alike remind me regularly of my duties: I'm supposed to have meaningful conversation each evening and a weekly date night with my spouse, love to my kids is spelled t-i-m-e, exercise is critical to my long-term health, be mindful that social security may not be there when I retire, keep adding new professional skills, save for my daughter's education at a time when college costs are rocketing up. . .
"Seek ye first the kingdom," came the reply to the question I hadn't asked. "What?" was my impressive response. "Seek first his kingdom and his righteousness, and all these things will be added unto you."
As I kept pushing the mower, I got it. These responsibilities for my health, my marriage, my kids, my finances, my future — they aren't really mine. Sure, each deserves my best effort, but ultimately the outcomes aren't up to me. I started to see that stewardship is more than tithing and trusting God to provide for me financially. It doesn't "make sense" to give away money and then expect more than enough financially, but I have faith for that outcome when we're talking finances.
My difficulty is with time — I need to quit "making sense" of my schedule by giving time first to God, and then trusting Him for blessings in these other areas of my life that require my time. If God is faithful to provide for every material need, can't He also be trusted to meet every "time" need?
I believe He can, especially if we get our scheduling priorities right — make time first for His kingdom, then the rest can be "added unto" us.
Published since 1990, Sound Mind Investing is America's best-selling financial newsletter written from a biblical perspective. Visit the Sound Mind Investing website .
SMI 21st Anniversary Special: Get a Free 30-Day trial membership during July.
Plus, learn more about the newly updated 5th Edition Sound Mind Investing Handbook, available at a 35 percent discount.