How to Garage-Sale Proof Gifts
Mary Hunt

DebtProofLiving.com

2012

10 Sep

COMMENTS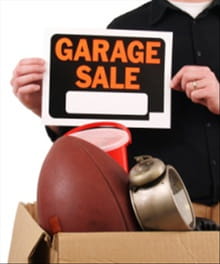 Editor's note: This article appeared originally at Debt-Proof Living on July 1st 2011.
Several weekends ago, quite a number of families in my neighborhood got together to host a colossal Neighborhood Garage Sale. I didn't participate as a seller but did my share of browsing.
Of course, I was hoping to come across a couple of Longaberger baskets for a buck. Or a lamp with Tiffany written all over it, but in that secret place only we Antiques Roadshow groupies know about.
That didn't happen.
While I didn't carry anything back to my house, I did pick up something quite valuable: A healthy dose of reality. Gift reality.
Most of what people were trying to unload that day were not antiques. There were a few pieces of furniture but I didn't see a single collectible on table after table. What I saw were gifts—recognizable items once displayed on the pages of well-designed catalogs; items that were artfully arranged in department store cases. But they don't look the same once opened and then left to languish in the hot sun on someone's driveway.
Beautiful gift baskets filled with lots of little gadgets and trinkets, pulled together with cellophane and ribbon lose all their attractiveness when dismembered and tossed into a box marked $.25 each.
I saw Chia Pets, kitchen gadgets, stuff still unopened yet proudly announcing "As seen on TV!"
There were useless, albeit whimsical, coffee mugs and more than one singing bass (more annoying than funny). You name it, if it was a popular gift item in years gone by, you can be sure it was well-represented at this sale.
Meandering through that gift graveyard made me take a long hard look at this whole matter of gift-giving. I can tell you for sure that from now on gifts I give will have to pass more than the price test. They'll have to pass my garage sale test: What is the likelihood this item will end up on a garage sale table? I'll be happy when the answer is always "Not a chance!"
Now that we are well into the season of weddings and showers; hostess gifts and birthdays—with the winter holidays not so far in the future—what better time to visit this matter of gift-giving.
How to garage-sale proof your gifts
If you want to make sure the gifts you give have a low garage sale probability factor, you need a guiding set of principles to follow.
Cards are good. Not every occasion requires a gift. Sending a card with a well-thought out handwritten message can perfectly convey the sentiment of the occasion. If you take the time and put out the effort, the message you write will be the gift. Caution: This tactic seldom works with individuals under the age of 16.
Avoid the gags. Funny gifts that bring a wild round of laughter when opened and then scuttled off to a closet to become yet another piece of clutter, are perfect candidates for garage sales. Avoid them.
Appeal to passion. When deciding on a gift, your first question should be what is this person passionate about? I can't say I have never received a gift that reflected the person who gave it to me more than something I'm interested in. I can't say that because the people who give me gifts read this newsletter. But you get the point.
Giving a gift that touches what is meaningful in the recipient's life will never find its way to the garage sale.
Consider consumables. Gifts that are designed to be enjoyed for a limited time like food or flowers are always a safe bet and will never find their way to the garage sale table.
Cash and the like. As impersonal as anyone might find a gift of money, if keeping the gifts you give out of the secondary market is important to you, this is the way to go.
"Debt-Proof Living" was founded in 1992 by Mary Hunt. What began as a newsletter to encourage and empower people to break free from the bondage of consumer debt has grown into a huge community of ordinary people who have achieved remarkable success in their quest to effectively manage their money and stay out of debt. Today, "The Cheapskate Monthly" is read by close to 100,000 Cheapskates. Click here to subscribe.
Publication date: September 10, 2012