Money Lessons for New Grads
Matt Bell

SoundMindInvesting.com

2011

20 May

COMMENTS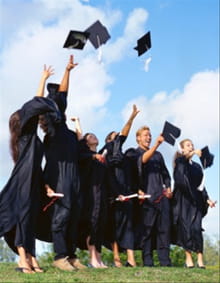 Congrats to the graduating college class of 2011.
Since most of the money management lessons I've learned since college have come about by making mistakes, here's my attempt at sparing you the pain.
Find a Mentor. Once you find a job, notice who's doing what you'd like to be doing in five or ten years. See if they'll spend some time with you (a monthly lunch, for example) sharing the lessons they've learned along the way. My guess is they'll be impressed that you asked and happy to help. See what they have to say about the skills, experiences, and connections you'll need to get to where you want to be.
Continue Your Education. If your employer offers tuition reimbursement, take them up on that. If you're single and renting, you'll never have more flexibility to work a night class into your schedule, and since it's on your employer's dime, all the better. You'll increase your earning power and make valuable new contacts.
Put Together a Plan. For a long time, the idea of using a budget was a complete yawner. But with free online tools like Mint budgeting has never been easier or more enjoyable. Use my Recommended Spending Guidelinesto set up your planned spending for groceries, clothing, entertainment, and all the rest. Then let Mint do the work of tracking your expenses.
Pay Your Purpose First. Happiness researchers say living for something bigger than ourselves is a big key to a meaningful life. Of course, for Christians, there's nothing – or no One – bigger than God. Get in the habit of devoting a percentage of your income to supporting God's work in the world.
Pay Yourself Second. Put away a portion of every paycheck – first in a savings account so you can stock an emergency fund with at least three months' worth of living expenses, and then in an investment account for your later years. Time is one of your greatest assets. Put a little away each month now and you won't have play catch-up later. If your employer offers to match a portion of what you contribute to its 401(k) plan, don't miss out. That's the easiest money you'll ever make.
Ditch the Debt. If you will take the uncommon step of living well beneath your means now so you can wipe out your student loans or other debts ASAP, you will set yourself up for a lifetime of uncommon financial freedom and success. Your friends with the new cars may be smiling now, but you'll be the one whose smile lasts longer if you make it a priority to get out of debt.
Keep Housing Costs Down. Of course, the ultimate housing cost-saver is to move back with mom and dad for a while. And plenty of new grads are planning to do just that. If you're out on your own, spend no more than 25 percent of your monthly gross income on housing.
Learn to Cook. Food is one of the biggest expense items for most people and restaurants are really expensive alternatives to dorm cafeterias. Getting in the habit of making more meals than you buy will make you healthier and wealthier.
Choose Experiences Over Stuff. Did I mention that you'll never have more flexibility than you have right now? Set aside some money each month for vacations. If you can afford to do so without debt, now's the time of life to go see France or New Zealand or wherever else you'd like to go. The richness you'll get from the experiences will last a lot longer than the happiness you'll get from a new couch.
What other financial advice would you give to a new grad?
Matt Bell is the author of three personal finance books published by NavPress, including the brand new "Money & Marriage: A Complete Guide for Engaged and Newly Married Couples." He teaches a wide variety of workshops, including MoneySmart Marriage, at churches, conferences, universities, and other venues throughout the country. To learn more about his work and subscribe to his blog, go to: www.mattaboutmoney.com.