Reasons to Think Twice Before Buying a House

Americans love their homes. My involvement in the real estate business over the last 30 years has taught me a lot. Frequently as I present the No Debt No Sweat! Christian Money Management Seminar people have questions about real estate: "How much can I afford?" "Which is best: a 30-year or a 15-year mortgage?" "What should I know before I buy my first home?"
These are some things that would concern me about a house. These don't necessarily have to be red lights to your purchase plan, but they should serve, at least, as yellow caution lights.
• The biggest, most expensive home in the neighborhood. Remember, in most situations a given home's appraised value is somewhat contingent on what other houses in the area are selling for. The most expensive home in the neighborhood may not appreciate as fast as one of the less expensive homes in the same neighborhood.
• Homes that are close to property zoned for retail, business, or other non-residential purposes. Traditionally, most people have been willing to pay more for homes in areas reserved strictly for residential use. However, this is beginning to change in some urban areas today as expensive, planned residential developments are now being built very close to office and retail complexes.
• Houses with odd or unusual design treatments. I just got off the phone this afternoon with a homebuilder friend of mine. He was telling me about an expensive, new house he's building for a couple that has recently moved to Nashville from Canada. The owners have decided on some pretty unique treatments including a metal roof and no interior baseboard trim. I don't know anything about Canadian-style homes, but I do know something about the grits and guitars crowd here in Nashville-and it doesn't include metal roofs and walls without moldings! While these good people from the north may enjoy their uniquely designed home-one day they are probably going to have a hard time selling it.
• Areas where there is little or no code enforcement. If you see overgrown yards with cars jacked up out front-that's not a good sign. Also, check to see that most of the homes in the neighborhood are generally comparable in value.
• High-density areas. I like to encourage people to drive by the home they are considering during the peak traffic hours (usually between 7:00-9:00 am and 4:00-6:00 pm) to see if they will be happy with the noise and congestion. Will it be easy getting in and out of your driveway during those times?
• Lifestyle concerns. Are you in the airport's flight line? Will car headlights be flashing in your windows every evening?
• Areas that are prone to flooding and other natural disasters.
• Houses that are functionally obsolete. This can take many forms. For instance, a four-bedroom home with only one bathroom is going to be tougher to resell. Is there adequate ceiling height in the basement? Is the garage actually big enough to allow you to open your car doors? Is there central air conditioning and heating?
Originally posted Novemeber 10, 2004.


Steve Diggs presents the No Debt, No Sweat! Christian Money Management Seminar at churches and other venues nationwide. Visit Steve on the Web at www.stevediggs.com or call 615-834-3063. The author of several books, today Steve serves as a minister for the Antioch Church of Christ in Nashville. For 25 years he was President of the Franklin Group, Inc. Steve and Bonnie have four children whom they have home schooled. The family lives in Brentwood, Tennessee.

A complete financial compendium, 19 chapters
• What you can do today to get out of debt and kill the Debt Monster
• A,B,C's of handling your money God's way
• How to save, invest, and retire wisely
• How mutual funds work
• How to stop fighting over money
• What to teach your kids about money
• Learn how home & car buying, college financing and insurance work.
• How to develop a budget that works-FOREVER!
• Features simple charts, graphs, and easy-to-use forms.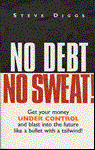 Click here to LEARN MORE or to ORDER