Save Money on Your Insurance Coverage

Do you remember the good old days? I do. That was when we had grown ups in the White House; and the guys who started the fire weren't the same ones in charge of putting it out with buckets of gasoline. That was before AIG stood for arrogance, ignorance, and greed. Those were good times. We actually trusted insurance companies and we had some sense that they would honor their commitments.
Today, we are all a bit wiser, if not more jaded. According to one recent study a third of all Americans said they would consider making coverage cutbacks this year.
But, it's important to remember that Jesus never promised us a life of ease. As a matter of fact, He was the One who told us to "be as wise as serpents, but as meek as doves." So, in keeping with that command, let's look at some ways to function productively in a challenging world, and talk about some practical things we can do that might save big dollars on insurance costs.
When it comes to car and homeowners coverage think: high deductibles. Bumping your car deductible from $200 to $1,000 might save over 30% in some cases. Consider dumping the collision and comprehensive coverage if you're car is more than five or six years old. Do the math and decide if you're getting your money's worth. Be sure to tell your auto insurer if you've added an alarm system or got a kid who makes great grades. If you're 55 or older ask if you qualify for a homeowner's discount.
Despite what some life insurance salesmen claim, whole life insurance isn't always the best deal—despite the promise of a "retirement account." You can pay a lot for that paltry benefit. A 40-year-old who wants $500,000 coverage might spend $5000-plus annually for a whole life policy. That same 40 year old might find a term policy for around $500 yearly. For many people the old adage makes sense, buy term and invest the difference. And, besides, with term rates at record lows, term insurance is too cheap to ignore.
People often ask me how much life insurance they need. Everyone has a different opinion, but I like for folks to carry at least 8 to 12 times their annual income. Another important life insurance reminder: Don't forget Mom even if she doesn't work outside the home. To do this, figure out how much it would cost to replace the homemaking, child care, clerical work, and 9 million other things she does. Then figure what it'd cost to replicate those jobs. Could you do it for $40,000, $60,000, or $80,000 yearly? Then multiply that number by 8 to 12 times. That's what we need for Mom.
Finally be an aggressive shopper. Prices vary between companies. Review your various policies regularly. And, let your agent know you're doing it. You might be surprised at how useful he may become at helping you find hidden savings. But remember, all insurance companies are not created equal. Compare each company's strengths and ratings. Also, check with state regulators or go to http://www.insure.com/ to be sure the company you're considering isn't a consumer complaint magnet.
Finally, remember the old saying, "If you buy your guitar at Sears, you ought to get your strings there too." Consider bundling your policies with one company. Sometimes there are huge savings when you buy your life, auto, homeowners, and other coverage from the same insurer.
Published April 27, 2009.
---
Steve Diggs
presents the No Debt No Sweat! Christian Money Management Seminar at churches and other venues nationwide. Visit Steve on the Web at
www.stevediggs.com
or call 615-834-3063. The author of several books, today Steve serves as a minister for the Antioch Church of Christ in Nashville. For 25 years he was President of the Franklin Group, Inc. Steve and Bonnie have four children whom they have home schooled. The family lives in Brentwood, Tennessee.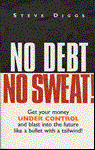 A complete financial compendium, 19 chapters
• What you can do today to get out of debt and kill the Debt Monster
• A,B,C's of handling your money God's way
• How to save, invest, and retire wisely
• How mutual funds work
• How to stop fighting over money
• What to teach your kids about money
• Learn how home & car buying, college financing and insurance work.
• How to develop a budget that works -- forever!
• Features simple charts, graphs, and easy-to-use forms.
Click here to learn more or to order.