Saying No to Fancy Recipes Saves Money

If you're tempted to try one of the endless "fancy" recipes that flood the magazine racks this holiday season, don't. In the past I've succumbed to the temptation of dropping my traditional recipes after drooling over a vivid photo of a "7-Layer-Luscious-Something."
After several departures from my tried-and-true holiday recipes, I found I spent more money, time and stress, and ended up with unwanted and wasted leftovers. I finally said "No more!" Simple, tasty, traditional recipes are always a winner. If you're in need of a traditional, budget-friendly holiday menu, head on over to E-Mealz.
You can keep your spending under control on your holiday menu if you look for recipes that will…
Have the fewest ingredients, like basic pumpkin pie instead of a specialty pumpkin pie with twice the ingredients
Feature ingredients that you have in you keep in your stockpile like chicken broth
Use products that go on sale all year and frequently offer coupons, such as canned vegetables and pasta
Avoid pricey ingredients with extras that go to waste
Utilize seasonal "on sale" items, especially produce and baking supplies
Two items that are a strategic buy in the fall months—but can break the bank the rest of the year—are apples and sweet potatoes. Take advantage of seasonal specials and whip up these budget-friendly recipes during your holiday season!
Oatmeal Crumble Apple Cobbler
10 apples, peeled & chopped
3/4 cup brown sugar
2 tablespoon flour
1 teaspoon ground ginger
1/8 t salt
1/4 cup butter
Oatmeal Ginger Topping
3/4 cup flour
3/4 cup quick-cooking oats
1/4 cup brown sugar
1/2 t ground ginger
1/8 t salt
1/2 c butter
Preheat oven to 350˚. Spray a 13x9-inch baking dish with nonstick cooking spray. In a large bowl, combine chopped apples, brown sugar, flour, ginger and salt, tossing gently to coat. In a large skillet, melt butter over medium heat. Add apple mixture and cook for 8 to 10 minutes, or until apples are tender. Spoon into baking dish. Top evenly with Oatmeal Ginger Topping. Bake for 30 to 40 minutes, or until topping is golden brown and apple mixture is hot and bubbly. Serve immediately. Serves: 12.
To make topping: In a medium bowl, combine flour, oats, brown sugar, ginger and salt. Using a pastry blender, cut in butter until mixture is crumbly.
Curried Sweet Potato and Apple Soup
2 tablespoons butter
1/2 cup chopped onion
1/2 cup chopped celery
1 tablespoon minced garlic
2 cups peeled, chopped granny smith apples (about 2 large)
5 3/4 cups low-sodium chicken broth
4 cups mashed cooked sweet potatoes (about 3 medium)
1/4 teaspoon salt
1/4 teaspoon curry powder
Garnish: thinly sliced apple
In a large soup pot, melt butter over medium heat. Add onion, celery and garlic; sauté for 5 minutes. Add apples and cook for 5 minutes, until tender. Stir in chicken broth, sweet potatoes, salt and curry powder. Cook and stir 4 to 6 minutes. In an electric blender, puree soup, in batches if necessary, until soup is smooth. Return to pot. Cook for additional 5 to 6 minutes, until heated through. Serve immediately. Garnish with thinly sliced apple, if desired. Serves: 12.
©Copyright 2010 Mary Hunt
Everyday Cheapskate is a Registered Trademark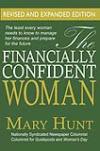 Check out Mary's recently released revised and expanded edition of The Financially Confident Woman (DPL Press, 2008).
Debt-Proof Living was founded in 1992 by Mary Hunt. What began as a newsletter to encourage and empower people to break free from the bondage of consumer debt has grown into a huge community of ordinary people who have achieved remarkable success in their quest to effectively manage their money and stay out of debt. Today, "Debt-Proof Living" is read by close to 100,000 cheapskates. Click here to subscribe. Also, you can receive Mary's free daily e-mail "Everyday Cheapskate" by signing up at EverydayCheapskate.com.

Subscribe to Everyday Cheapskate to receive Mary Hunt's column in your e-mail inbox five days a week.

Become a Debt-Proof Living Online member for full access to the Everyday Cheapskate archives.