Shop and Save Wisely So You Can Share with Others
Whitney Hopler

Live It Editor

2004

30 Jan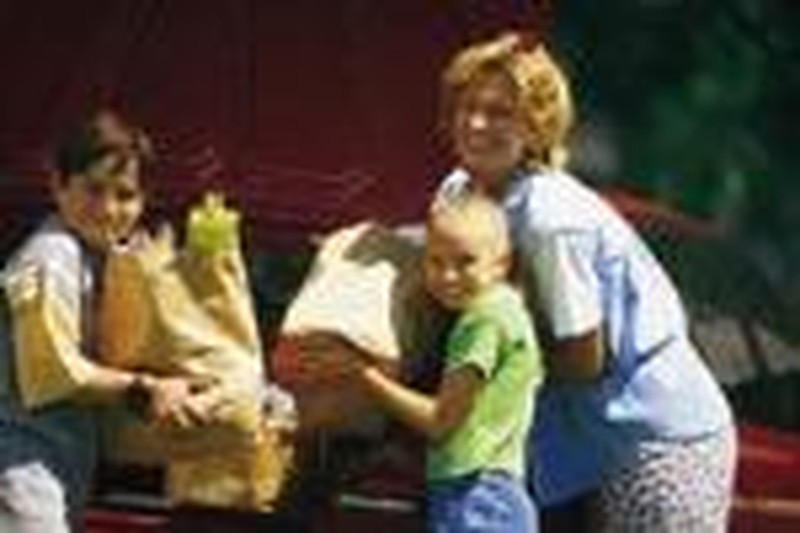 When you shop wisely, you'll save money.  When you save wisely, you'll be left with a surplus you can share with others.  Good financial management will bless you and other people continuously if you make it a habit.
Here are some ways you can shop wisely:
* Resist impulse buying in the grocery store.  Eat before you go shopping so you won't be hungry.  Remember that grocers place the most expensive items on the middle shelves; look for bargains on the upper and lower shelves.  Make a list of specific items to buy, and stick to it.  Leave your checkbook and debit and credit cards at home; shop with cash instead.  Try not to go to the grocery store more than once per week.
* Determine if the price is right on the items you're considering purchasing.  Take a calculator along with you to help compare prices.  Check how much you'll save off the regular price by buying something on sale or with a coupon.  Compare items to similar products of larger or smaller size, paying attention to the unit price of each product.  Don't assume that buying in bulk will automatically yield the best bargains.  Look for overstocked and discontinued items.  Buy produce in season whenever possible.
* Locate lots of coupons to use.  Look in places like Sunday newspaper inserts, the Internet, product packages, and magazines.  Get on store and manufacturer mailing lists.
* Clip just about every coupon you see.  If you can't use a particular coupon, you can swap it with a friend for one you do plan to use, give it away, or use to obtain a free item that you can give to someone in need.
* Be flexible about the types of brand name products your family will use.  Figure out how much money your family spends on average each month, and compare that figure to the average per capita cost of food at home for a U.S. family of your family's same size (go to www.usda.gov for current figures).  Using that information, compute a projected savings plan for groceries.
* Enlist help from each member of the family to clip and organize coupons.  Highlight each coupon's expiration date.  File the coupons in alphabetical order (not by categories) in a sturdy coupon box for quick reference.  When filing in alphabetical order, use the name that's most prominently displayed on the coupon.  Pull expired coupons every month.
* After each shopping trip, calculate how much money you've saved.  Then write a check into your savings account for that exact amount immediately.
* Use a sale circular and a store aisle order chart to help you prepare your shopping list at home according to aisle order.  Only write down items for which you don't have a coupon, and rely on your coupons to remind you to buy the other items.  Look for bonus size products to get the most for your money.
* Take advantage of product refund offers - if the refund amount is high enough to be worth your time, postage, and stationary.  Gather the required items (such as proofs of purchase and receipts), and file them along with the refund forms.  Then go through your file and send for the refunds once a month.  Have a plan for how to handle the refund money when it comes, such as depositing it in a vacation savings account.
Here are some ways you can save money:
* Make sure that your budget's highest expense - which for most people is housing - reflects a commitment to live beneath your means.  Aim to spend no more than 32 percent of your annual net income on a home, and keep in mind that the average monthly maintenance of a home is around 10 percent of the monthly mortgage payment.  If you're renting, make sure your landlord defines who is responsible for handling which types of upkeep.  Realistically consider monthly rent or mortgage payments, insurance, taxes, and maintenance before making any housing decision.  Consider the benefits of older, less expensive homes.  Secure rental and homeowner's insurance policy quotes from at least three companies before choosing one.  Pay off your mortgage as early as you can to save substantial amounts of interest.
* Before purchasing any type of car, examine your reasons for wanting to buy it.  Ask yourself honestly if you really need a different car, or whether you can repair your current vehicle.  If you do replace your car, avoid buying a new one, because new cars dramatically depreciate in value during the first year after purchase.  Instead, look for a late-model, reliable used car.  Hire a mechanic to examine the car before you buy it.  Know the Blue Book value of the car you're interested in, and use that information to negotiate a good deal at the dealership.  To get the most money for your current car, try to sell it privately rather than trading it in.  If you do decide to buy a new car, go for a clearance model, demonstrator, or rental car.  Participate in a carpool and use public transportation whenever possible to cut your transportation costs.
* Buy only as much life insurance as you need.  View it simply as a way of providing for your family rather than as an financial investment.
* If your employer provides a group health insurance plan, participate in that.  If you have to shop around for your own insurance, look for a plan that covers 80 percent of your medical bills.  Prevent illness as much as possible by taking care of your health, such as by regularly exercising and eating a nutritious diet.
* Carry only the homeowner's insurance you need - covering about 90 percent of your home's value (minus your land).  Be sure to carry full replacement value on your personal property.  Remember that you need to insure your personal property even if you're renting, so shop for a tenant's policy.
* Obtain automobile insurance estimates from at least three companies.  Choose high deductibles for comprehensive and collision coverage.  Also buy liability coverage, and the maximum amount of medical coverage.  Know that companies offer many kinds of discounts (such as for anti-theft devices and safe driving).  Ask for them.  If you have young drivers that are expensive to insure, list them as the primary drivers on an older vehicle instead of your most expensive car.  Ask them to pay part or all of their own insurance premiums.
* Shop at garage sales.  Use a local map and list of upcoming garage sales to plan a route before you head out.  Don't buy things you don't need, no matter how cheap they are.  Make sure every item is in good, working order before buying it.  Look for newlywed sales and estate sales for special bargains.  Set a monthly budget for garage sale spending and stick to it.
* Hold your own garage sale.  Collect stuff for the sale throughout the previous months in the same place.  Choose an easy-to-find location that gets lots of traffic (if it's not your yard, try to use a friend's yard).  Advertise well and make attractive signs.  Get a permit for the sale if your jurisdiction requires one.  Price your items from 10 to 50 percent off their original prices.  Make sure every item is clearly marked with a price.  Clean your items before putting them out for sale.  Have $20 in coins and another $20 in one-dollar bills on hand to give change to your customers.
* Save money on clothing in creative ways.  Trade clothing with your friends.  Shop at thrift shops and consignment shops for used clothing.  Before shopping for any new clothes, take an inventory of your current wardrobe and see how many clothes you can simply repair, alter, or dry clean to make them wearable once more.  Try to buy new clothes at end-of-season clearance sales in preparation for next year.  Sew your own clothes if possible.  Beware of discount outlets; if the original price for a garment is extremely high, the discounted price still may not be a bargain.
* Perform regular maintenance on your appliances and furniture so they will last longer.  Set aside a special fund to save toward the eventual purchase of new appliances and furniture so you won't have to go until debt when you need them.  Research how reliable various appliance models are by checking their rankings in the Consumer Buying Guide.  Consider buying used appliances and furniture.  When you buy new appliances, don't spend the extra money on service agreements because they're rarely worth it.
* Set a vacation budget before leaving on the trip, and stick to it.
* Simplify your entertainment.  Instead of dinner at a restaurant, have a themed dinner at home.  Instead of a first-run movie out, rent a video to watch at home.  Visit your local library, play board games as a family, and enjoy sports together.
* Look for the best airfare deals on Internet travel sites.
* Rather than spending money to stay in a motel or hotel, go camping.
* Try to avoid borrowing whenever possible.  Never go into debt for a highly depreciating item, such as food, furniture, a luxury car, or vacations.  Make sure that any item you buy will last longer than the time it will take you to pay off the loan. 
* If you use a credit card for convenience, pay it off in full every month so you don't incur interest charges.  Choose a card that doesn't charge an annual fee.  If you need help paying down existing debt, call the Consumer Credit Counseling Service at 1-800-388-2227.
* Aim to save at least 5 to 10 percent of your net income.  Let the power of compound interest work in your favor.
* Choose a bank that will give you free accounts with no monthly service charges.  Check for teller and ATM mistakes and save your banking receipts.  Keep track of how  much money you have in your checking account so you don't bounce checks.
* Save on electricity and energy costs.  Check your doors and windows for air leaks, and seal off leaks with sealer tape.  Clean your heating and air conditioning system filters regularly and maintain your units.  Make sure your attic insulation is at least six inches deep.  Keep your thermostat set between 68 and 70 degrees in the winter and between 74 and 78 degrees in the summer.  Set your water heater to 120 degrees, and wrap it with insulation.  Buy a water-restricted shower head.
* Take good care of your health through proper nutrition, rest, and exercise so you can avoid medical costs as much as possible.  Shop around carefully for caring doctors and hospitals who charge fair fees.
* E-mail rather than calling to save long distance charges.  Use cell phones for emergencies only,  unless your calls are free on your plan.  Use your phone book rather than paying for directory assistance.
Here are some ways you can share your surplus with others in need:
* Realize that no matter what your budget is, you can share with others.
* Use coupons to obtain free and discounted items that you can donate to your local homeless shelter, food pantry, or crisis pregnancy center.
* Go through your closets, basement, and storage shed and garage to find items you no longer use.  Donate these to people or organizations who can use them.  Keep your donation receipts to deduct money from your taxes.
* When cooking, make two of the same dish and share one with another family.
* Make relationships a priority in your life, and invest as much time and energy as you can into the lives of other people, knowing that people are what matters most.  Eliminate unnecessary stress from your life to free you up to focus on relationships.  Start each day with prayer and a plan for getting things done.  Exercise to increase your physical energy.  Plan meals ahead of time.  Assign age-appropriate chores to your children.  Turn off the television and use the time you save to invest in relationships.
* Create a household budget that works for you and enables you to live within your means.  Make sure it allocates at least 10 percent of your income toward tithes and offerings and at least six percent toward gifts (Christmas, birthdays, etc.).
* Remember that you're God's beloved child, and ask Him to help you view yourself as He sees you.  Know that, while you can't control your circumstances, you can choose to respond to them in positive ways.  Take time to laugh, take naps, and have fun with friends.
* Give regularly and generously to your local church, but don't forget to also support charities who do vital work in your community and throughout the world.
* Ask God to replace your own ideas of who you should be with His vision of who He wants you to become.  Then keep that image in mind as you strive to share with others.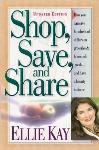 Adapted from Shop, Save, and Share, updated edition copyright 2004 by Ellie Kay.  Published by Bethany House Publishers, Minneapolis, Mn.,  www.bethanyhouse.com. 
Ellie Kay is the author of several books, including Heroes at Home, How to Save Money Every Day, and the New Bride Guide.  A speaker and national radio commentator, she is a graduate of Colorado Christian University with a degree in the management of human resources.  She and her husband, a career fighter pilot with the U.S. Air Force, have five children and make their home in New Mexico.