The Health Insurance Trap
Steve Diggs

No Debt No Sweat! Financial Seminar Ministry

2009

26 Aug

COMMENTS

I have sort of a love/hate relationship with insurance firms — especially health insurance companies. I love them when they pay as I expect them to. But I hate it when I get caught in a fine print "gotcha."
Whether you have an individual policy or a group policy, odds are — you don't fully understand what it does and doesn't cover. And, even worse, you probably won't find out until you need it.
With health costs going up, insurers are trying to remain market competitive. So, in order to keep your premiums as low as possible (and their profits as high as possible) many companies are selling policies with higher deductibles, more fees, and less coverage. And the complicated language in many of these policies doesn't help things. One study indicates that less than half of all health policy holders believe they understand their policies.
As we wait for legislation that will, hopefully, force health insurers to be clearer and more forthright in their coverage information, there are some practical things you can do to get through some of the haze and confusion.
1. Read the policy. Too often people only read the brief marketing brochures which can be misleading to say the least. Ask for the full certificate of coverage and read it with a highlighter. Then, ask hard questions.
2. Find out how your policy works with "out-of-system" medical providers. In many cases if you go to a doctor or other health care provider who is not within your plan's system, benefits will be greatly reduced or not paid at all.
3. Pay special attention to out-of-pocket maximums. Generally this is the most you should have to pay during the year before the insurer starts writing the checks. Some people mistakenly assume that all of their out-of-pocket expenses go into offsetting this amount. Too often policies slyly don't include MRI's, lab tests, and other expenses in the calculation of how much you have to spend before they start paying. Also, if you have a family policy, be sure that you are clear about whether the deductible is based on total expenses for the family, or whether each member of the family must first reach the full deductible before coverage begins.
4. Check coverage and benefit maximums such as lifetime (and annual) payout caps. Read carefully to see if your policy only pays a limited amount for psychiatric care, a daily maximum for a hospital room, or has other such restrictions.
5. Look closely at the drug benefit. What if you cannot find a generic? Will your policy cover the more expensive drugs? And, if so, what will your co-pay be?
6. Read the exclusions very carefully. Also, read what is included. Insurers have been known to disallow a charge that wasn't on the excluded list by simply claiming that it wasn't on the included list either.
7. Pay attention. Keep up with your insurance status. Read any forms or information sheets your insurer or HR department supplies. Maintain documentation of all out-of-pocket expenses, and check them against any claim of your insurer that you have not reached the full deductible.
8. Don't hesitate to question anything that seems wrong. Appeal any bill that is improperly rejected. Ask your doctor to help. Often, due to rushed schedules and oversights, physicians fail to properly categorize and document procedures. Frequently, a disputed claim can be resolved by a call or a letter from your doctor's office. And remember, in worst cases, it sometimes pays to hire a health care advocate. Ask your HR department or research on the web.
August 31, 2009
Steve Diggs presents the No Debt No Sweat! Christian Money Management Seminar at churches and other venues nationwide. Visit Steve on the Web at www.stevediggs.com or call 615-834-3063. The author of several books, today Steve serves as a minister for the Antioch Church of Christ in Nashville. For 25 years he was President of the Franklin Group, Inc. Steve and Bonnie have four children whom they have home schooled. The family lives in Brentwood, Tennessee.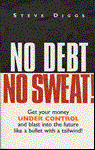 A complete financial compendium, 19 chapters
• What you can do today to get out of debt and kill the Debt Monster
• A,B,C's of handling your money God's way
• How to save, invest, and retire wisely
• How mutual funds work
• How to stop fighting over money
• What to teach your kids about money
• Learn how home & car buying, college financing and insurance work.
• How to develop a budget that works -- forever!
• Features simple charts, graphs, and easy-to-use forms.
Click here to learn more or to order.