Why Does God Want Me to Give?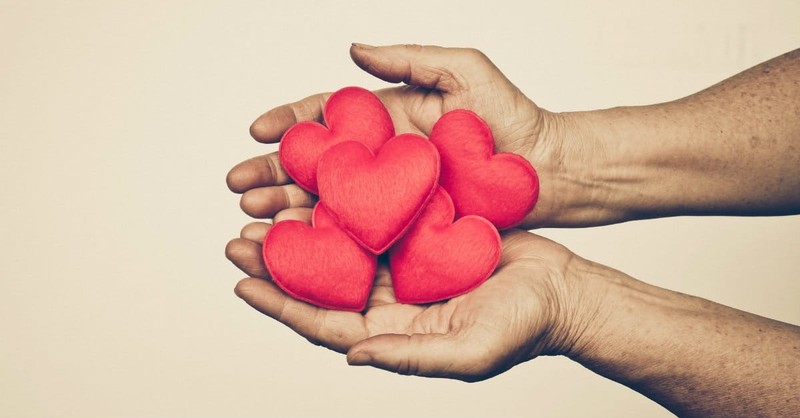 If you've been a Christian for any length of time, I'm sure you've heard and read about how we are supposed to be giving people. While we may accept and agree with that, many of us have an inner dialogue that occurs when God asks us to give something. We wonder why God is asking us to give, especially if we don't have much to begin with. Can't God ask someone who has more money? Can't he find another way to come up with this money or other need? After all, he is God!
Giving -sacrificial giving to be more specific- can be a hard pill to swallow, especially when we find ourselves in tough financial times. Why does God want us to give when it seems like we are fighting to cover our expenses at every turn? Or when we finally have a little extra after going through some lean times? Why does God seem to value our giving more when we have less to give (Mark 12:41-44)?
While we may question God's specific ways at times, we can ultimately rest in the fact that he knows what is best for us. "My thoughts are nothing like your thoughts," says the LORD. "And my ways are far beyond anything you could imagine. For just as the heavens are higher than the earth, so my ways are higher than your ways and my thoughts higher than your thoughts (Isaiah 55:8-9). Even though God's thoughts are beyond our understanding, thankfully he often does give us a glimpse of why he does things a certain way.
When it comes to giving, God doesn't need our money or our things. What he needs is us, and the process of giving blesses us and changes us, as well as brings him glory. Sometimes I love how God is multifaceted and synergistic, using situations in our lives for more than just one purpose. To illustrate, let's look at some of the purposes God establishes when we obey and give.
Our Giving Changes Us
When we give, we are obeying God and doing what is uncomfortable, which helps us grow and be who God has called us to be. Abraham was willing to give his only son after God asked him to, and I believe that experience helped prepare him to be the man of faith that he was. God can do so much more through a wise, giving, mature person than a person who is overly concerned with possessions of this world. Our money and belongings can disappear or get destroyed at any time and if we place too much value on them, we will be devastated when they are gone. God wants our treasure and worth to be with those things that can never be destroyed or taken from us, namely himself and the people he has put in our lives. "Don't store up treasures here on earth, where moths eat them and rust destroys them, and where thieves break in and steal. Store your treasures in heaven, where moths and rust cannot destroy, and thieves do not break in and steal. Wherever your treasure is, there the desires of your heart will also be" (Matthew 6:19-21).
As God changes our hearts to be more like him and or eyes to see things his way, we learn to focus on what is eternally important instead of on the temporal things of this world. Paul reminded the Corinthians to do this: "So we don't look at the troubles we can see now; rather, we fix our gaze on things that cannot be seen. For the things we see now will soon be gone, but the things we cannot see will last forever" (2nd Corinthians 4:18). By opening our eyes to what God may be doing behind the scenes, we can step out in faith, obey when he asks us to give, and rest in his plan in the midst of unknowns and seemingly scary circumstances.
Our Giving Brings Glory to God
Giving simply is not part of our sinful human nature. We are born looking out for our own desires and comfort. As we grow up and learn values, especially as we get to know God and submit our lives to him, he changes us to be others-minded and to trust in him to meet our needs. The fact that selfish, sinful human hearts can be changed to put others first can only be attributed to God, thus our giving gives him glory.
God orchestrates plans beyond anything we could come up with and when he asks us to give in a situation, you can be sure that the receiver of your gift will be blessed, because the ripple effects are beyond what we could even imagine. I recently experienced this in a situation with a close friend of mine. She told me she felt God was leading her to give her car away. She is believing for a newer car and she felt God was asking her to trust him to provide and prove her trust by giving her current car to a family that really needed it. After consulting with her husband and getting on the same page about it, they obeyed God and gave their car to the needy family. As you would expect, this family was extremely blessed and grateful. The wife immediately got on Facebook and posted about how her family received such a huge blessing. She attributed it to God and shared God's glory to all her friends who read it, and even invited a few friends who had commented on her status to church with her! Add to that, her husband who didn't normally attend church came with her the next day to check it out!
My friend who had given the car was extremely blessed by seeing how God was using her to help others, but it didn't stop there. I personally was very inspired by her act of obedience and I began to pray about how I could be a blessing like that. God then prompted me to buy a tablet computer for that same friend and her husband, as I knew it would help her in her ministry work she does for our church. This was a huge stretch for me as money has been tight lately, but after I talked to my husband and he was in agreement, we took the step of faith and purchased the tablet for our friends. They were so blown away by God's blessing for them and we were so blessed by being able to be a part of God's plans! God worked in our friends' hearts to trust him more and give more. He worked in the lives of the family they gave to by proving his faithfulness and provision and giving them a way to witness to their friends. God worked in my husband and me by helping us step out in faith and give beyond what we thought we could, which led me to write this very article! The ripple effects of this one act of obedience have continued to occur which shows how God can you use one act of obedience to bless many different people!
Only God knew how each of those actions would lead to more blessings for more people. He wants us to trust him when he asks us to do things that are uncomfortable or seem unnatural. He can do far more with our small act of giving than we ever thought was possible! And then he gets all the glory!
Our Giving Blesses Us
In the situation with my friend I just mentioned, not only were those who received the gifts blessed, but each of us who gave were possibly even more blessed! Knowing you are being used by God in such a powerful way and getting to see the look on someone's face when you tell them that God wants to bless them is absolutely priceless. That's why he reminds us that it is in fact more blessed to give than to receive (Acts 20:35). I love the Amplified version of that verse because it tell us that it actually "makes one happier and more to be envied" to give! I know this firsthand when I have awesome gifts to give my family for Christmas and I'm more excited to give those gifts than to receive anything. Every year I beg my husband to let me give him and our son their gifts early because I'm so excited to bless them (unfortunately, he never lets me, but I guess he is helping me develop patience).
God is the same way when it comes to blessing his kids, and he wants us to be like that too! "Give away your life; you'll find life given back, but not merely given back—given back with bonus and blessing. Giving, not getting, is the way. Generosity begets generosity" (Luke 6:38 MSG).
It seemed too perfect that my friend's generosity inspired me to listen to God and be open to give, which in turn brought a blessing back to her. While it won't always happen in this exact reciprocal way, it is a natural example of the spiritual law God has put in place. When we give, we are in turn blessed, both spiritually and physically.
It's often hard to step out and do the uncomfortable things that God asks us to do. It helps when we are reminded that God isn't out to take from us, but rather to bless us and that he works in ways that seem opposite to common sense. If we simply stick to doing what is easy and comfortable, then we won't experience the amazing blessing and provision that only God could make happen in our lives. Our spirits won't be stronger, our faith won't be built up and we won't get to experience the amazing benefits God has in place for us when we step out and trust him and give beyond ourselves.  
Cortni Marrazzo currently resides in Spokane, Washington with her husband Jason and 3 year old son. She has a Degree in Biblical Discipleship and has a passion for ministry and encouraging the body of Christ. She and her husband currently serve as small group directors at their local church. You can contact her at Cortni.Marrazzo@gmail.com or on Facebook.
Image courtesy: ©Thinkstock/weerapatkiatdumrong