4 Tips for Homeschooling Pre-schoolers
Jen McDonald

Managing Editor of Home Educating Family Magazine

2018

21 Sep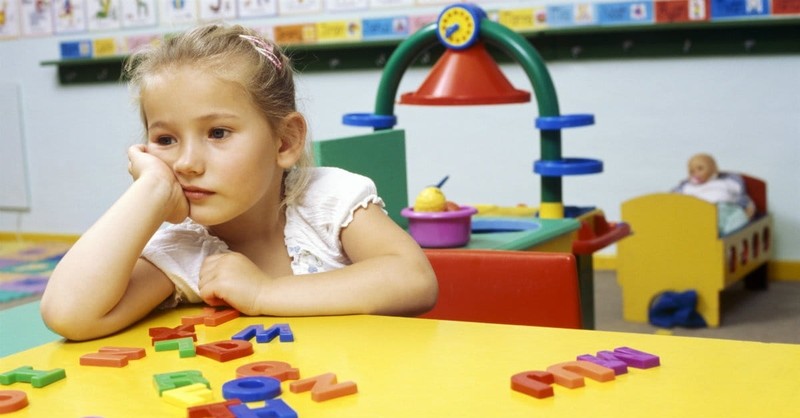 "Mommy, is it peshal time yet??"
The tiny excited voice accompanied the patter of little feet across the linoleum to where I sat going over phonics pages with her older brothers. On receiving my nod, my preschooler trotted to the shelf and clumsily pulled down her "peshal" box decorated with heart stickers and lugged it happily to the table.
That fall, I'd realized my three-year-old needed some guaranteed one-on-one time with Mommy each day. Since I was homeschooling two emerging readers while also dealing with a fussy one-year-old, this sweet little one seemed at risk of getting lost in the shuffle. Her special ("peshal") box was on a shelf, only pulled out during her special time. It contained stickers, scented markers, colorful workbooks, a few Montessori items, blocks, safety scissors, and other craft supplies. Grace would happily sit, chubby legs swinging from her booster seat, thrilled to be having her own "school." I found that—though my point was not to get her to leave us alone but to give her concentrated attention—once I'd filled her "peshal time with Mommy" tank, she was content to play with dollies or blocks nearby or sit in my lap while we finished up the other formal work of her siblings.
How do you include preschoolers in your homeschool when you have older children to teach and babies to nurse, change, and hold? Those ages from three to five are some of the most fun…and most exhausting for a homeschooling parent! Here are a few tips.
Give your little ones time first. This seemed to work for our family. The days I put off my preschoolers' needs until I "just did one more thing" were the days they were whinier than normal, and the rest of the day didn't seem to go as smoothly. Older children can be taught to do some independent work while you give focused time to your preschooler. As far as her special supply box went, I rotated items from time to time with some fresh new supplies to keep it interesting, and also let her use the items while we read aloud. 
Teach them yourself. I am all for building bonds between younger and older siblings, but I take issue with some of the "have your older teach the younger" advice I often hear. I would do this judiciously. Of course, in a big family, you do enlist the help of older children at times, as it builds responsibility and learning to care for others. However, it can be a temptation to allow that to become the norm. When I had my last child, I felt a sense of God speaking to my heart, "She needs you just as much as the others did at this age." And I still believe that, even though she's a teenager now! I was mindful of not having her older siblings constantly be responsible for her. So here's some advice from a mom with two grown children: don't let your younger children be raised by older siblings. They need you, and you don't want to look back one day and realize one of your children spent more time with a sibling than they did with their own mother.
Make it age appropriate. I was often astonished by how much learning could take place in just a half-hour of concentrated time a day. And don't underestimate the learning taking place through the informal interaction that goes on all day long—talking about foods and prices at the store, helping with household chores, observing the seasons and weather.
It's not realistic to expect young children this age to sit still and do worksheets for hours on end. Build in lots of physical activity, nature walks, and time outside so they can burn off that limitless energy! Make time for fun activities as a regular part of your day—games, puzzles, apps, even songs with verbal activities/instructions (who doesn't remember London Bridge or Hokey Pokey?). These build motor skills, as well. It doesn't need to be complicated! Remember that children's play is truly the stuff of real learning.
Participate in their world. Don't be an observer only. Get down on the floor with them, accept the invitations to their tea parties, build blocks and play games with them. Enter their world! It means so much to these little ones.
Preschool mom, I know you're tired. I know you question at times if what you're doing is enough. I know what it is to juggle multiple ages and stages and feel that you're not really doing any of them justice. I encourage you to trust that God will fill in the areas where you lack—he will do it!
"The one who has called you is faithful, and he will do it" (1 Thessalonians 5:24).
You may not believe me right now when I say that one day you will miss the chaos and activity of these busy years but…you will. And if that's not a comfort at this busy stage of your life, hang in there! I bet, next school year, your "class" will look completely different!
© 2014 by Home Educating Family Association. All rights reserved. Used with permission. Originally published in 2014 Issue 2 of Home Educating Family Magazine, the publication with the most meaningful discussions taking place in the homeschooling community today. Visit hedua.com to read back issues and for more articles, product reviews, and media.

As Director of Print Publishing, Jen McDonald is responsible for the oversight of Home Educating Family Magazine, the line of Well Planned Day Planners, and HEDUA's e-book series. She's written hundreds of articles for numerous publications, as well as contributed to three books and several e-books. She and her amazing Air Force husband are the parents of four interesting children–three graduated and one in high school. Homeschoolers since 1995, they've been stationed all over the world from the Pacific to Europe. Look for her upcoming book, My Military Wife Life, publishing in 2014. Find her at jenniferlmcdonald.com and on Twitter and Instagram as jenmcdonald88.
Publication date: August 22, 2014