Calling All Grandparents: How to Love Your Grandkids
Donna Rees

Updated

May 22, 2019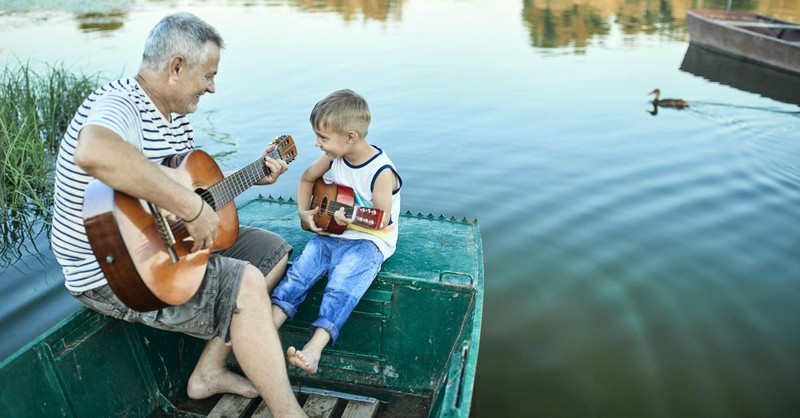 Editor's Note: This article originally appeared in the Fall 2011 issue of The Old Schoolhouse® Magazine, the trade magazine for homeschool families. Read the magazine free at www.TOSMagazine.com or read it on the go and download the free apps at www.TOSApps.com to read the magazine on your mobile devices.
Recently an internationally known Christian couple visited our church. This couple has been involved in leadership in the Body of Christ for more than thirty years and is still involved in ministry on several continents. I thought it was interesting to hear the wife's response when I asked her, "How are all of your children?" (Their four sons and their wives are involved in ministry with them.) Instead of telling me about her children's ministry goals or health or things that I expected to hear, she exuberantly responded, "We're about to have our eleventh grandchild!"
That sort of sums it up, doesn't it?
The season of life in which you get to be a grandparent can be joyful for many reasons. Instead of simply reminiscing about the days when your children were at home and you were on duty 24/7, I challenge you to enjoy the privilege of involvement in your grandchildren's livesas you simultaneously serve and bless your adult children.
Can grandparents help their children homeschool theirchildren? Yes! In Luke Luke 10:27, the Lord Jesus said:
"Thou shalt love the Lord thy God with all thy heart, and with all thy soul, and with all thy strength, and with all thy mind; and thy neighbor as thyself."
Offering to help your sons or daughters homeschool their children is a way to love them in Jesus' name, for God's glory and for their good—and your good too. It's a way to invest in future generations of your family, to put to use all of that experience and hard-earned wisdom you've gained over a lifetime. Come on—get involved!
Even if your grandchildren do not live nearby geographically, I hope that you are involved in their lives—that you faithfully stay in touch via all of the amazing communication devices we have at our disposal today. If you're not involved in your grandchildren's lives, whether they're homeschooled or not, consider applying Jesus's words of instruction today—with your grandchildren!
Let's take a look at four broad ways to love them, four areas in which we have potential to influence our children's children.
1. Nurture Their Hearts
You love your grandkids with all your heart, and they love you. Yes? I hope that is true in your family. However, if that's not the case, volunteering to get involved with their home education offers a great opportunity for you to take the first step toward developing those desirable relationships.
Jesus also said "Give, and it shall be given unto you; good measure, pressed down, and shaken together, and running over, shall men give into your bosom. For with the same measure that ye mete withal it shall be measured to you again" (Luke 6:38). The rewards you will receive from investing in your grandchildren's lives will likely far outweigh your investments of time, energy, and financial support.
Just being availableto your adult daughter can make a big difference, especially if she has babies or toddlers underfoot. Remember how busy you were when your children were toddlers and preschoolers? If your adult daughter knows she can call on you for backup, even if that means doing something as simple as staying with the other children while she takes a sick child to the doctor, that can be a wonderful comfort and support to her. If your children don't live close by, you can still offer support through phone calls, encouraging email messages, letters, cards, and daily prayer.
Loving your grandchildren doesn't have to be complicated. One-on-one attention from Grandma or Grandpa is priceless. May I share two personal examples? I grew up overseas and therefore did not get to spend much time with my grandparents, who lived in the States. However, I have vivid memories of two particular occasions on which my grandfathers let me know they loved me. One hot summer day when we were in the States on furlough, my grandfather, Poppy, offered to buy me a Popsicle—for no special reason at all! He heard "the popsicle man" making the rounds in the neighborhood, pulled a nickel out of his pocket, and told me to "run get a popsicle!" I was utterly amazed. Such extravagance! That was one of the most precious gifts I ever received in my life—because it was from Poppy.
My other grandfather, PawPaw, was a quiet, gentle man, and he didn't usually pay much attention to my sisters or me whenever we visited in his home. But once I was at his house and needed to work on a school project that required glue. Well, PawPaw had no glue in the house, but . . . he said he would teach me how to makeglue! He explained that when he was a little boy, they never had bottled glue or scotch tape in the house, yet they always managed to figure out ways to hold things together. I was enthralled by my grandfather's genius as he patiently, slowly showed me how to stir together a paste of flour and water to make "homemade glue."
I'm sure PawPaw demonstrated his love and affection to me in many ways that I have forgotten about, but I am grateful for that special memory: an unplanned treasure in my heart that occurred simply because I was spending time with my grandparents. Love your grandchildren with all your heart. Be generous. They need your influence and encouragement in their lives.
What can you do together? Simple activities such as putting family pictures in albums and telling family stories can totally delight your children's children. Or look at family albums that are on hand already and tell family stories!
Plant in their hearts a vision for the future; suggest ways God could use them to bring Him glory. Tell them how you met Jesus and became a child of God and how He has taught you about Himself and His ways since then. Tell them fun and funny and encouraging stories about his or her mom or dad when they were children!
2. Nurture Their Souls
My grandmother taught me how important it was to say thank you. I'm sure my parents had taught me to express gratitude long before my grandmother discussed it with me, but when Grandmother talked about gratitude it made a bigger impression for some reason. It must have been one of those "teachable moments" we hear about.
I can vividly recall hearing my grandmother explain how people like to hear the words "thank you," and then she explained that God likes to hear those words too. At age 11, I'd never seriously thought about that before: I can actually bring pleasure to God by saying "thank you"—to Him and to others!
That year I asked my mother if she would buy me some stationery, and I carefully wrote thank-you notes to each of my teachers. I thanked them for teaching me and encouraging me. I think it may have been the first thank-you note many of those teachers had ever received—at least from a seventh-grader. I experienced great joy in my soul as I wrote those notes, and it was all a result of my wise grandmother's exhortation to be thankful. Be intentional as you teach your grandchildren how to be patient, kind, honest, careful, and thorough. Dream up little projects in which specific character qualities are needed for success, and encourage them to develop those character qualities.
Nurture their souls by reading good books together. Discuss the motives of the characters, their actions, and the consequences. Relate events in the story to events in their lives. Listen attentively as they answer your questions and give you a glimpse into their souls. You may be able to offer a listening ear that Mom and Dad just can't offer right now.
3. Nurture Their Strengths
Usually, as we age, physical strength declines, but grandparents have strength of spirit that the younger generation needs to see. Let your grandchildren help you—invite them to help you. And as they help you (weed the garden, make lemonade, mow the lawn, sew on a button, remember the words to a song you both used to know, etc.), teach them. Thank them for their assistance. Point out to them how much we need each other and what a privilege it is to "be family."
And nurture their strengths as they mature—those talents, gifts, and special interests God gives them. Encourage them to learn more about how to raise organic vegetables or to increase the efficiency of a six-cylinder engine or to compose a piece of music. As you demonstrate sincere interest in their individuality and their success, they can grow in confidence and skill. Learn together.
Invest financially in extracurricular classes the grandkids want to take, or offer to send them to camp in the summer for a week. When I was homeschooling, I always longed for better school supplies and the funds to enroll my children in special classes that were offered in the community. Perhaps your son or daughter shares that same longing. Why not tuck a twenty-dollar bill in an envelope with a note inviting your son or daughter to splurge and buy that unit study about butterflies that your fifth-grade granddaughter has been eyeing every time she visited the local bookstore? What a joy for everyone that would be!
4. Nurture Their Minds
As grandparents, you may have many opportunities to offer your time to your grandchildren. When you're together, engage your older grandchildren in stimulating discussions about current events. Invite them to introduce you to some of the latest gadgets that have you stumped—but are literally "child's play" to them.
Gather extra materials to make a school topic more interesting; a little research at your local library can reveal some treasures to share. Make something together; watch a movie together. Find out what topics they're studying and surprise them with a fun, educational field trip that will enhance their studies.
Challenge them to learn new things, and locate people who can teach them new things. For example, if your grandson is learning how to speak Spanish, do some investigating and arrange for him to visit a Spanish-speaking family who has a child his age. Invite the two boys to join you on a picnic at the park, where you'll assist them both in assembling and having some fun with kites or bottle rockets! Hopefully, they'll be able to communicate a little as a result of your grandson's Spanish studies, but if not . . . hey, you can all still have fun as you work on your projects together, right?
Take your grandchildren to new places. They don't have to be extraordinary places; simply exploring a new place with you can expose them to stimulating ideas and challenge them to learn. For example, contact your local bakery to ask if you can bring two or three of your grandkids over to learn how a bakery functions, and surprise Mom with some freshly baked bread. Ask your mechanic if you can bring your grandchild over to watch him as he works on your car; arrange a field trip to your local dry cleaner—did you know that dry cleaners used to wash clothes with gasoline and kerosene? (My children and I learned that when we went on a field trip to our local dry cleaner.) Learn together! You could even start a "grandparents of homeschoolers" support group and open a whole new world of opportunity to the homeschooling families in your community!
Love the Lord with all of your heart, soul, strength, and mind, and demonstrate your love for Him by investing in the lives of your grandchildren. You'll be glad you did.
---
Donna Rees is the Managing Editor of The Old Schoolhouse® Magazine. She and her husband Timus homeschooled their two (now adult) children from 1983-1999 and . . . would do it again in a heartbeat! Donna loves to grow in the grace and knowledge of her Lord, Jesus Christ; take long walks on sunny days; enjoy her sweet family; and eat chocolate of any kind, any time. Donna says: "Through TOS, the Lord has given me the privilege of coming alongside homeschooling families as they carry out their God-given responsibility to train, guide, protect, and educate their children. What a delight it is to serve, encourage, and equip others to do the same for the glory of God."
Photo Credit: ©GettyImages/Westend61