What I Learned from 10 Years of Burnout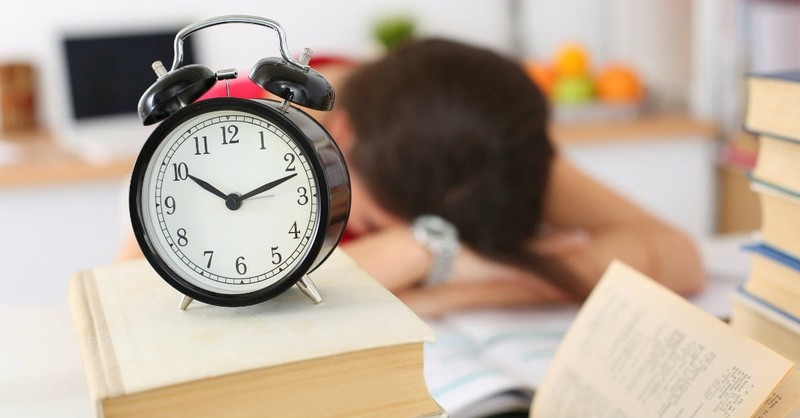 I should be in the middle of teaching history, but I am in the middle of the flu bug with eight kids. The world stops when the flu starts, and I fall even more behind. Ten years ago I would have been anxious about the time "wasted" and the academics neglected. I would have felt burned out with nothing left to give. But ten years of living can, and should, teach us important things.
Since stories help us connect with each other, step back ten years with me and let's see what time has taught me. As you read about my ten years of burnout, I hope you will discover the hidden blessings and even the benefits it can offer.
2001—The Year of the Storm
I had five young children aged 10, 8, 6, 3, and 1. I felt like I was in a great storm and was supposed to try to keep the boat calm in the midst of it. There were waves of teaching, admonishing, correcting, nurturing, clothing, and feeding all those children. Oh, yes, and homeschooling.
Running everywhere, constant activities, days of intensity—it was an energy-draining, all-consuming lifestyle. My relentless, aching thought was: "I can't do this. I need help."
I pleaded with the Lord to help me, and in the midst of my pleas, I found help—because I finally found Him. In order to survive the storms of my life, I had to wake up the Savior (Matthew 8:24-25). The blessing of the storm was that it woke up my need for Him. My desire for Him became stronger than my desire for help. I clung to Him as He calmed my inner turmoil, and I learned that I could trust His mighty power over the storms of my life.
The year of the storm shook up my apathy until I woke up the Lord in my own life's boat.
2002—The Year of Weakness
I was pregnant again. Everyone questioned me—from family to complete strangers. However, God's Word told me clearly that the child in my womb was a gift from God. I felt weak throughout that pregnancy and prayed for mercy. I was short-tempered and uptight and I needed to learn how to be merciful. I had to learn to live one minute at a time in God's rich mercy, so that I had a store to give away.
As I sought God throughout the day, I found His mercy to be following me. I began to have a quiet heart that was always listening for the voice of the Lord in the midst of the noise. I found that my weakness in mercy brought many opportunities for God's strength to shine through. People wondered how I could do it all, and when asked about that, I could easily point to God's mercy and strength for every task. As my true condition—weakness—was realized, I saw clearly that it was only my heavenly Father's power that held me together.
The year of weakness showed me from Whom my power truly comes. 
2003—The Year of Hunger 
Baby Mercy was born that year. The older children had become independent, bright learners; I began to see the rewards of their early training. They were faithful to do their daily chores and schoolwork, and I took pride in their obedience and good behavior. I began to trust in my own abilities and rested in self-righteousness . . . but I was not growing spiritually. I was still short-tempered and easily frustrated. Why? I reasoned that since I knew my Bible so well, I didn't have to read it. And, because I wasn't feeding myself spiritually, I began to starve and didn't recognize the symptoms of starvation.
Spiritual apathy came as a result of lack of spiritual food. Depression and anxiety also came, a consequence of not consuming enough Biblical calories. Spiritual muscles began to break down, and I was left too weak to resist the enemy. So, I began to force-feed myself until hunger for the Word returned. When I was finally hungry, I was filled and then craved more truth. The Truth truly does set you free from self-righteousness and feeds your soul to health.
The year of hunger turned into a year of fullness with a knowledge of what truly satisfies the soul.
2004—The Year of Confusion
We were pregnant with our seventh child. Doctors told us the baby had symptoms of trisomy and might not survive. I couldn't keep up with who was doing what; curriculum was overwhelming me. Finding time for everything was a baffling, never-ending battle. Praying for the health of the baby was a constant practice. Staying on schedule was not on the calendar. One of the children's special needs was all-consuming.
I lacked direction. I learned an important lesson: when you lose direction, you pray and go back to the beginning and find it. And...you go back to the basics. The daily basic truths upon which everything else in our family revolved consisted of these goals: love God, love others, and do your schoolwork and chores. Period.
The year of confusion magnified the truth of what was important and pointed me in the right direction.
2005—The Year of Fear 
Baby Hope was born by Cesarean section, and she was perfectly healthy. Nonetheless, we had to continually put our "Hope" in God not only through the insecure pregnancy but also through her last-minute Cesarean delivery and through her fall at three months of age, which cracked her skull. That accident opened up a Child Protective Services (CPS) case for us—and opened up intense fear for me. I was forced to put my "Hope" in God.
After much prayer and two days of fear, the CPS case was closed. I had just been through a whole year of fear, but through fear, God showed me how to go the opposite direction of fear and have faith in Him alone. And He proved Himself faithful every time.  
The year of fear became a lesson in placing my hope in God alone.
2006—The Year of Suffering
Our special needs child began to have irrational fits of rage. Not only did those fits disrupt the entire day, but I feared for the other children's safety. A relative offered to take this child for a few months. I needed the respite, but my heart broke knowing that my child suffered away from me.
I was brokenhearted, so I secretly got up at 3 a.m. and cried and prayed and worshiped as I sought to be near the throne of God. He drew so near; I felt His presence. I realized a place of fellowship with Christ that I had never known before. Many of us want the "power of His resurrection," but not many are willing to draw near the "fellowship of His sufferings." I met Him there and found His presence to be what held me close and calmed my soul.
The year of suffering brought me to a place of close fellowship with Christ Himself. 
2007—The Year of Fire
Something happens when you draw near to God. His light reveals your impurities. I saw that I needed to be refined in many areas. I was questioning God's wisdom for me as I was 44 and pregnant again, and I faced many fiery trials.
His light revealed who I was compared to who I was supposed to be. The light of God's Word held up the standard: be like Christ. It was through the fire of God's holiness that I would be refined to reflect His character. The fiery trials of my life would bring impurities to the surface to be repented of and skimmed off. Rather than choosing defeat at the hand of my failures, I could repent and choose to be a refined vessel that would reflect the beauty and glory of God.
The year of fire cleansed away impurities so that the glory of God could be reflected. 
2008—The Year of Heart Pain
I mentally pulled away, feeling as though my husband truly didn't understand—he should know how I felt without me telling him, right? How many years will we struggle? Pain in marriage—it's epidemic. Satan wants to take us all down, especially intact, homeschooling families who represent obedience to Christ. Satan's number-one weapon: our own self-focused expectations. Numbness can set in as Satan whispers, "You need someone to love you and meet your needs." God whispers: "I have given you everything you need for life through my Son. I love you and will take care of you."
If we are in pain, we must cast our hurt and our cares on the Lord, for He alone truly cares for us. He is in the midst of marriages whose couples die to self and seek to honor God above all else.
The year of heart pain drew me close to the heart of God, where I found love enough to share. 
2009—The Year of the Flood
Baby Jacob made eight. I now had an adult son and an infant son and finally saw how short the time in between was. Instead of dreading each day as a burden, I began to treasure each day as a gift. This baby brought a flood of joy, and this year also brought a flood to our home. The flood in our home forced us to remove, replace, and redo much in the way of home repairs.
We endured another flood of grief when Grandpa Mel passed away. This flood of troubles tried to overwhelm me, but seeing each day as a gift from God and knowing the hope of seeing our loved one again kept my head above water.
The year of the flood revealed the hand of God under us in all circumstances as we treasured each day.
2010—The Year of Infirmity   
We were all very sick for several months. I was the first to feel close to death. Then, all eight children followed one at a time, and some of them became ill a second time. I was talking to doctors daily. I was fearful about each child's health.
As they all began to recover, our oldest son did not recover but instead became weaker. Doctor visits provided new treatments, but none helped. I took him to the emergency room, where he was admitted, and every specialist came to see him but none could figure out what he had or how to treat it. He could not eat or drink and could barely breathe. His life was fragile.
I was living the awakening reality that each life is truly in God's hands. I stayed between life and death as I prayed over my son. Many friends and family also prayed and brought meals. I realized my need for the Body of Christ. God heard our prayers, and within seven days, we were able to take my son home.
The year of infirmity revealed that every day of health is a gift and that we need the Body of Christ.
2011—The Year of  Running Away
I wanted to run away. Depression set in as hormones were shaken—pre-menopausal symptoms. My emotions were all over the place. Everything felt wrong. Everything was offensive. Friends said hurtful things. My husband and my teens said hurtful things. Depression.
The tide of too much to do kept me going day after day, but I wanted to run. I could not run from my responsibilities any more than a loving mother could neglect her children, so I found great solace in running to my closet. I have a 2' x 2' space where I sit, pray, read my Bible, and just cry if I need to. It's a place where I go to get grounded again when I've been blown around. I go there when it's time to be washed by the water of the Word and sit before my Lord in the presence of the Spirit. It's a place where I can think clearly when all seems to muddle my mind. It's a refuge of release and peace as I visit with the Prince of Peace.
The year of running away became the year of running toward God and finding great solace. 
Ten years of burnout. Ten years of a redeeming God whose transforming power would burn out and cleanse me of the things that would dim the reflection of His glory.
If you are feeling burnout, welcome to the opportunity for God to cleanse you, renew you, and shine forth His strength and glory through you. Pray with me that the Lord would refine us with His fire, that we would welcome these fiery trials that burn away the dross and make us more like Him.
Is your storm too great for you? Wake up the Lord; He is the Master of the sea! Is this fiery trial too hot for you? Ask Him to burn away anything that hinders as you run the race with perseverance. Instead of experiencing burnout, purpose to be burned out and consumed with Christ. Trust in what is greater than what you can see with your eyes, for He who began the good work in you will complete it.
Deborah Wuehler is the Senior Editor for The Old Schoolhouse Magazine, participating author in The Homeschool Minute™, wife to Richard, and mom to eight gifts from heaven.  She loves digging for buried treasure in the Word, reading, writing, homeschooling, and dark chocolate!  You may contact her at senioreditor@TheHomeschoolMagazine.com.
Copyright 2012, used with permission. All rights reserved by author. Originally appeared in the February 2012 issue of The Old Schoolhouse® Magazine, the family education magazine. Read the magazine free at www.TOSMagazine.com  or read it on the go and download the free TOS apps to read the magazine on your Kindle Fire or Apple or Android devices.
Publication date: February 15, 2013