Tim Hawkins - Homeschooling Is Something to Laugh About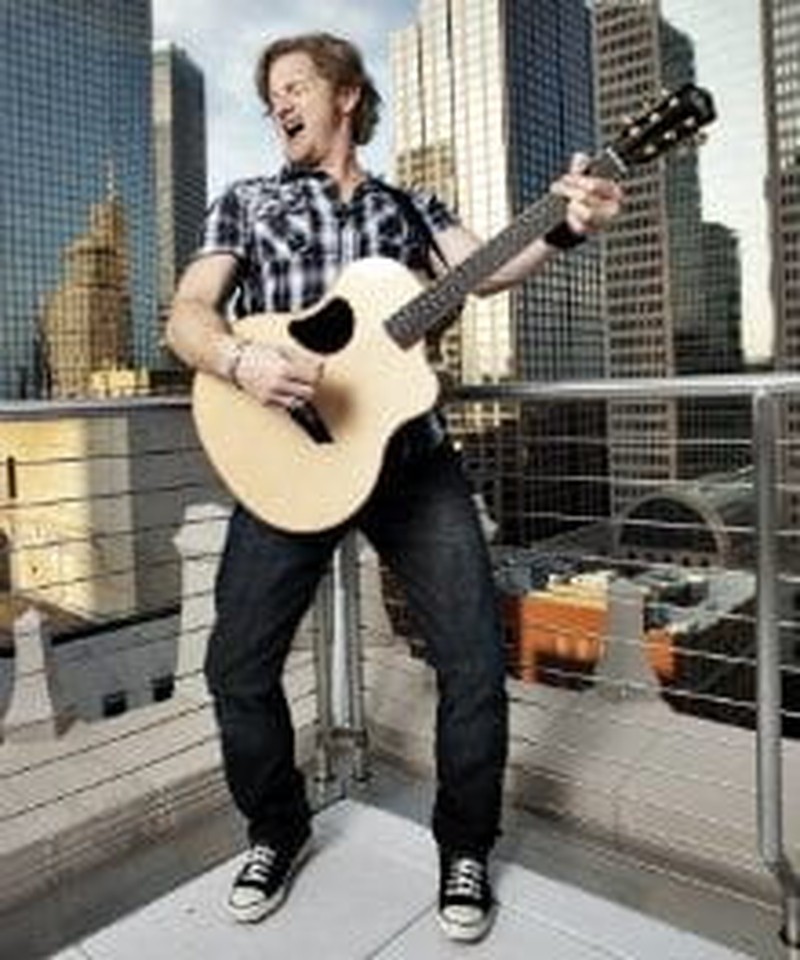 Christian comedian Tim Hawkins earns his living making people laugh. And he's good at it. Since he started giving away his comedy free online, his music videos and stand-up clips have received more than 200,000,000 views on YouTube, GodTube, and Facebook alone. Fan favorites include "The Government Can," Cletus Take the Reel," "Chick Fil A," "The Homeschool Family," and "Things You Don't Say to Your Wife." In 2013, he'll perform live in 32 states, in front of nearly 200,000 fans.
A homeschooling father of four, Hawkins gets "new material daily from the perils of marriage, parenting, and homeschooling." His comedy routines regularly include references to some of the laughable moments he has experienced as the father of children who range in age from seven to 17. At a recent performance, Hawkins gently poked fun at the mistaken notion that homeschooled children spend most of their time at home. "Hey, are there any homeschoolers here tonight?" he asked the sold-out crowd. To the cheer that went up from a large section of the audience he replied, "How's it feel to get out?" The laughter that followed was his answer.
As he discusses his family's homeschooling experience, Hawkins is quick to laugh at himself. Describing a successful co-op his family helped organize, he admits to being less than stellar at teaching math. "I was actually fired several years ago," he confessed, "I was the math teacher, and we realized that the only subject my son was failing at the time was math...maybe in the public schools it's hard to fire someone," he mused, "but in homeschooling, it's easy. You just say the word, and it's over."
As Hawkins' popularity has exploded, he's recognized the need to guard his family time, "My rule is that I am not gone more than three days in a row. I have to be home, and I am home most Mondays through Thursdays...flying across the country every day can really wear you out, so we really have to balance the schedule."
Hawkins and his wife of 20 years, Heather, agree that homeschooling is "an efficient use of your time." He remembers struggling with traditional school, because "there's a lot of time that you're waiting for the other kids to get done...a lot of clock-watching time, and if you're not geared for that sort of stuff, then you're going to struggle. Then you start feeling like you're not good at school, when in fact it has a lot to do with the environment."
A "dynamic and flexible (learning environment), one where true learning and not just learning for a test," is one quality Hawkins likes about homeschooling. "I could care less about my kids' grades as long as I know they're actually learning. You don't need a grade to be able to tell that," he says. "Knowing how they're doing on a daily basis rather than waiting a year" for grades is a plus, he affirms.
Hawkins sometimes jokingly admits during his comedy routines, that he was homeschooled. "But both my parents worked," he deadpans, "so it didn't turn out too well." What has worked well for his children has been a three-day-a-week learning co-op that he and his wife organized early on. While they have homeschooled "pretty much from the beginning," his eldest son Spencer began attending a local Christian high school in order to play football. His 15-year old daughter, Olivia, and their 12-year old son Levi attend a private school. They continue to homeschool Jackson, 7.
Remembering the early days of his family's homeschooling, Hawkins admits that it hasn't been easy. "At the beginning, when we first started having children, (having Heather stay at home) was a sacrifice, but it was worth every minute, because I wanted my kids to be around her, as opposed to someone we (didn't) even know." While Hawkins acknowledges that homeschooling isn't for everyone, he believes in it. "For us, it's worked out really well."
Hawkins admits that there are unique challenges to the homeschooling lifestyle. Carving out time for each other has been a struggle. "I know that (Heather) has a desire to teach," he states, "but she gets tired, and sometimes that's frustrating, and sometimes I think, 'I wish you weren't (homeschooling) so you could be patient and energetic when we're around, but we make it work." Being proactive, Hawkins says, is the key to making together time. "We love hanging out with one another," he says, "but if you're not proactive about it, then it can come across as though we really don't want to make the effort."
"I can't play golf anymore," Hawkins confesses, "You really have to cut out things in your life – that's what marriage is all about. I cannot take five hours a day to be away from her to play a game that nobody cares if I'm good at it or not. So I gave it up, and I'm glad I did."
Hawkins admits that much of his humor finds its genesis in the interpersonal interactions of daily life. A habitual people watcher, he often pokes fun during his comedy routines at people's choices of clothing. "And then my family will look at me and say, 'Are you really going to wear that?!'" He admits "part of me doesn't know anything about fashion, and part of me doesn't care. Especially being a dad in my forties, I cherish being able to embarrass my children...why is it so enjoyable to embarrass our kids?" he asks with a grin. Admitting that his sense of humor is often quite different from his children's, he comments, "I think it's funny; my kids just kinda roll their eyes..."
Those closest to Hawkins often forget that he is one of the most popular Christian comedians of the day. "The people that really know me, it's almost like they forget what I do. I don't really mention it," he says. Hawkins prefers to stay low key, and comments that his church family loves him for what he is, not for what he does. "I just love that."
Hawkins relates a story about an interview he did with his then four-year-old son Jackson. "I asked him, 'Jack, what does Daddy do when I go, and I fly on a plane, and I go to work? What's my job?" He continues, "Jack got this confused look, paused, and then asked, 'Well, are you mowing?' It's great, because that's what he sees me do around here, so he thinks that's why I go to, like, North Carolina...to mow."
While Hawkins makes his living laughing, life has not always been a laughing matter. In 2007 Heather was diagnosed with breast cancer. "It was a bummer. It was a drag," he says transparently. "It's just the pain – for so many reasons. And it made me angry. I mean, that's my wife, and her body is my body."
After a mastectomy and follow up treatment at the Mayo Clinic in Minneapolis, Heather is cancer free. Hawkins looks back at the process. "So many bad things you go through, then again, I don't look at it as a negative process. I mean, it wasn't like we were laughing all the way through it, but God hangs out in the struggle. That's where He's at. And it forces you into a faith mode. It forces you into the reality that you don't have control over things, and you just live deeper. You think deeper. You feel deeper."
Hawkins credits his comedic success to the prayers of a godly grandmother and other family members, "I feel that (the prayers) are coming to fruition now, all these people who have prayed for me and supported me in the spiritual realm. I feel that. I know I'm not smart enough or knowledgeable enough to attain any kind of success on my own. I really believe it's supernatural."
"I don't take for granted being able to do what I love to do," he says thoughtfully. "I used to worry about the one guy who wasn't laughing. Now my prayer is more for the one person who really needs to laugh. And if it's just that one, then I'm good to go. So that's my prayer, I guess."
Lori Hatcher is an author, blogger, and women's ministry speaker. She shares an empty nest in Columbia, South Carolina, with her ministry and marriage partner, David, and her freckle-faced, four-footed boy, Winston. A homeschool mom for 17 years, she's the author of the devotional book, Joy in the Journey – Encouragement for Homeschooling Moms. You'll find her pondering the marvelous and the mundane on her blog, Hungry for God...Starving for Time.
Publication date: June 14, 2013