8 Common Myths About Homeschooling in High School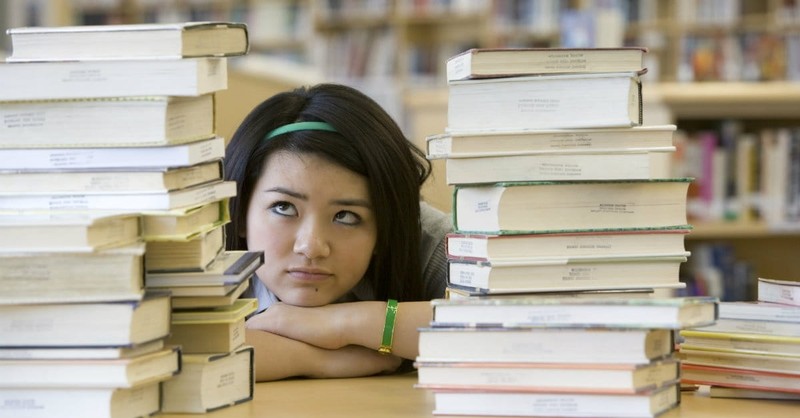 For most homeschooling parents, teaching children during the elementary years is comparatively easy. Basically, you just need to be smarter than a fifth-grader—right? But as your student-child enters the high school years, many homeschool parents are faced with a difficult choice—do we continue on the homeschool path or send our child to a more traditional school environment?
To add to the confusion, there are a great many myths about homeschooling in high school. We will address some of these myths below in an attempt to help you as you make this all-important decision. There is no one answer for all students. Some parents even make the individual choice to send some children to school during the high school years while keeping others at home. However, the truth about homeschooling during high school can make the decision much easier for those who are uncertain.
Myth #1: Homeschooling in high school is too difficult for the average parent.
In reality, homeschooling in high school can be much easier than the earlier years, because your high school student is capable of more independent study. The trick is in finding the right curriculum options. First, start by evaluating your own strengths and weaknesses. For me, I knew that English and history were fine for me to teach, but I have forgotten the 118 entries on the periodic tables of elements, could not (or would not) dissect a frog if my life depended on it and, because of my medical condition (post-algebraic stress disorder), I weep at the thought of higher math. So, for science and math subjects, I may choose to invest in classes, tutoring, community college courses, online or DVD classes, or slightly more expensive curriculum options that provide greater support. The cost is still much cheaper than a complete private school education.
The main difference between teaching children at the elementary level and secondary level is that you will need to become your child's guidance counselor. This means that you will need to help them explore the career or life path they are fitted for and assist in finding curriculum and extracurricular activities that will prepare them for that calling. This can be a tremendous challenge, but it is also a great way to bond with the adult child who is emerging from your tutelage.
One of the most frightening aspects for many parents is the creation of a high school transcript. However, this is actually surprisingly easy, and parent-prepared transcripts are accepted by at least 68% of institutions and colleges.1 Aslong as independent test scores (from tests such as the ACT or SAT) seem consistent with student grades, the transcripts are rarely questioned. However, it is a good idea to keep a portfolio explaining each class, and save major tests, projects, and papers in case you need more support materials. One great resource for navigating these aspects of the high school years is Diana Johnson's book: High School @ Home.
Myth #2: If my child does not graduate from a "real" school, he will have problems getting a good job.
Actually, the flexibility of homeschool schedules makes it much easier for homeschool students to be employed while in high school or to participate in volunteer activities that can increase the likelihood of gainful employment in the future. A teen with a high school diploma has an advantage; a teen with a diploma and job experience has a greater one. A survey conducted by Dr. Linda Montgomery revealed that 78 percent of high school age homeschoolers had paying jobs.2 And future unemployment and welfare dependency is extremely rare among homeschool graduates,3perhaps because of the strong work ethic instilled at an early age.
Myth #3: Homeschooling in high school will make it more difficult for my student to get into college.
In the early days of the modern homeschooling movement, this may have been true. But as homeschooling has been tested and proven to produce superior academic results, colleges have become more accepting of homeschooled students. Many, such as Bob Jones University and Patrick Henry College, actively recruit them. Many other homeschool-friendly colleges can be found at www.homeschoolfriendlycolleges.com/completelist.htm. And this list is by no means exhaustive. Studies show that a homeschooled student now has a greater chance of acceptance into Stanford, Harvard, or Princeton than a traditionally schooled student does!4
There is little mystery about why the trend is changing. First, homeschooled students tend to score significantly higher on college entrance exams such as the ACT or SAT. In fact, the number of homeschooled students receiving National Merit Scholarships increased 500% from 1995–2003.5
Secondly, homeschooled students tend to outperform their counterparts while in college. Studies at both Boston University and Kennesaw State University show that homeschooled students tend to have higher GPAs while in college.6
Thirdly, the independent-thinking skills possessed by homeschooled teens better prepares them for the college experience. It is odd that so many people perceive homeschooled teens as "unsocialized." Years ago, I presented a paper at a C. S. Lewis Conference at Belmont University. There I spoke with many teens, and it was almost immediately apparent when I had encountered homeschooled students: They loved to debate about intellectual topics and it was clear that they were well read. This is not an isolated case. Michael Haverluck, in his article titled "Socialization: Homeschooling vs. Schools," wrote: "Research presented at the National Christian Home Educator's Leadership Conference divulged that homeschool graduates far exceeded their public and private school counterparts in college by ranking the highest in 42 of 63 indicators of collegiate success. They were also ranked as being superior in four out of five achievement categories, including socialization, as they were assessed as being the most charismatic and influential."7
One of the main benefits of homeschooling is that it tends to produce adults who retain an intellectual curiosity about the world around them—a trait that is often destroyed in mass-produced education models. After studying 180 homeschooled students who were attending college for the first time, Dr. Rhonda Galloway reached this conclusion: "I think the edge home schooled children have over conventionally educated students—whether Christian or public—is that they're not afraid to ask questions; they speak their minds and they have to be readers because they're so involved in the self-teaching aspect."8 Perhaps that is one reason that 74% of homeschooled students go on to attend college, while only 44% of traditionally schooled students do.9
Myth #4: If I homeschool during high school, my teen will miss out on important social skills such as dating.
It is important to increase social activities for teens in an effort to prepare them for college, the workplace, or marriage. Teens need to know how other people think—especially those of the opposite sex. However, it is possible to increase these opportunities while still homeschooling. Church youth groups and Christian summer camps are great options. Also, look into extracurricular activities that involve groups—local choirs or drama clubs. Just check these groups out carefully and make sure that they are properly supervised and do not expose your teen to influences they are not yet equipped to handle. You may consider allowing social media such as Facebook in these years as well. Just make sure that you are also "friended" on the account so that you can monitor activity.
Homeschooled teens can—and do—date. However, some homeschool families follow courtship principles or at least limit dating to the later high school years. There really is nothing positive that can be gained by allowing dating before the age of 16 or even later. The trend toward early dating is usually fueled by social pressures that most homeschooled teens (blissfully) are not exposed to on a daily basis, and dating at a young age often leads to the destruction of moral values and future goals. If you set the ground rules early in life, there is usually not a problem.
Myth #5: Homeschooling in high school will rob my teen of milestones such as attending the prom or graduation exercises.
Some families like the idea of "proms" despite their association with drinking and immorality. In reality, most kids really just want a rite-of-passage social event that allows them to dress up, feel special, and act as an adult. Many state homeschool groups now provide a dance or cotillion as part of homeschool conferences. You may want to check into those in your area. Or, as an alternative to dancing, you can hold a formal banquet for junior and senior homeschooled teens in your area. Hire musicians for the event, or even have entertainment provided by others in the homeschool community. This would be a great event for a local homeschool group or church to host in order to honor upper-level homeschool students.
Many state homeschool organizations also provide very nice graduation ceremonies, and it may be well worth the time and expense to travel to these in order to mark this special occasion. Two of my sons participated in these events, and we were left with great memories to treasure. However, my favorite graduation ceremony was actually the one with my oldest son. We had a local ceremony at our church for five homeschooled seniors. We invited a special speaker, had special music, and set up a table on which each teen displayed a "mini-yearbook" with pictures from his high school years. This seemed to make the focus more personal than the larger event.
Myth #6: My teen cannot play sports if we homeschool in high school.
Actually, many teen athletes choose homeschooling because it allows them more time to focus on practice for individual sports. Olympic medalist Michele Kwan10 and tennis superstars Vanessa and Serena Williams11 are examples of athletes who were homeschooled during their teen years.
However, even those who participate in organized team sports are gaining tremendous ground. Years ago, homeschooled students such as NFL defensive MVP Jason Taylor faced discrimination from organizations such as the NCAA,12who treated homeschooled students as dropouts. However, the controversy over his situation opened the door for the NCAA to recognize the legitimacy of homeschooled athletes, and by 2004, the NCAA was allowing 75–100 homeschooled students a year to receive college athletic scholarships. In that year, the NCAA streamlined the application process for homeschoolers, making it even easier to apply.13
There are several options for team play. Many areas now have homeschool leagues that compete with homeschool, private school, and in some states, public school teams. Some private and Christian schools allow homeschooled students to play if they take a limited number of courses at the school. In addition, there is a growing movement to allow homeschooled students to compete for slots on public school teams.14 Rules vary from state to state, so it is a good idea to check the options in your own area.
However, it is not a good idea to base educational decisions solely on sports participation. As Christopher Klicka, Senior Counsel for the Home School Legal Defense Fund, warned: "The goal of the homeschooled student should be to obtain a solid college education, not to become a pro athlete. A quick look at the statistics is sobering. There are nearly 1 million high school football players and about 500,000 high school basketball players. Of those numbers, approximately 150 make it to the NFL and only about 50 make it to an NBA team. The odds of a high school basketball player playing in the pros are 10,000 to 1."15
Myth #7: Sending my teen to public high school is a missionary effort because he can win others to Christ.
This sounds like a noble goal. In the Scriptures, Daniel and his friends were placed in similar circumstances and impacted a nation for the one true God. Perhaps there are some teens who can withstand peer pressures and be an active witness. Forty years ago, my husband was won to Christ by a fellow student in a public school setting. So what is the problem?
The problem is that the situation in public schools now makes the odds of such a missionary effort slim at best. Michael Haverluck's article in CBN News highlights some startling statistics: "A nationwide survey conducted by The Barna Group shows that 80 percent of Christian families send their children to public schools where their faith is attacked. Based on the study's findings, it appears that their kids are the ones being 'evangelized' by the religion of secular humanism. More than half of their Christian teens believe Jesus actually sinned and only nine percent hold to moral absolutes, while 83 percent of children from committed Christian families attending public schools adopt a Marxist-Socialist worldview, reports the group."16 Are you willing to risk those oddswith your child?
Myth #8: Most people send their teens to traditional schools for high school.
Sometimes it seems that homeschool parents in a certain area get on a bandwagon and decide to place their kids in traditional schools. It may seem that you are all alone in your decision to homeschool in high school. However, the evidence is to the contrary. According to data released by the Digest of Education Statistics in 2010, there were roughly 422,000 homeschooled high school students in the United States of America in 2007. This figure represents 2.8% of the total high school student population in that year and compares with a 3.0% homeschooling rate for elementary school aged children. It is clear from these figures that the majority of homeschooling families continue to homeschool in the high school years.17
Conclusion
This important decision—whether or not to homeschool through high school—is an individual choice, and the answer may not be the same for all students. It is a decision that needs to be prayerfully considered after weighing all the facts.
Years ago, one of my sons scored extremely high on the ACT while only in seventh grade. As a result, I was inundated with pamphlets from prestigious boarding schools that were asking that we allow him to apply for scholarships to attend these exclusive high schools. As I looked at the photos of senators' sons playing polo, debating one another in designer suits, and dissecting cadavers, I wondered if I was doing right by my child by denying him such an opportunity for advancement.
However, after prayerfully considering the kind of pressures he would face, and the kind of man he was likely to become if he took that educational path, we chose to homeschool instead. He just graduated from college with a 4.0 average in international business, is attending seminary, and is considering a career as a tent-maker missionary on a foreign field. Perhaps homeschooling in high school was the best choice after all.
Amelia Harper is a homeschooling mother of five and a pastor's wife. She is also the author of Literary Lessons from the Lord of the Rings,a complete one-year literature curriculum designed for secondary-level homeschooled students. In addition, she is an English tutor and a freelance writer who contributes regularly to newspapers and magazines. For more information, go to www.homescholarbooks.com.
Endnotes:
1. www.homeschooling-family.com/statistics-on-homeschooling.html
2. www.cbn.com/CBNnews/144135.aspx
3. answers.yourdictionary.com/answers/jobs-education/academic-statistics-homeschooling.html
4. www.homeschooling-family.com/statistics-on-homeschooling.html
5. answers.yourdictionary.com/answers/jobs-education/academic-statistics-homeschooling.html
6. www.homeschooling-family.com/statistics-on-homeschooling.html
7. www.cbn.com/CBNnews/144135.aspx
8. www.homeschooling-family.com/statistics-on-homeschooling.html
9. www.singaporeschooljobs.com/homeschooling-statistics
10. www.michellewingkwan.com/pages/biography.htm
11. www.williamssisters.org/index.php?option=com_content&view=article&id=47&Itemid=55
12. www.tulsaworld.com/sportsextra/article.aspx?subjectid=223&articleid=20110606_223_B1_ULNSes614715 and www.hslda.org/courtreport/v21n2/V21N201.asp
13. www.hslda.org/courtreport/V20N2/V20N206.asp
14. www.charlotteobserver.com/2011/04/18/2231423/home-school-sports-bills-pondered.html
15. www.surfinthespirit.com/teens/sports.html
16. www.cbn.com/CBNnews/144135.aspx
17. nces.ed.gov/programs/digest/d10/tables/dt10_040.asp
Copyright, 2011. Used with permission. All rights reserved by author. Originally appeared in The Old Schoolhouse®Magazine, Fall 2011. Visit The Old Schoolhouse® at www.TheHomeschoolMagazine.com to view a full-length sample copy of the magazine especially for homeschoolers. Click the graphic of the moving computer monitor on the left. Email the Publisher at Publisher@TheHomeschoolMagazine.com.