Homeschooling Special Needs Students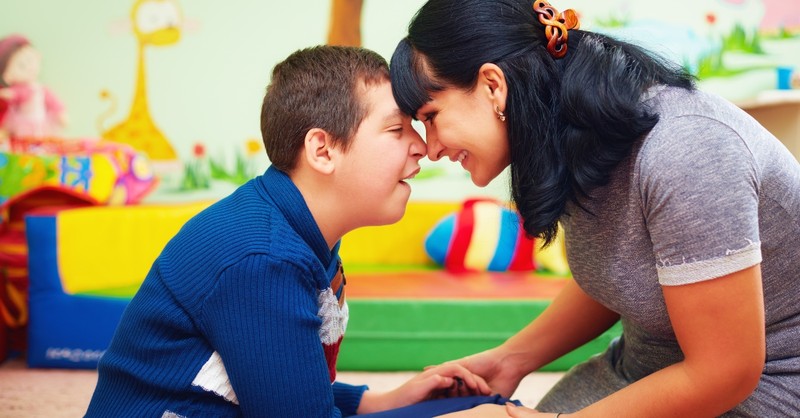 Homeschooling Special Needs Students: Parents are the Perfect Teachers
First, I owe readers a disclaimer: I have no formal training or certification in teaching special needs students. Experientially, I have directly educated my son for only three school years. He was designated "special needs" in a public school program as he has cognitive delays from epilepsy and subsequent brain surgery. The surgery resulted in physical and speech limitations like those of a traumatic brain injury patient. However, my experience does not make me an expert in the education of all special needs children, just my own, which is the point of this article.
Dr. Steven Duvall stated, "A growing body of evidence indicates that homeschool students with special needs may outperform their similarly disabled peers who attend public schools." 1 Based on this and other research, I prayerfully trust the following will encourage each reader to learn how to educate these children, rather than provide a practical "how-to" guide, which would be an unachievable goal.
The Perfect Teacher
I am not sure what goes through your mind when you hear the term "perfect teacher," but a good guess includes things like "college-educated," "state-certified," or other desirable résumé fillers. However, I am going to look at this from a different perspective. First, children are created in the image of God, even those with special needs, and He gives each child to parents who are the stewards of that child's upbringing.2 Second, the parents bear the only biblically mandated responsibility to teach and train their child. See Deuteronomy 6:4–9, Ephesians 6:4, and Proverbs 22:6 for indisputable biblical guidance. Because God has given parents the mandate, He will equip parents sufficiently for the task to which they are called. Besides, there is no teacher in the world, no matter how educated or experienced, who knows your child the way you do. You are your child's perfect teacher!
Academic Engagement Time
A research term, "Academic Engagement Time" (AET), is defined as "the portion of time students spend actively and productively engaged in learning, and student achievement." 3 Imagine a class of twenty students. When the teacher asks Johnny a question, the time she spends talking to him and listening to his response is AET for him, but not for the other students in the classroom, who are participating passively. Why is this important? Duvall concluded that "Academic Engagement Time is strongly and positively correlated with achievement, "4 but passive learning is not so correlated and very well might be negatively correlated. Homeschooling families can usually achieve a higher AET per student than any public or private school. With special needs students, AET is particularly critical to maximizing learning opportunities.
Student-Teacher Ratios
Research shows another key element of student achievement is low student-to-teacher ratios. According to the Center for Public education, "Most of the research shows that when class size reduction programs are well-designed and implemented in the primary grades (K– 3), student achievement rises as class size drops." 5 Even though the precise correlation between student-to-teacher ratios continues to be debated, I can say with confidence that homeschool families have some of the best student-to-teacher ratios. This remains true even for large homeschool families.
This may not seem to be a significant issue, but consider the often-heard statement, "All students are unique and learn differently." My experience has shown this statement to be true, which begs the question, how can a teacher of twenty to thirty students possibly adapt instruction to meet all students' needs? She cannot! Especially when teachers change from year to year. Pragmatism prevents a teacher from providing such tailored instruction. However, homeschoolers can customize instruction, which is even more important with special needs students.
Conclusion
It may seem a bit presumptuous for me to say that homeschooling is the best option for special needs students, but the data clearly points to homeschooling methods as the optimum means for student achievement even when applied in a traditional school setting.6 Also, my experience with public school special education leads me to believe that even though there are dedicated special education teachers, the system is not set up to optimize student achievement. If you try to make the system do what you believe it should be doing, you will encounter opposition.7
My prayer is that you will know God's calling on your life to be your child's educator. With a commitment to this calling, and following the leadership of the Holy Spirit, Christian parents can ensure the Biblical education of their children. This will help those children reach their God-given potential and live out God's purpose for their lives, regardless of their learning abilities.
Endnotes:
1. Duvall, S. F. (2005). The effectiveness of homeschooling students with special needs. In B. S. Cooper (Ed.), Home schooling in full view: A reader (pp. 151–166). Greenwich, CT: Information Age. p. 151.
2. Rodin, R. S. (2010). The steward leader: Transforming people, organizations and communities. Downers Grove, IL: InterVarsity Press. p. 45.
3. Codding, R. S., & Smyth, C. A. (2008). Using Performance feedback to decrease classroom transition time and examine collateral effects on academic engagement, Journal of Educational and Psychological Consultation, 18(4), 325-345. doi:10.1080/10474410802463312. p. 325.
4. Duvall. The effectiveness of homeschooling students with special needs. p. 157.
5. Center for Public Education. (n.d.). Class size and student achievement. Retrieved from: http://www.centerforpubliceducation.org/research/class-size-and-student-achievement.
6. Taylor, V. L. (2005). Behind the trend: Increases in homeschooling among African American families. In B. S. Cooper (Ed.), Home schooling in full view: A reader (pp. 121– 133). Greenwich, CT: Information Age. pp.125–126.
7. Duvall. The effectiveness of homeschooling students with special needs. p. 153.

Copyright 2021, The Old Schoolhouse®. Used with permission. All rights reserved by the Author. Originally appeared in the Winter 2021-22 issue of The Old Schoolhouse® Magazine, the trade publication for homeschool moms. Read The Old Schoolhouse® Magazine free at www.TOSMagazine.com, or download the free reader apps at www.TOSApps.com for mobile devices. Read the STORY of The Old Schoolhouse® Magazine and how it came to be.
Photo credit: ©Getty Images/olesiabilkei
Dr. Douglas J. Pietersma is a retired military intelligence officer and currently an education researcher in the field of Christian education and homeschooling. He holds a doctor of education degree from Regent University. Dr. Pietersma homeschools his two children (one with special needs), is the director of AltaMeta Homeschool Auxiliary, which provides co-curricular courses to homeschooling families, and is available for speaking engagements on Christian education and homeschooling. Questions can be directed to Dr. Pietersma at douglas@altametallc.com or (307) 214-6164.
Related podcast:
The views and opinions expressed in this podcast are those of the speakers and do not necessarily reflect the views or positions of Salem Web Network and Salem Media Group.
Read the full article here!