How Can I Keep My Children Learning over the Holidays?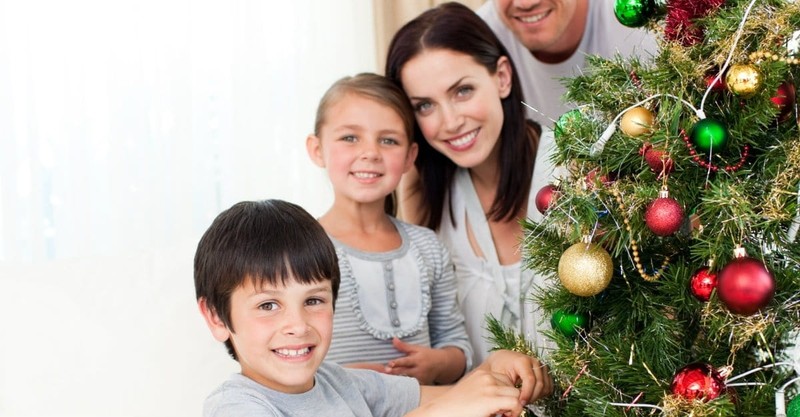 Are you anticipating a smoothly run and organized household this holiday season? For most of us, high expectations for an even ride across the Christmas landscape never quite come to fruition. Despite our best intentions, holiday stress happens to most of us. And simply put, it just gets in the way of both education and family bonding. So how do you keep learning a priority amidst activities, gatherings, and the shopping melee on top of it all? We've got 12 great ways!
The Twelve Days of Homeschool Christmas Activity List
1. Research Holiday Customs around the World
It can be a fabulous cultural learning experience for school-aged children to study holiday customs much different from their own. Create crafts or put on a play featuring the customs your child discovers.
2. Visit a Local Garden Center
It can be a fun and educational experience to create colorful ceramic mosaics (broken glass pieces are available at many discount stores), adhered with tile grout to the outside of clay plant pots. Once loaded with a bit of soil and a variety of spring bulbs, they make wonderful gifts for family members and friends. Include written directions on how to force the bulbs to bloom in the middle of winter. The whole process is a combination of science, writing, and art – with the added bonus of gift-giving!
3. Study Christmas's Past
The holiday traditions and practices of the past are fascinating to children, and make a great history lesson. For example, The Little House on the Prairie book series teaches us that a single orange or a stick of hard candy would have made the ultimate Christmas treat in the mid-1800's!
4. Explore Poetry and the Written Word
Handmade cards are the best kind! You can work together with your children to come up with holiday ideas, poems to go inside, and much more. Handwriting skills, art, and literature are combined in this holiday activity.
5. Do a Good Deed
After all, this is what the season of giving is really about, right? It's the perfect time to encourage compassion and what it truly means to commit selfless acts. Help your child to do a good deed by discussing what you can do or doing it together. You may volunteer at a food pantry, visit a nursing home, or pick up litter in a public place.
6. Go Christmas Caroling
Visit your neighbors, or gather together a list of local shut-ins. The days of caroling should not be a thing of the past – it's a fabulous tradition to reinstate. It is also an excellent way to encourage a love for music. Note: It makes it easier to learn to read sheet music when your child already knows the melody – like a melody of a classic Christmas song!
7. Practice Budgeting
Create a pretend Christmas shopping budget for your child. Give them family members to "shop for" and offer several choices. Teach wise money management skills at all ages – the budget can be as simple or as complex as needed for the age group your child is in.
8. Create a Reading Nook
Pick a cozy spot by the fire or fix up the corner of a room into a private little reading haven. Here are some great Christmas reading classics for kids – and they are printable.
9. Study the Weather
The onset winter and the holiday season can lend a special excitement to learning about the science behind weather. There are some great opportunities here to study winter storms, the mechanics behind the formation of snowflakes, and much more.
10. Relax and Reassess
The holidays are the perfect time to relax your studies a moment, and seriously reflect on your classroom progress. What is working and what is not? If any of your children are struggling, now is an excellent time to ease off and incorporate some fun reinforcement of basic principles, rather than pushing forward with a tough curriculum plan. For example, if you daughter has been struggling with multiplications tables, simply take a couple of weeks to play some laid-back games, or incorporate fun flashcards that will strengthen her skills – without pushing too hard.
11. Gift Wrap with Geometry
What an excellent way to talk about surface area of solids! Estimate whether or not a package will fit the area your child selects. Have a cloth tape measure handy to measure the various dimensions – estimation is a much needed math skill. Try some holiday printables to use with your wrapping projects.
12. Feed the Teacher
A great student emerges from the guidance of a loving and enthusiastic teacher. Take the time to engage in your own homeschool learning journey. Pick up a book about a new subject or read some inspirational material to remind yourself of why you do what you do, and to refresh yourself for the long winter months ahead. For example, Homeschooling High School by Jeanne Gowen Dennis can help to prepare for a child's transition to high school by discussing all of the courses, credits, transcripts, and larger academic hurdles that lay ahead.
Holidays can be a very stressful time for families – children and parents alike. Renew your goal to make it a warm and happy time for your kids, and to cultivate their passion for learning!
Jessica Parnell is passionate about homeschooling. A wife, mother and former public high school teacher, Jessica has transferred this passion into her career as Principal of Bridgeway Homeschool Academy. Her passion grows out of a deep desire to see every child reach their God given potential and purpose through faith-based, customized, and flexible homeschooling. With over 25 years of experience helping over 24,000 families to homeschool their way, Jessica is dedicated to helping families understand the freedom that comes with homeschooling and to empowering parents, a child's first teacher, to feel confident in taking control of their child's education. www.homeschoolacademy.com
Publication date: December 5, 2014