Green Thumbs—Every Child Needs Two!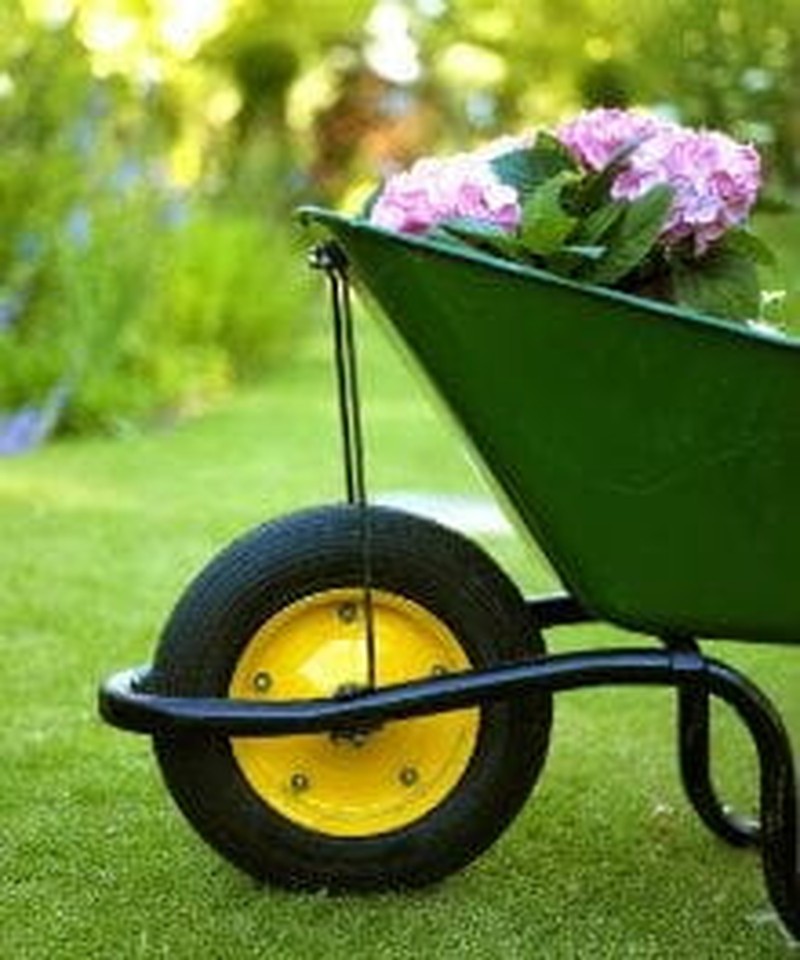 A Treasure Chest in Our Own Backyard!
The hand of the gardener can change the land and transform a life. Any type of garden is like a treasure chest waiting to be opened for the discovery of God's amazing miracles. The purpose is to delight and enrich our children. I still remember the happy times my mother and I spent in our garden while I was growing up. My grandmother's garden, too, was always a great source of joy throughout my life. Now that I am gardening with my children, I am gleaning a lot of my gardening inspiration from them both.
You can start a heritage of family memories that your children will pass down to future generations, bringing great blessings upon them. That garden may be growing beans or daisies, but in the child's heart, eternal seeds are growing.
Safety in the Garden
When thinking about gardening, safety comes first. There are many beautiful, yet poisonous, plants. Time invested in identifying the plants that already exist in your garden and removing any that may be harmful is time well spent. Gardening tools can be dangerous if left lying around. Garden shed doors, garages, tool boxes, etc. should be off limits to unsupervised children.
Animals can contaminate the soil by depositing feces; cats' waste can cause toxoplasmosis, a disease related to birth defects for the developing baby in the womb. Tetanus is a serious disease that affects the body's muscles and nerves; typically, it is caused by a bacterium that is often found in soil. Wear gloves when working with soil, and always get into the habit of vigorous hand washing after gardening. Proper caution is needed to protect against skin damage from the sun, so get out the sun block and other protective gear.
Water in or near the garden can be a danger too. The presence of ponds, streams, and even water in containers can lead to drowning accidents. Chemicals in the garden can lead to serious health problems, prompting many people to investigate natural gardening alternatives.
Organic Gardening
Organic gardening—what does it mean? It is a gardening approach that works with nature rather than fighting against it with chemicals. Putting chemicals on your garden often makes the problem worse since some pests will just adapt to the pesticides, so you will have to add others, resulting in a toxic mixture in your garden. Scientific studies have proven that the chemicals used to kill off pests in the garden are very harmful to our health. "Few of the first gardening chemicals are still in legal use. Each year, more are taken off the market as evidence of health dangers emerges."
The alternative is to establish a naturally healthy garden that can sustain itself without being dependent on artificial chemicals. Natural gardening starts with the soil, which needs to be built up and maintained by composting and crop rotation. Many of the pest control methods used in the past are becoming popular again as the dangers of pesticides and artificial fertilizers are revealed. One such method is intercropping, which is the practice of growing two or more crops in proximity. Intercropping encourages biodiversity, which in turn helps to limit outbreaks of crop pests.3 "Being an organic gardener is not about going back in time, but rather about going forward into a sustainable form of modern gardening."4 What a great idea for a report for the kids: Sustainable Gardening—The Way of the Future!
Gardening for a Purpose
When God planted a garden, He had a purpose and a plan, and we need to do the same. Without a long-term vision in mind, those good gardening intentions can wither. Pick a purpose or two for your garden and it can flourish—be creative and have fun together! Here are a few ideas to get you going:
Intergenerational Gardening: Children learn so much from their elders, and this is essential for the positive growth of a child, helping to build strong relationships with people of all ages. These are true social skills.
Plant a Row to Feed the Hungry: Designate part of your garden as the spot to raise fresh produce to give to the local soup kitchen or food bank. With so many hunger problems in our world today, use this opportunity to teach compassion and sharing.
Fabulous Fundraising: Pick a cause, and do some fundraising by having a plant sale. Plants that grow well from seed and look really nice are the pepper varieties. Sunflowers, beans, cosmos, and tomato plants are easy to grow as well.
Good Deeds With Seeds: Grow some flowers, and deliver them to a children's hospital or a nursing home. Important elements of this project include adding a card to explain that your child planted the flowers from seed, learned about their stages of growth, and then personally delivered the flowers. You may be surprised by the eternal impact this may have on someone's life.
Giving Back to the Community: Sometimes nursing homes will have a garden for the elderly to enjoy. You can volunteer together to work on a small part of their garden to teach your children about having a heart for the elderly. You and your children may learn something from them! Or how about starting up a community garden with your homeschool group?
Hidden Treasures: There is something compelling to children about digging for treasure. Having a potato garden is so much fun for the kids! One section of the garden could be the "Hidden Treasure" garden, featuring only those plants that you gotta dig for, such as carrots, beets, and radishes.
That Quiet Resting Place: Creating a special, quiet spot in the garden brings great joy to the family. Pole beans grow well and can be trained to grow over a homemade teepee; make sure the teepee is big enough for children to play in the middle. A sunflower house is a popular structure to make for kids also.
But I Have Nowhere to Plant a Garden!
With little or no access to land, it is possible to grow a selection of favorite vegetables, fruits, herbs, and flowers. Mini-gardens can be created on decks, patios, balconies, and windowsills using containers. Growing plants vertically is another option, as well as trying out dwarf varieties. The children and I like to snoop around in garden stores, and one time we saw a doghouse on display built so that the roof could be used as a raised garden bed—it is amazing what can be turned into a garden! There is a different style of gardening for every family. Find out which kind suits your land space, lifestyle, time, and interests.
Get That Gardening Bug!
With too much exposure to the virtual world, kids may not be interested in the natural world. Capture their interest with a collection of unusual plants. Start with the seed catalogue. There are many resources available on the Web, but nothing can replace a real, printed catalogue. Order a variety of catalogues from different companies, and help the children compare prices, choose the best deal, and learn about the benefits and disadvantages of organic vs. treated seeds.
When the fun of ordering the seeds is all over, recycle those seed catalogues in creative ways. Turn them into games, or they could be used for making row markers. Design your garden on the living room floor by using cutouts from the catalogues.
Eternal Seeds
Gardening is an art that sings a symphony of beauty. On this living canvas, we can paint with flowers and good things to eat. Through the garden, the Lord is a grand teacher and we, the students, are never too young or old to start learning. Every seed, every plant, has a story to tell, and even the smallest flower can make you marvel. The love of gardening, once sown, will blossom into an eternal source of happiness.
Gardening is a rich and rewarding hobby, a far healthier choice than spending time in front of the computer screen or television. Out in the garden, we have the opportunity to ponder God's majestic creation, being intrigued by the marvels of His handiwork, such as pollination, germination, or photosynthesis. The miracles happening around us in the garden are a showcase of God's love and grace. When we put that little seed in our child's hand, and teach him about their Creator, we are placing in his hands opportunities of hope, new life, and a closer walk with the Savior.
Endnotes:
1. Forward by Patrick Holden, The Gaia Book of Organic Gardening, (London: Gaia Books Ltd., 2005), p.10.
2. Kim Wilde, Gardening with Children, (London: HarperCollins Publishers Ltd., 2007), p. 11.
Ruth Ng has homeschooled her children for twelve years and resides in Ontario, Canada. Before homeschooling her children, she was an RN. She loves to write, travel to Hong Kong, teach children, be with family and friends, and learn new insights about God's Word. Together, she and her husband have a calling to reach out to orphans. Please visit their family website at www.melodyofhope.com.
Copyright 2012, used with permission. All rights reserved by author. Originally appeared in the March 2012 issue of The Old Schoolhouse® Magazine, the family education magazine. Read the magazine free at www.TOSMagazine.com or read it on the go and download the free apps at www.TOSApps.com to read the magazine on your mobile devices.
Publication date: May 3, 2013