4 Traps of Pride that Can Destroy Your Marriage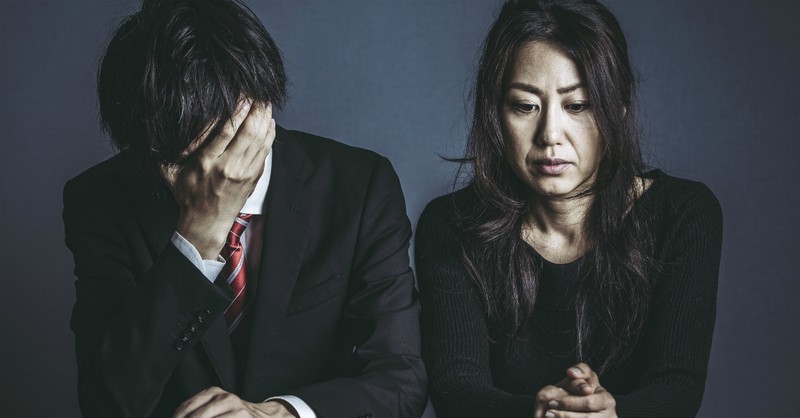 "I don't know why I bothered," Jackie said as she shoved her towel into her bag. "Working out at this gym, trying to stay fit… for what? My life is so messed up."
"We all make mistakes," I said, "Can't look back, only forward."
Although Jackie heard that cliché over and over again, she was still stuck in the prison of regret.
"I hate being divorced," she said, "seven years of marriage and just like that, it's over. He moved on, re-married and I heard he's not happy either. And me? I sit at night on the couch and who's beside me? A bag of chocolate chip cookies to make me feel better."
Jackie's unhappily ever after began subtly at first. Arguments with her husband, Mike about her shopping for stuff she didn't need. And her complaining about his habit of watching sports non-stop chiseled away at their romance.
The passion they had enjoyed fizzled. What happened?
The arguing and disagreements themselves were not to blame. The culprit was the pride that ignited the fire. It entered into their bedroom, into their discussions and tainted their interactions. Like millions of couples they allowed pride to dictate their thoughts, attitude, words and actions.
Psalm 73:6 describes pride as a necklace. It's obvious to everyone else, except you.
I wish I could do it over again," Jackie confessed, "I thought standing my ground was what I had to do."
She was fooled. Pride says, 'stand your ground at any cost'. But the results taste bad because, like rotten food, that mindset causes emotional indigestion making the marriage sick. If not treated, it will die.
But there's an option. Healthy discussion and disagreements don't need to escalate. They can end up in a resolution with peace, deeper understanding and love. The secret is to avoid the four traps of pride.
Photo Credit: ©GettyImages/bee32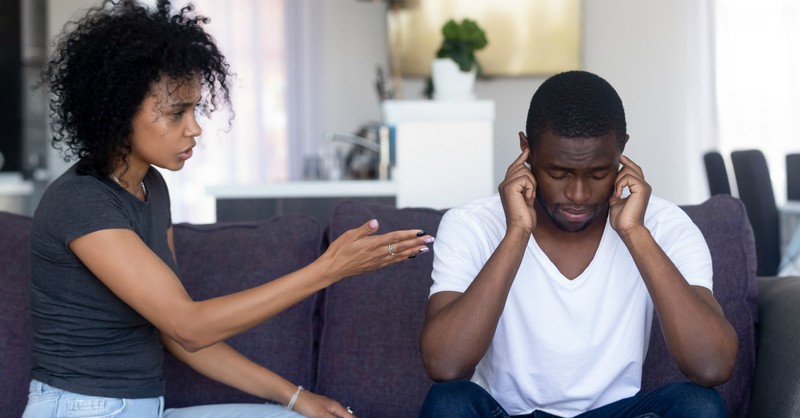 Trap 1: I Deserve to Be Happy
Nothing wrong with wanting to be happy. Who doesn't want that?
But even when no one really knows how to define happiness, we pursue it with gusto. And in the process, we begin with an it's-all-about-me desire.
Jackie did.
Even when Mike disagreed, she resented his opposition to do something that pleased and made her happy. Mike did too. Even when Jackie protested, he became annoyed when she interrupted his happy moments of sports watching.
They fell into the "I need to be happy at any cost" trap. But the cost was high as pride turned their home into an unhappy, hostile and uncomfortable dwelling.
The thing about the all-about-my-happiness mentality is that in the end, you'll always lose out on true happiness, because it's at the cost of someone you love. You can't have both intimacy and selfishness—they cannot coexist.
Sure, you may have stood your ground to get the countertops you wanted, or the boys night you look forward to to escape—but you have lost the vulnerable, selfless togetherness that marriage was designed for.
And doesn't that sound so much better?
"Pride goes before destruction, and a haughty spirit before a fall." Proverbs 16:18
Similar to other couples, Jackie and Mike faced challenges, differences and selfish whims. Though normal, they can all be resolved unless the intruder called pride barges in. Then spats turn to arguments. Arguments turn to ugly fights. And they end up killing romance.
But we can bring it back. It's all in the preparation. How we prepare our spirit before any encounter determines the outcome. God said a haughty spirit precedes a fall. But a spirit of genuine love builds a marriage.
The building begins when we resist pride. Then we're free to change from "I deserve to be happy" to "we desire to persevere, to make our marriage work and to create a 'together happiness' instead."
A prayer for putting your spouse's needs first:
Father, grant me courage to put aside my own longings and needs. Guide me to put You and Your ways first and erase all pride.
Photo Credit: ©GettyImages/fizkes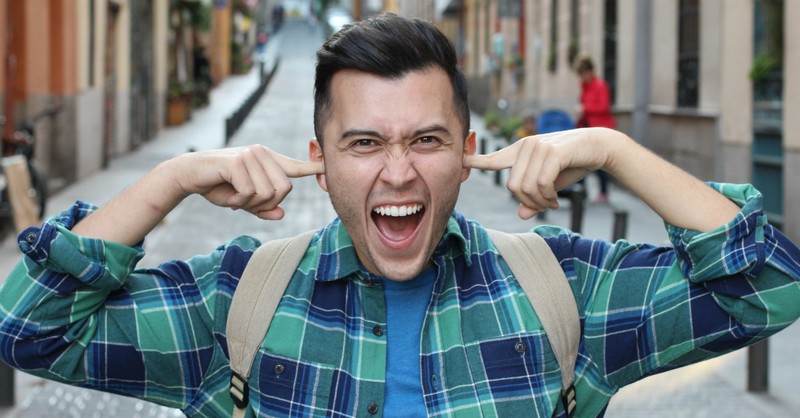 Trap 2: I Know I'm Right
The arguments changed between Jackie and Mike. The focus was no longer on the fact she shopped too much or the fact Mike became glued to the sports channel.
Their focus turned to a determination to prove the other wrong. Together they hopped in the vehicle of destructive pride.
And to make the road even more bumpy, each crafted a plan to prove their position. The weapon they used was their memory bank, recalling the other's past mistakes.
And their destination? A dead end. They ended up going to bed with coldness between them. Each fumed in deafening silence lying at the edge of the bed with backs to each other.
Eventually, their drive to assert their position entered into major areas of their marriage. Days of arguing and nights of coldness finally took them to divorce court. They each carried a bag full of blame toward each other.
Pride won. Jackie and Mike lost.
But you don't have to. The answer comes straight from God. He offers an option to destroy pride. It's called humility.
But wait a minute, isn't humility a sign of weakness? A sign that you're a pushover, lacking assertion? The answer is 'yes' if you follow the culture's whims.
But God gives a different call: "When pride comes, then comes disgrace, but with humility comes wisdom." Proverbs 11:2
Jackie and Mike would be celebrating another anniversary in the Caribbean had they recognized their need for God's wisdom.
His wisdom to realize that a relentless determination to prove one is right is wrong. They could have claimed the God-given wisdom to express their needs. To understand the other. And to put aside the I-need-to-be-right mindset.
A prayer for humility over rightness:
Father, help me to reflect on You and what You teach me before asserting my view. Grant me the humility that will please and honor You.
Photo Credit: ©GettyImages/ajr_images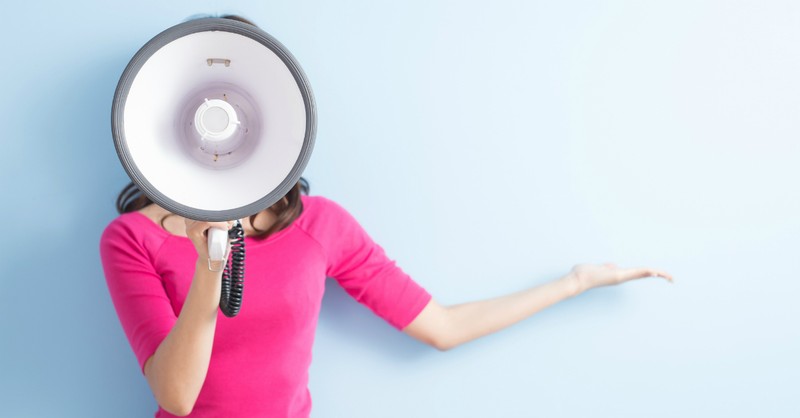 Trap 3: I Need to Speak My Mind Always
"I let him know what a jerk he was," Jackie said, "it didn't do any good. He never changed."
Both Jackie and Mike held nothing back. They let insults, blame, harsh words and accusations flow during each of their confrontations. Their words became the weapon that wounded deeply, leaving the other hurt enough to retaliate.
David experienced the same when Goliath said to him, "Come here," he said, "and I'll give your flesh to the birds of the air and the beasts of the field!" 1 Samuel 17:44
David could have returned that threat with insults. He didn't. Instead, David tapped into God's power at work with him to bring victory.
David said to Goliath, the Philistine, "You come against me with sword and spear and javelin, but I come against you in the name of the LORD Almighty…" 1 Samuel 17:45
David invited God into the battle. He leaned on the Lord rather than count on his own words, abilities or skills. Jackie and Mike could have too. They had the opportunity to defeat the giant of pride that repeats, "You're hurt, so you need to hurt back."
"A fool shows his annoyance at once, but a prudent man overlooks an insult." Proverbs 12:16
Overlooking insults does not mean enduring physical abuse. But it means that a humble spirit resembling Christ will triumph each time.
"Reckless words pierce like a sword, but the tongue of the wise brings healing." Proverbs 12:18
When the pride to speak our mind ends, wisdom reigns because "A fool gives full vent to his anger, but a wise man keeps himself under control." Proverbs 29:11
Silence allows God to speak to our heart, opening it to His wisdom to manage our thoughts.
A prayer for speaking the truth in love:
Father, thank You for the power You have to help me clean my heart, control my thinking and filter my words. Let my lips only speak truth with love and sincerity.
Photo Credit: ©GettyImages/RyanKing999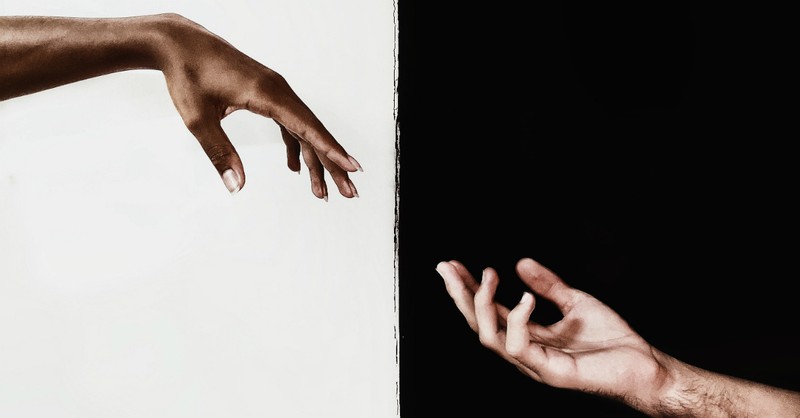 Trap 4: We Can Make it on Our Own
A year into their marriage, Jackie and Mike pulled their financial resources together and built a beautiful house on the lake.
They invited the help of decorators and landscaping experts. But they didn't involve God in building their house--or their home either. Their effort is described in Luke 6:49, "But the one who hears my words and does not put them into practice is like a man who built a house on the ground without a foundation. The moment the torrent struck that house, it collapsed and its destruction was complete."
Too bad Jackie and Mike couldn't learn from the prophet Nehemiah. He knew all about destruction.
When he received the news that the wall of Jerusalem was torn down, he knelt and wept. But then he got up, wiped his tears, fasted and prayed, asking God for resources, provision and guidance. God nodded and the wall was rebuilt.
Unlike Nehemiah, we have a different approach today. We head forth using our own skills, abilities and plans. We call it independence, but it's really pride.
Rather than the Bible, we consult the culture and follow its pattern. We cave in to peer pressure compliments of social media. And when we need answers, we don't ask God, we do a Google search instead.
God is searching too. He's looking for those who, in humility, will understand that Jesus is the vine and we are the branches. Apart from Him, we can do nothing. (John 15:4)
Without Him, there's nothing we can do to fix our problems. Nothing to ease the pain. And nothing to mend what was broken. But we turn that nothing to something powerful if, from the depth of our soul, we declare that we can do all things through Christ who strengthens us. (Philippians 4:13)
That strength turns to the courage that proclaims we're humble and wise. We're no longer Satan's prey marinated in pride. We stand in Christ's power so the enemy cannot steal our peace, kill our hope or destroy our marriages.
A prayer for relying on God:
Father, thank You for helping me put aside the pride that threatened to tear down my marriage. Thank You for giving us second chances and for the wisdom to recognize without You, we have nothing.
Jesus could have chosen to be happy rather than endure the sad flogging.
He could have asserted His right as an innocent man.
And He could have spoken His indignation and given in to Satan's lies.
But He didn't.
Instead, empty of pride, with a heart full of love, He set the example. He showed how glorious victory is won.
The same victory that can make our marriages thrive. That's because we triumphed over pride, and now peace rules, calmness reigns and love conquers all.
---
Janet Perez Eckles is an international speaker, author of four books to empower you and she's host of "See what's Cooking" videos. Her passion is to help you overcome the setbacks in life and show you the path to triumphant success.
Photo Credit: ©Pexels/Matheus Viana
---