Are Weddings No Longer Sacred?
Sharon Hanby-Robie

Author, A Simple Wedding

2008

27 Mar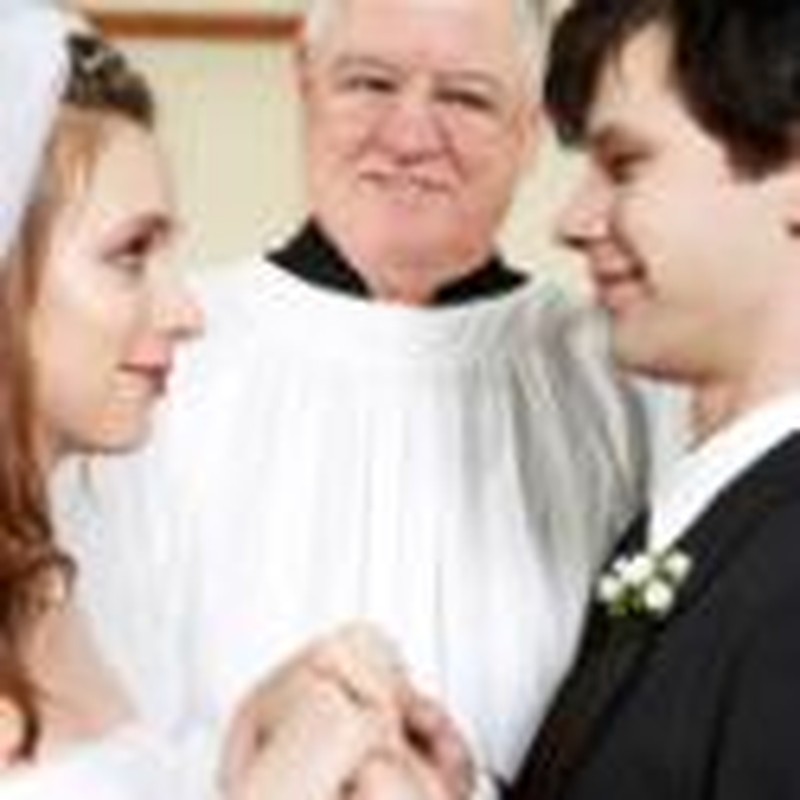 March 27, 2008
This morning I noticed a small plastic bag sitting on the edge of my lawn. Despite a heavy breeze, the little bag did not blow away, but stood firmly planted as its edges fluttered in the wind. Curious about it, I walked out to take a look and discovered that it contained a small, beautiful stone. There was also a message in the bag from a local lawn care business advertising their services.
I had always considered God to be my rock. So it's no surprise that as I held this small rock in my hand and felt it with my fingers, it reminded me more of God's characteristics than a lawn care company's services.
Symbols are powerful that way. Their meaning is often determined by our own personal associations with them as well as society's associations with them. When something big or important occurs in our lives – like a marriage – symbols become especially important.
The Uniqueness of a Christian Wedding and Marriage
Weddings have many traditional symbols associated with them - the old expression, "Something old, something new, something borrowed, something blue" immediately comes to mind. From the white wedding gown and veil, to the wedding attendants, flowers and music, symbols reveal the meaning of this very significant event.
Yet, as a Christian, I wonder what God's perspective might be about today's wedding extravaganzas. According to CNN, the average cost of a wedding soared to $26,327 in 2005 – so much money for something that is supposed to be sacred. And nearly half of all couples will end up spending more than they originally budgeted.
Getting married shouldn't require that you break the bank to be special. I believe that you can have a beautiful wedding for much less. When we focus on what is important, what we hope our guests will remember ten years from now, we might find that we can celebrate joyously for a reasonable price. Just as that little stone this morning reminded me of God's providence and His strength in my life, incorporating symbols that reflect your faith and love in your wedding ceremony can be a simple way to make a significant statement without spending a fortune.
Why Wed? Genesis 2:24 says, "For this reason a man will leave his father and mother and be united to his wife, and they will become one flesh." Nothing suggests a bond more than the words "they will become one flesh." The bonding of two people in marriage is covenantal. God used the depth of His own commitment to Israel as an illustration of a covenant promise when he said, "as Christ loved the church and gave up himself for her" (Ephesians 5:25). The covenant of marriage is a biblical framework designed to enable the husband and wife to respond to each other and to God with a deepening love in a trusting relationship.
The wedding ceremony is a symbol of our willingness to take part in this covenant. The difference between a vow and a promise is significant. A vow is set apart by our commitment to the covenant or principle, not just our commitment to each other. It's easy to make promises, but when circumstances change, too often our promises are not kept. But a vow is different – it's sacred. It says that only death can end it. In marriage, our commitment is to something higher than ourselves. It is a commitment to God.
Our wedding ceremony should reflect this significant statement. When we say we will stay together "for better or for worse, in sickness and in health," we do this because we have something greater than our love for each other that will keep us together. Cecil Murphey, co-author of more than 100 books, says "Our commitment to God's principle of a relationship severed only by death transcends earthly things. It's powerful because it surpasses feelings and situations. It's a relationship that says, 'Even though, and no matter what . . . we're still together.'"
Focusing Your Ceremony Heavenward
In biblical covenants, symbolic actions were often used to demonstrate the significance of the event. When Joshua made a covenant he placed a stone under an oak tree so that all the people would see it and remember. Sometimes, sacrifices were offered as a symbol of a covenant (Exodus 24:5-8) or salt was used in a ritual to convey specific meaning.
Symbols that are carefully chosen can continue to carry significant meaning for your entire marriage. Something as simple as the stone I found this morning might be all you need to remind you of your commitment to God and each other. Or you might, like a friend of mine, choose a lump of coal as a symbol of God's grace - as the coal is turned into a diamond, so too is your marriage with God's help.
Consider your vows. Your vows too are symbols of something greater. Vows may be personal but not necessarily private - they involve the whole community. Marriage unites families; consequently, faithfulness to your promises will effect the entire family community. Hence, the church asks that you "utter aloud before God and these witnesses," as an underscoring of the public nature of the event.
The social aspects of the promise cannot be ignored. Perhaps a simple symbolic gesture might be to include your guests to attest to your vows with a verbal response. You might even include a declaration that your guests sign at the end of the ceremony as witnesses to your promises. This simple act will forever remind you of the accountability you have to each other, family and community.
Emphasize worship. God is the primary witness to our covenant promise to each other. Of course, God is the ultimate example of covenant loyalty. Therefore, although our society says this is the bride's day, in reality it is really God's day. It is God who is honored when a man and woman commit themselves to loyalty and purity in their new life together. Simply translated, a wedding ceremony is in fact a worship ceremony.
The most important consideration therefore, should be to examine every element of our ceremony to assure that it does not trivialize the significance of the covenant promise, relationship, or the worship. Music is one of the most powerful elements in worship. It can bring us to our feet or take us down on our knees. When choosing music for your ceremony, the overall sentiment should be one that represents or demonstrates Christ-like compassion and enduring love in a way that is appropriate and leads people to worship.
This does not mean that secular music cannot ever be chosen. There is plenty of poetry and other creative expression within the Bible that doesn't directly mention Christ. But it does express the attitude of Christ's love and loyalty - that is the key. If there is a secular song that is significant to the two of you that creatively symbolizes such expression, then use it.
Sacred Symbols from the Bible and Christian Tradition Ecclesiastes 4:12 illustrates that Christian marriage is about more than the union of one man and woman. "Though one may be overpowered, two can defend themselves. A cord of three strands is not quickly broken." This passage teaches us that God performs a miracle in marriage, uniting us together with Him as one. The simple act of the bride and groom braiding a cord of three strands can be a sacred symbol of that union created on your wedding day. You may choose to incorporate a specific color for each strand. A gold strand can represent God at the center of your marriage. A purple strand may represent the groom -- the majesty of God as head over the husband. A white strand may represent the bride, as in the purity of the bride of Christ.
Another symbol of unity would be the joining of hands in prayer. You might invite the entire congregation to join hands in prayer asking God to unite you in oneness of mind and heart.
Of course, candles are often used to symbolize Christ, "the light of the world," and the gift of the Holy Spirit at Pentecost that should burn in the hearts of the bride and groom to light and guide their path throughout life. Consider lighting a unity candle or incorporating candles into your ceremony.
Crowns have significance throughout history. They have been symbols of honor and glory. In the Greek Orthodox Church the bride and groom wear crowns that are attached to each other by a white ribbon symbolizing the marital unity being entered into. They are to represent the "crowns of righteousness" that the apostle Paul spoke of in his Second Letter to Timothy, given on the Day of Judgment to those who are faithful. They represent the responsibility of love and wisdom, sacrifice and martyrdom. Throughout marriage, husband and wife must be willing to sacrifice themselves for one another in imitation of Christ sacrificing Himself for us.
Another tradition in the Greek Orthodox wedding ceremony is the common cup. The bride and groom drink from a cup of wine given to them by the priest in remembrance of Christ's miracle of changing water into wine at the wedding of Cana, symbolizing their sharing in the cup of life together with all its joys and sorrows.
Eating together is a common component of covenant-making. (Genesis 31:54). Receptions today follow the tradition of covenant meals of biblical times. Eating together showed that the new covenant partners were related in a new way. However, Jesus should be the most-honored guest. Therefore, all events of the day should be pleasing in His sight.
Ken Essau, teacher of Old Testament, marriage, and family courses at Columbia College in Abbotsford, B.C. says, "The joy should come from the event and not from the extravagance of the flowers, location or reception, though all these can add to the enjoyment. Ideally guests should remember the strength and maturity of the couple as they committed themselves to one another and praised the awesome God who brought them together. Simplicity is more likely to keep the focus of the celebration on people and God rather than on the less important." [i]
Ultimately, a Christian wedding should be characterized by joy, worship, simplicity, community, love and dignity. There certainly is room for creativity and personalization, but each guest should leave with an unmistakable impression that the newlywed couple has made a mature covenant with each other before God. As you think about personalizing the design of your wedding focus on allowing it to be an expression of worship. Let your primary goal remain simple: let the central component of your ceremony be your solemn, eternal covenant with each other and God. Let your wedding service be a testimony of your life and your faith in Christ
---
[i] For more information, visit: http://www.mbconf.ca/believe/pamphlets/weddings.en.html.
Sharon Hanby-Robie is the resident home décor expert for QVC, Inc., an author, speaker, and television personality. It is Sharon's goal to "help people discover their own personal style, and to give them the confidence to move forward with making choices that make sense for their families and lifestyle." She has been an interior designer and member of the American Society of Interior Designers for more than thirty years. Her new book series, The Spirit of Simple Living™, is published by GuidepostsBooks.
*This article originally posted on April 24, 2007