Compromise, Humor are Key Ingredients for Loving Marriages
Deborah Raney & Tobi Layton

Contributing Writers

2008

20 May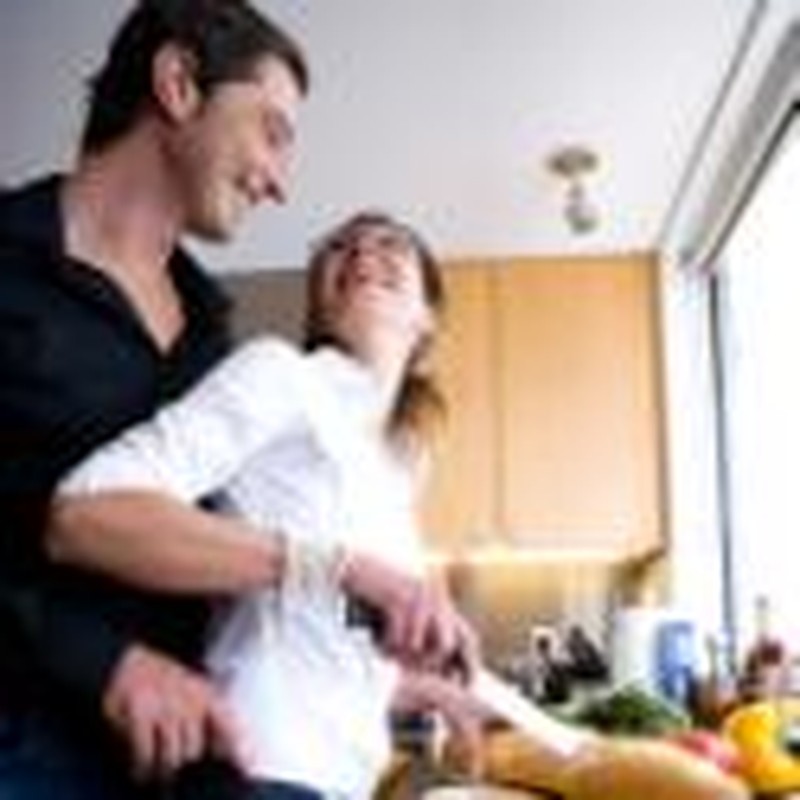 A fresh perspective…
Tobi Layton, married 6 years
While I fantasize about possessing a few Martha Stewart skills, cooking is not my forte. Fortunately, my husband is not picky or demanding. After four years of marriage, I have learned one secret to preparing a successful meal: something is better than nothing.
Early in our marriage I made valiant, though sporadic, efforts to be the happy homemaker. I distinctly remember the filet mignon that I broke the budget to buy for Ryan's birthday dinner. Unfortunately, the steaks also threatened to break a tooth.
I searched the Internet for a chicken cordon bleu recipe on Valentine's Day. I slaved for hours, pounding the stubborn chicken flat and dicing ham. I followed the two-page recipe to the letter, carefully wrapping the cheese and ham in the chicken, securing the bundle with tiny toothpicks. I was a proud chef when I presented my masterpiece to Ryan. My pride quickly turned to chagrin when I realized I had forgotten the final instruction (step #18, I believe) to "remove toothpicks before serving." Ryan graciously thanked me for my efforts and did his best to choke down the results of my latest experiment.
And then there was the toast meal. I don't remember what the main course was that night, but I do remember it turned out surprisingly well. That, however, was not what triggered the wide smile I wore when I presented Ryan with my culinary masterpiece. No, it was the side item—toast. But this was no ordinary toast. This had been lovingly buttered, parsleyed, and cut into the shape of a heart. It was so cute, so thoughtful, so romantic.
So unimpressive, apparently. When Ryan failed to ooh and ah over my efforts, I tried a little prompting. "What do you think of the toast?" I waited for his enthusiastic response. Instead, he "harrumphed," and gave a little chuckle.
I was hurt that Ryan didn't appreciate and enjoy what I, in all honesty, did more for my own pleasure than for his (I mean, really, what man craves bread cut into sappy shapes?) More importantly, I was hurt by something Ryan said during the "discussion" that ensued. "I don't need fancy meals," he told me. "I'm just happy when you cook for me." The "when" stung a bit, but it was well-deserved. You see, in between my attempts at gourmet meals were months' worth of cereal, snack food and McDonald's for supper.
Before we married, we had agreed on traditional household roles. I would take care of the "inside stuff" and Ryan would man the yard and vehicles. So, supper really was my job, and I had shirked the duty. I treated supper like an unwanted chore, instead of an opportunity to love my husband. I thought if I couldn't produce a four-course, five-star meal, I shouldn't even bother. Surely Ryan would be insulted if I put macaroni and cheese in front of him and called it cooking.
But the heart-shaped toast taught me a lesson. My husband didn't want a perfect meal. All he desired was a little nutrition and some quality time with his wife. He just needed to know that I wanted take care of him, whether that meant sandwiches or steak.
I still don't cook every night, but I am trying to increase my frequency and decrease my self-imposed expectations. Hamburger Helper really does make a great meal.
And Ryan is doing his part, too. Last Valentine's Day we were too busy to go out to eat. He brought home dinner that night—a pizza, shaped like a heart.
A seasoned perspective…
Deborah Raney, married 33 years
We hadn't been married more than a few weeks when my husband spoke the words that wives through the ages have come to dread. I'd made a batch of oatmeal raisin cookies—Ken's favorite—and waited, beaming, for him to praise my efforts.
Instead, I got a wrinkled brow and a helpful suggestion: "This isn't the way my mom makes them. You should call and get her recipe."
Grrrr.
To be fair, I knew what I was getting into long before I walked the aisle with my dear hubby. During his first meal at my parents' house, he lifted a bowl of salad my mother had prepared, took a whiff, wrinkled his nose and passed it on. I was mortified. But when I brought it up later that evening, Ken informed me that he was a very picky eater and he doubted if that would ever change. In other words, "This is who I am. Love me or leave me."
Well, love him I did, and it didn't take long for me to decide that Ken had plenty of wonderful qualities to negate this deficit. But I'll admit I've had to remind myself of just what those are more than once over the years.
I love to try new recipes and experiment with unusual ingredients, but because of Ken's pickiness, I am a very frustrated gourmet. I believe I've gone above any wifely call of duty each time I've deleted the nuts from my favorite recipes, pureed his spaghetti sauce or salsa to rid them of the dreaded tomato "chunks," or picked the "gross purple stuff" out of his salad greens. I've forgone the pleasures of watermelon and cauliflower for Ken's sake, and prepare pasta salad and potato salad (or anything else that contains mustard) only for church dinners.
On the other hand, it's a concession on Ken's part that he'll even eat a salad. And he has mellowed over the years, and even humored me a bit by letting me switch him over to 2% milk from the whole milk he grew up on. Of course, the switch had to be done gradually and on the sly, slowing refilling a carton labeled whole milk with the despised 2%, until his unsuspecting taste buds could no longer discern the difference.
While the way to a man's heart may be through his stomach, with Ken, I have to take some major detours to bypass his taste buds. If I'm seeking affirmation and fulfillment through my husband's stomach, I'm destined to live as an insecure and unfulfilled woman.
Instead, I've chosen to remember that Proverbs says "a merry heart doeth good like a medicine," and I've tried to see the humor in this aspect of our marriage. I have to admit, the bouncing meatball story—one of my culinary catastrophes—has gotten some pretty good laughs over the years, as has the story about our infamous chunky fajita fight. And there's a running family joke about a recipe called Debbie's Surprise #246. The punchline goes: "and the surprise is…we actually like it!"
1 Peter 4:8 says "Above all, love each other deeply, because love covers over a multitude of sins." It's so true. When we love each other with God's love, He helps us accept each other as we are—warts and quirks and all. And once in a while, He gives us a good laugh in the process.
Discussion:
Read 1 Corinthians 13:4-8
1. What aspects of your marriage have had the potential to be hurtful or cause arguments? How have you applied the verses in 1 Corinthians 13 to these situations?
2. What ways have you found to work through those difficulties? How have you been able to find humor and even laugh about the conflict?
3. Have you tried to change certain things about your spouse in the past? Were you successful? If not, how have you come to terms with the things you couldn't change?
4. Think about how your spouse might answer these same questions about you.



---
Deborah Raney is at work on her nineteenth novel. Her first novel, A Vow to Cherish, inspired the World Wide Pictures film of the same title. Her books have won the National Readers' Choice Award, Silver Angel for Excellence in Media, and have twice been Christy Award finalists. Her newest series, the Hanover Falls Novels, will release from Howard/Simon & Schuster. She and her husband, Ken Raney, have been married for 35 years. They have four children, two little grandsons, and enjoy small- town life in Kansas. Visit Deborah's website at http://www.deborahraney.com.




Tobi Layton is a fifth grade teacher and freelance writer in southeast Missouri. Tobi has been married for eight years to Ryan Layton, a high school biology teacher. Tobi and Ryan are involved with the high school and junior high youth groups at their church in Cape Girardeau, Missouri. The Laytons have two sons.

Tobi Layton is the daughter of Ken and Deborah Raney. The Raneys and the Laytons share an August 11 wedding anniversary.