The Powerful Effects of Divorce on Children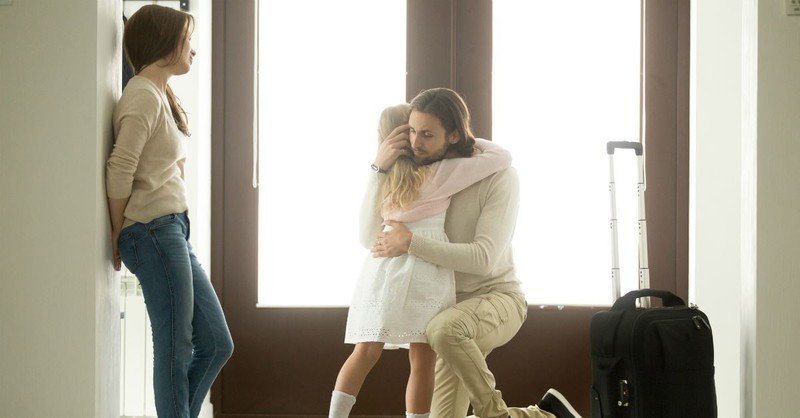 The kids will be happier if their parents are happy––so divorce may be the better option, was a common myth from days gone by. But now, with the tremendous amount of research on how divorce effects children, this idea seems a bit archaic.
Most people would agree that divorce has immediate and long term negative effects upon children. However, amidst marital conflict it's often difficult for a couple to consider, or evaluate, the pain their children will experience after a divorce.
I am not an expert on the topic of divorce's influence upon children. However, in 36 years as a pastor's wife and in 18 years of youth ministry I've observed effects on kids that are consistent with research I've done in preparation for this article.
After reading countless expert research pieces and statistics recounting the short- and long-term effects of divorce upon children my goal is to help you glean an overview of that research.
My goal is not to simply list off all the negative verses positive influence divorce has on children. My desire is to sit down with you, as an older mentor, to chat with you about this subject and to offer you help and hope.
Who Might Be Asking This Question?
While considering the readership of this piece I've compiled a list of who might be taking the time to read it. If you're reading this article, I'm expecting you are either:
 - already divorced and concerned about its effects on your kids
 - considering leaving your spouse but worried about the influence it will have upon your child's emotional and physical wellbeing, as well as on their social development.
 - looking for hope after divorce. And researching ways to help your child not become yet another negative statistic.
 - a minister to children and you want to better equip yourself to help divorced parents direct their children toward the hope of the gospel and new life in Christ–– which is more powerful than any negative effect their parent's divorce might have upon them. (Can I get a witness?)
 - looking for an argument. I hesitated adding this point, but the truth is when I publish an article that is so close to home for many readers I usually get a lot of comments from people who are offended at the suggestion that their actions might have had a negative impact on someone else.
So, if this is you, please know that the purpose of this article is not to bait you into an argument, nor to shame, offend or to make you feel guilty.
My goal in writing this article is to genuinely help connect divorced parents with experts who can help them guide their kids with wisdom through the possible repercussions of divorce.
And to encourage married couples to do whatever it takes to heal their broken marriage and make their home a place of peace and joy that will reap positive long-term fruit.
Consider this insight from  The Linacre Quarterly report: "Nearly three decades of research evaluating the impact of family structure on the health and well-being of children demonstrates that children living with their married, biological parents consistently have better physical, emotional, and academic well-being."
What Are the Short-Term Effects of Divorce on Children?
There are many short-term influences on children of divorced parents. In this section we will chat about what divorced parents can do to offset some negative impacts.
And if you're considering a divorce, please take time to consider only a few effects your child will likely face:
1. Feelings of Insecurity
One expert explains that children "have the attitude that their parents should be able to work through and solve any issues. Parents, who have given the children life, are perceived by the children as very competent people with supernatural abilities to meet the needs of the children.
No problem should be too great for their parents to handle. For a child, divorce shatters this basic safety and belief concerning the parents' abilities to care for them and to make decisions that truly consider their well-being."
2. Feelings of Rejection
Children tend to feel rejected by the parent who left. And if the parent starts another family with someone else the feelings of rejection may intensify.
In my own experience as a child whose parents divorced after I was an adult, I still remember battling the feelings of betrayal and rejection when both of my parents started new families with new spouses.
If the experience was so painful and difficult for me as an adult with my own family, I can only imagine how a child or teen would feel if they perceive their parent's new family as a threat to their relationship with their own parent.
When your child is processing feelings of rejection it is important to get them to talk to you about what they are feeling. Depending upon your child's temperament they may withdraw or lash out.
Let either sign be an opportunity for you to help them unpack their own feelings and understand why they are acting out. Sometimes the child will feel the need to protect you, so they won't freely tell you what's going on in their heart. The Focus on the Family's article entitled:Divorce and its Impact on Children offers this advice:
[Children] should also be encouraged and assisted to find other healthy adult mentors with whom they can be honest about their feelings and talk about the challenges they're facing at home. Alert their teachers, school counselors, youth leader, or pastor to the situation. Draw in anyone else you can think of who might be willing to fill this role in their lives.
Having your child be a part of a healthy church family is also vital to giving them a sense of belonging. Not only can the church be a place of security and peace, but it will also show them examples of healthy marriages that honor Christ and give them hope to one day enjoy their own happy marriage.
Recent studies reveal that fatherlessness is an epidemic as 40% of children in America are being raised in homes without their biological fathers. Children whose fathers are not in the picture can be encouraged by developing a relationship with a godly male role model.
A Christian coach, or Christ honoring youth or children's pastor can fill their longing for positive male role models.
(As a note: please prayerfully evaluate the people you allow your children to spend time with. Sadly, with so many church-leader child abuse stories, parents are cautious, even reluctant, to exposing their kids to other adults. In my husband's 18 years of youth ministry his policy was to never be alone with a youth. A policy I believe all youth and child ministers should adopt. This is a preventative measure that protects both the minister from accusations, and the child from receiving any inappropriate interaction.)
3. Feelings of Resentment
Children being raised in divorced homes often feel resentment toward both of their parents. As a word of caution, the least helpful thing you can do is join in your child's misery by telling them how you resent your ex.
Your resentment will induce more pain and insecurity to your child. Nurturing sinful resentment will lead to more trouble.
"See to it that no one fails to obtain the grace of God; that no "root of bitterness" springs up and causes trouble, and by it many become defiled." Hebrews 12:15 ESV
As you and your child walk chart these waters, refuse to look to your child as an emotional refuge or comfort. Specifically, don't allow yourself to air grievances in their hearing. Certainly, validate any hurt feelings they might have towards your ex—but do not take that time to use your child to vent about your own hurts.
Don't lose heart when facing blended family situations, you're not alone. In ministry we've observed children in blended families do well when at least one of their parents offers loving support and attention. Along with prayer, remind your child of God's deep love for them and promise to never leave them (see Hebrews 13:5).
For biblical blended family resources, please visit Family Life Blended.
4. Feeling Responsible
Many children mistakenly believe their behavior was the reason for the divorce. This misunderstanding adds to the child's sorrow which is played out in any number of negative ways. Remind your child often that the divorce was not their fault.
5. Feeling the Weight of Poverty
Since the custodial parent's income drops dramatically, it's five times more likely that children in divorced homes will know the sting of financial difficulties. Which can contribute to their feelings of anxiety, fear and worry.
Statistics prove almost 50% of parents with children going through a divorce move into poverty after the divorce.If you're considering a divorce take time to consider the physical, emotional and financial implications of your separation. Many times, people come to realize they are not any happier in their divorced state.
It usually just exchanges one set of problems in marriage for a whole new set of troubles in their singleness. Consider this reminder in Hosea 8:7: "For they sow the wind, and they shall reap the whirlwind…"          
Again, please realize I am not talking to the one who's divorced due to abuse or continual infidelity. While divorce may hold the same difficult repercussion, for you and your children to remain in an unsafe situation would bring far worse consequences.
Remember, God sees, He knows, He hears, and He promises to defend the fatherless (or motherless) and only He can turn for good that which was meant for evil (see: Psalm 82:3, Genesis 50:20).
What Are the Long-Term Effects of Divorce on Children?
There are many long-term negative influences upon children raised in divorced homes. Here are some to ponder:
Behavior problems are common among children from divorced homes. Boys particularly tend to be more aggressive toward others. But girls act out in negative ways as well.
Psychological distress such as depression or even suicidal thoughts and tendencies.
 - More vulnerable to suffer abuse.
 - Experience illness more frequently and recover from illnesses more slowly.
 - More likely to engage in sexual promiscuity or become teen parents.
 - More prone to substance abuse.
 - Suffer academically.
 - Lasting emotional trauma played out in anxiety and inability to commit to lasting future relationships.
- Loneliness, unhappy, anxious and insecurity are also long term effects
Most experts agree that while parents can recuperate from divorce, children find it nearly impossible to fully recover. Consider this insight from licensed counselor and therapist Steven Earll:
"Full "recovery" is nearly impossible for children because of the dynamic nature of family life. While you and your ex-spouse's lives may go on separately with relatively little thought, your children will think about their loss almost every day. And 25 years after the fact, they will certainly be influenced by it. Life itself will remind them of the loss at even the happiest moments."
Earll continues: "Children never get over divorce. It is a great loss that is in their lives forever. It is like a grief that is never over. All special events, such as holidays, plays, sports, graduations, marriages, births of children, etc., bring up the loss created by divorce as well as the family relationship conflicts that result from the 'extended family' celebrating any event."
An article by Judith Wallerstein PHD states that children of divorce: "…Experience heightened anxiety in forming enduring attachments at later developmental stages including young adulthood."
What Are the Spiritual Implications for Children of Divorce?
The final, and in my opinion the most important, consequence to consider is the spiritual implications divorce has upon children. While children not raised by Christian parents are often ready to hear and respond to the gospel after their parent's divorce, kids raised in Christian homes may end up rejecting their parent's faith.
The hypocrisy and loss of trust children experience can negatively affect their belief in God, and cause them to doubt the existence of a Savior who didn't have the power to save their parent's marriage.
Seeing their parents' inability to resolve conflict or forgive one another can cause them to doubt the sincerity of their parent's religious beliefs and often grow up rejecting their Christian values.
Many children are plagued with feelings of betrayal and unforgiveness toward their parents, and to God for allowing the divorce. This can send them down a path of rebellion against Christ and the biblical values they might otherwise have continued to embrace.
God clearly says that He hates divorce, not because He wants to withhold from us what is good, but rather He designed the covenant marriage to build secure families that reflect Christ's love for the church. When that picture is distorted through divorce the consequences reverberate for generations.
If you're still married, do whatever it takes to heal your troubled marriage because your kids are counting on you. Realize that Satan himself is out to destroy you and your children. But greater is He who is in you than he who is in the world (1 John 4:4). Seek out godly counselors for help and hope.
Our book, The Marriage Mentor and the free videos are a great place to start. Be encouraged to learn that studies show how people who were unhappy but stayed married were more likely to be happy five years later. 
Malachi 2:16 reminds God's people to honor our covenant in marriage that we might produce a godly seed. In more than three decades of ministry my pastor-husband and I have observed the unfortunate rebellion and repercussions divorce has in Christian families. But what Satan means for evil God can use for good (see Genesis 50:20).
So, don't lose heart, we've also seen amazing godly children raised by parents who turned to wholeheartedly pursue Christ in spite of their failed marriage. In my book, Moms Raising Sons to Be Men I say, "Your trials are not always about you."
I firmly believe that any difficulty you endure with your eyes fixed on Jesus can be a light that God can use to draw your children to genuine salvation and trust in Christ as the only source for security and joy.
Don't get discouraged if you're already divorced. Please know that with God all things are possible. And no matter what the reason for your divorce, God doesn't see your kids as statistics.
He knows how much pain divorce has brought to their little hearts and He is the one who can turn sorrow to joy. Because God promises to work all things together for good to those who love Him––to those who are called according to His purpose. (Romans 8:28)
---
Rhonda Stoppe is dedicated to help women LIVE LIFE WITH NO REGRETS.
Rhonda is the author of 6 books including: Moms Raising Sons to Be Men , and Real Life Romance. Her newest book is The Marriage Mentor, is co-authored with her Pastor-husband, Steve Stoppe. (Harvest House Publishers)  With over 30 years experience of helping women build a life with no regrets as a pastor's wife, mentor, speaker, author, mom & grandmother. She's a regular guest on Focus on the Family, co-host of The No Regrets Hour, and other popular Christian Radio broadcasts. Rhonda helps women to:
Break free from regrets that hold them back
Grow in wholehearted devotion to Christ
Find victory over people-pleasing
Have the marriage others only dream about
Build a godly legacy to become more influential than they ever dreamed possible
Rhonda and Steve have been married 38 years and live out their own real life romance on their ranch in Northern California. WATCH FREE marriage videos  or to book the Stoppe's for your marriage event visit www.NoRegretsWoman.
Photo Credit: ©GettyImages/fizkes