Why "You're Not the Person I Married" is a Good Thing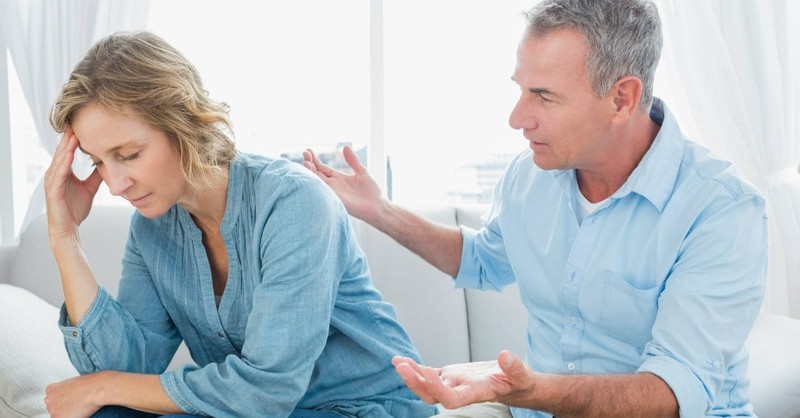 Kim and Tom were married when they were in their mid-20s. Immediately Kim was smitten by Tom's incredible smile. His clever banter and kind heart was what sealed the deal for Kim. 
Not only did Kim fall in love with Tom, she was convinced she would love him–and only him––for the rest of her life!
Their dating consisted of lazy afternoons near the river on Kim's parents property where they would talk about their hopes and dreams.  
It wasn't long before Kim and Tom were married. Their wedding ceremony took place right next to the very river where they had spent so many hours, when their love was young––how romantic!
Four years later, Tom landed a job that paid enough that Kim could quit her job––to care for their son. Everything was perfect, or was it?
These days, Kim finds herself taking long walks along the river at her parents house––alone. As she walks, she considers how Tom has changed over the years. Kim often complains, "He works too much. And he has become too serious. Where's that charming smile and clever banter? Tom is definitely NOT the man I married." 
Tom, on the other hand, has watched his 20-something bride mature into a 30-ish woman, wife, and mother. While Tom missed the energy Kim had when they were younger, he admires how hard she works to take care of him and their family (although Tom knows he forgets to tell Kim of his admiration).
One night when Tom returned home from a long day at work, he found Kim in tears. She was longing for the days when they were able to enjoy their time together as a couple––as opposed to the stolen moments they now attempted to enjoy, amidst the demands of parenting and work distractions for Tom.
After Kim and Tom talked about ways they might be able to better their relationship, Tom encouraged her to seek out a godly mentor. Tom said, "Titus 2 calls the older women to teach the younger how to love their husbands and children; maybe that is a good resource for you to find some answers."
Kim took to heart Tom's advice and she began to ask God to send her a godly mentor. It wasn't long before a woman named Barbara became an obvious choice. Kim shyly approached Barbara and asked her if she would be her mentor.
Barbara smiled and assured Kim that she was honored to have been asked to teach her what God had taught her over the course of her lifetime.
One day, Kim was explaining to Barbara how disappointed she had become in the changes she had seen in Tom. When Kim shared how she longed for the days when Tom was more romantic and carefree, Barbara stopped her mid-sentence and asked her these questions:
Is Tom a good man?
 
Does Tom provide for your family and come home every night?
 
Is Tom a good father?
To all of these questions Kim answered, "Why of course."
Then Barbara said something that Kim will never forget. "Life is a series of seasons:
When you are dating you were in a season of young love.
 
When you were first married you enjoyed the honeymoon period.
 
Now, you're in the season that really matters: The season where your love really takes hold as you serve one another in the everyday-ness of life.
 
When you learn to love well, the next season of your marriage will be even better than when your love was young."
Barbara went on to say, "Remember, Jesus' example of loving was to serve selflessly? While you were young, Tom's selfless love toward you may have seemed more romantic because it was displayed in spending time with you, taking you on nice dates, or buying you presents. 
"But now, Tom's selfless love is played out in a different way––a more Christlike manner. Take a moment to celebrate how deeply Tom must love you to be a faithful husband who works hard to take care of your family."
Can You Relate?
Maybe you can relate to Kim and Tom's story? I often meet women who fantasize about how much happier they would be if their husband would be as attentive and romantic as he had been when their love was young.  When this happens there is a real danger to believe they won't be happy until their husband measures up to their expectations. 
If you find yourself in a mindset similar to Kim's, you would be wise to seek out a godly mentor. Ask God to help you look for someone who's marriage you would like to emulate.
This is why I wrote my new book, IF MY HUSBAND WOULD CHANGE I'D BE HAPPY & Other Myths Wives Believe––to be a Titus 2 marriage mentor.
Ask Yourself: When you think about your husband, do you tend to dwell on the things about him that disappoint you?
Left unchecked, this practice can seriously undermine your love for your husband. The result will be dissatisfaction with your marriage. And over time, you may come to believe the myth that you are falling out of love with your husband.
So what can you do? How can you cultivate a new way of thinking about your husband?
It starts by making a deliberate decision to think on his good qualities and refuse to dwell on how he doesn't make you happy. In this way you can rekindle your affection for your husband and learn to delight in the changes God is making in him. And what husband doesn't want to be enjoyed by his wife?
What a gift you give your man when you determine to take pleasure in his good qualities.
Wouldn't you want your husband to do this for you as well? Let this behavior begin with you.*
Celebrate the Change: Staying in love in marriage requires that you celebrate the seasons of change. Enjoy the time the Lord has given you––and let God's joy be your strength (Nehemiah 8:10).
Look for the Good: Philippians 4:8 instructs, "Think on whatever is good, right, honorable, pure, lovely and commendable." 
If you want to enjoy the work God is doing in your husband, you must determine to LOOK for the good, honorable and lovely character traits! 
Search for them as you would if you were seeking out a hidden treasure. God will help you find them and focus on them if you would but ask (see James 4:2-3).
Remember, God is at work transforming you and your spouse into the image of His Son. That's why "You're NOT the person I married" is a good thing!
For it is God who works in you, both to will and do his good pleasure... And I am sure of this, that he who began a good work in you will bring it to completion. (Philippians 2:13, Philippians 1:6)
Listen to Rhonda Stoppe's short audio message: Staying in Love is All In Your Mind
*Part of article excerpted from IF MY HUSBAND WOULD CHANGE I'D BE HAPPY & Other Myths Wives Believe.
Rhonda Stoppe is a pastor's wife, speaker, and author. As the NO REGRETS WOMAN, Rhonda has more than 20 years experience of helping women live life with no regrets. Through humor, and honest communication, she helps women build NO REGRETS LIVES by applying sound teaching from Scripture. Rhonda appears on radio programs, speaks at women's events, MOPs, and homeschool conventions throughout the nation. Rhonda Stoppe's book Moms Raising Sons to be Men is mentoring thousands of moms to guide sons toward a no-regrets life. Her new book If My Husband Would Change, I'd Be Happy: And Other Myths Wives Believe is helping countless women build no-regrets marriages. 
Publication date: July 8, 2016