Heroes in the Background: The Sacrifices of Military Families
Sara Horn

Author

2007

10 Nov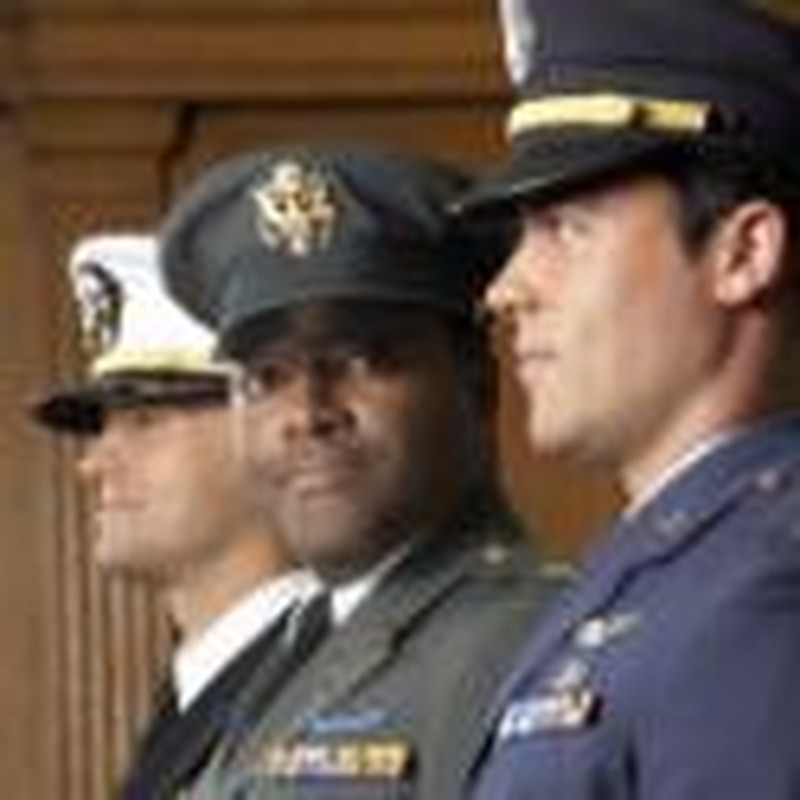 It was the early morning hours of April 5, 2003 - Eastern Standard Time - and Jennifer Cook's cell phone was ringing.

"Jen, it's Eddie. Where are you?"

"Well, Eddie, it's three a.m. I'm at the hospital."

Jennifer was about to give birth to the couple's first child. Her husband, Chaplain (Captain) Eddie Cook, was thousands of miles away, serving with his men in Iraq. He'd left when she was seven months pregnant, on Valentine's Day.

"The whole thing with the military is inevitably they're going to miss a birth, a birthday, something," says Jennifer. "You have to know how to deal with it."

The couple had discussed the important details before he'd deployed. They'd agreed on a name, they'd found a doula, ensuring she'd have ample care and support, but there was still a wide range of mixed emotions. "Like with anything, though, we knew the Lord would make a way and watch over us all," she says.

That early April night, Eddie called back two more times. Finally, after a twenty-seven-hour labor, Edward Jonathan Cook was born.

Daddy's boy.

Only daddy wasn't there. Jennifer admits the first six weeks after Edward was born were the hardest. Though her mother stayed for two weeks, and some other family members came and helped out, it was still hard not to feel alone.

"Those six weeks, just being a new mom, the nonstop sleepless nights were extremely hard," she says. "As much as I wanted to cry and scream right along with my newborn, I gave it to the Lord, and He got me through."

Jennifer grew up in Jasper, Indiana, and met Eddie while they were both serving on the mission field in North Africa. They married in 1999, and Eddie rejoined the 82nd Airborne Division in 2002 as a chaplain. Now thirty-one and watching her little boy grow up, she's experiencing that exciting mix of joy and laughter. Yet it's bittersweet because her husband isn't here to share it.

At times, it's downright heart wrenching.

Edward started giggling when he was four months old. One night when Eddie was on the phone, his wife told him, "You've got to hear this!"

"I got Edward giggling, and he was just cackling, but when I picked up the phone again, Eddie was quiet and said 'Jen, stop, you're making me cry.' Every guy is different, but you have to be careful how much you share."

It wasn't until after her husband deployed that Jennifer truly learned what it meant to turn something completely over to God. She originally struggled with her role as a chaplain's wife. Should she start a Bible study? Lead a support group? Do something spiritually big and visible?

The answer she got from the Lord was to wait. After the men deployed, she felt God calling her to start a weekly ladies prayer service. She's seeing the help it gives to others as well as herself.

"Occasionally, I hear explosions in the background when I'm talking to him on the phone," she says (adding that Eddie thinks, It's the niftiest thing that I can hear all that). You go to bed thinking someone is going to knock on my door or call me in the middle of the night to tell me something's happened. Eventually you realize you have to put it in the hands of God."

Jennifer says God has given her a peace that no harm will come to her husband. She's seen other women with strong faith feel the same thing.

"There're women who call me saying they cry every day for their husbands, and they don't know the Lord," she says. "You've got me and others who can't explain the peace we're feeling" by any measurement of human willpower.

There have been really tough moments. When Eddie called home to tell her he was on the list to get two weeks of R&R because he was a new father, they were overjoyed -- only to find out a few days later he'd been taken off the list because he was an officer. No officers would be granted leave.

"I had to take a few days to vent to the Lord, but eventually -- once again -- I had to praise Him," Jennifer says, admitting it wasn't easy. "I'm thankful we have a healthy baby boy, Eddie is safe, and that we're on the downside of this deployment."

She now sees that God has called both Eddie and her into ministry and that sacrifices are sometimes a necessary part of it. The war in Iraq is about much more than giving others their physical freedom or stopping a dictator. It's about God sculpting His people, chiseling them down to their basic needs, leaving them with nothing to stand in the way of their Christlikeness beaming through.

"God showed me Luke 9:62 a few weeks ago" [where Jesus says, 'No one who puts his hand to the plow and looks back is fit for the kingdom of God'], "and I realized that we are not working for the Army but for the kingdom, she says.

"That requires a forward walk, not turning around and looking at frustrations or missed opportunities. Our vision is eternal not temporal. I am learning more and more by this deployment that I have a daily choice to be positive or negative. Truth is, I can be both, but I am learning."

Back in Baghdad, Chaplain Cook acknowledges the difficulty in not seeing his little boy. But he knows God is providing a spiritual bond between them. He has lots of plans for when he does return.

There can be no doubt that Edward knows his daddy's voice. Since his son was born, Eddie calls home every chance he gets, to sing "Jesus Loves Me" to his little boy. His young son's face lights up with an enormous grin every time he hears him.

"I want to teach Edward about our Lord Jesus Christ and to be a God-fearing young man," says Cook. "I want to teach him the truth of the Bible, teach him how to camp, how to shoot, and how to enjoy the outdoors."

He can't wait for the day when he sees his son face to face.

He knows just how it will be.

"The first thing I'll do is let him hear my voice, let him hear me sing 'Jesus Loves Me' to him, as I've done so many times on the phone," Cook says. His eyes tear up, imagining the meeting he's been thinking about since he first heard the cries of his son from so far away on the other side of the world. "Then I'll reach out to him, and I'll take him into my arms, and I'll hold him.

"And maybe I'll even sing it to him again."

*This article first ran on Crosswalk in 2004.

Excerpted from A Greater Freedom: Stories of Faith from Operation Iraqi Freedom by Oliver North (executive editor) and stories by Sara Horn. © 2004, pps. 165 -166. Used by permission of Broadman & Holman Publishers, http://www.broadmanholman.com/.