How a Couple's Chore Chart Can Make Your Marriage a Little Easier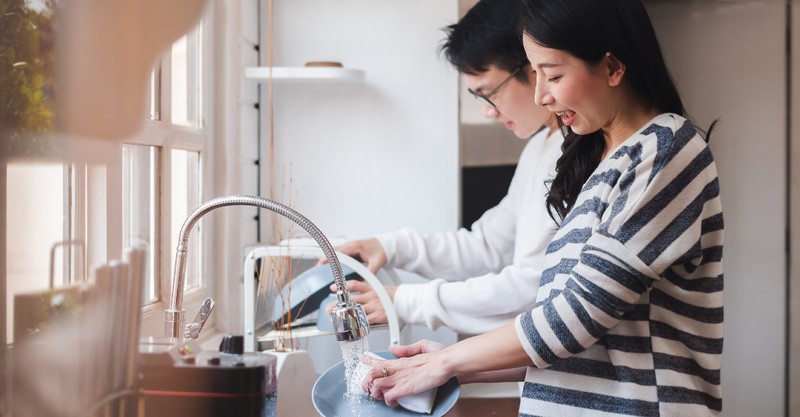 When I first got married, my grandpa gave me some humorous but surprisingly insightful advice. He said to never agree to do something for your spouse you aren't willing to do for a lifetime.
While I don't believe that just because you once took out the trash you always have to take out the trash but there is some truth to the fact that in our marriages we can form routines around the chores we are in charge of that don't easily change.
Routines are great but as life changes we may find that what once worked now needs to be revisited. At the start of our marriage before we had kids I did most of the cleaning. Strangely enough I enjoy cleaning so it wasn't a big deal for me to clean the house.
Now that we are a family of five there is no way I can keep up with the messes these people make on my own! We had to change up our routine and now include a family clean up day every week because the task grew bigger than what I can handle on my own.
If we aren't willing to revisit conversations about chores as our lives together evolve, resentment can grow over these tiny but important tasks. As our responsibilities, family size, and interests change then also should the way to divide up the chores that have to be completed to keep our homes running well.
A chore chart is one great resource that can help you start a conversation around how to divide up chores in your home.
Using a marriage chore chart can help you decide who should be doing what and when in a way that helps you stay clear, organized, and allows you to talk through this issue a little more peacefully as a couple.
Why Is a Chore Chart Helpful?
More and more families are being supported by two full time working partners. Yet, research has shown that even when women worked equivalent to more hours than our spouses outside of the home we still took on more of the household chores.
Women were found to do more than twice the amount of actual work plus they tend to carry the burden of "invisible tasks" such as planning ahead for upcoming events, financial needs, and more.
Even if you both aren't working full time outside of the home; it is still true that it can easily feel stressful and unfair if just one person in the marriage is responsible for completing the majority of the chores for your home.
Why is this an issue that Christian marriages should pay attention to? The Bible helps us understand how we should treat one another in our marriages. Ephesians 5:28 instructs husbands to love their wives as their own body.
Ephesians 5:25 also says for husbands to love their wives as Christ loves the church and give himself up for them. The point is not to just harp on the men here. Paul the author of Ephesians also calls wives to submit to and respect their husbands.
Bottom line is that both men and women are called to honor and serve one another with their actions in marriages.
Practically serving one another means we do the work to help each other in taking care of our homes and children in a way that doesn't leave either side feeling burned out or overwhelmed. It also leads to happier unions and better outcomes in our marriages!
In a 2007 Pew Research Poll sharing household chores was in the top things that were associated with a successful marriage. In a poll 62 percent of participants said that sharing household chores is a vital part of marital success.
How Does a Chore Chart Work?
There are a few ways to organize your chore chart depending on what makes the most sense for your home!
One option is just to list all of your chores that need to be done regularly on a page and post it up somewhere visible in your home. When one of you is able to complete a task you then mark that you have completed it.
This may work well for couples that have a competitive edge. The challenge to "mark off" more than your partner may be a good way to keep you both motivated in this area.
If you want to create a chart with more explicit individual expectations you could create a chart for each of you with assigned tasks for you to complete during the week. You could even divide the tasks up by day too!
This would be great for couples who enjoy a more rigid or truly fair approach to household chores.
You could create a chart that tackles all the tasks for managing your home or just use it to help divide up responsibilities that you guys tend to experience conflict over. If you fight a lot over dishes and cleaning then just make a chart to help bring some peace between you for this area of your lives.
If you are feeling frustrated over yard work or finances use the chart or maybe an app even to help stay organized and in communication over these issues.
Some Great Chore Chart Examples and Tools
1. Printable Chart
The Thrifty Little Mom offers a printable adult chore chart you can subscribe to receive. She gives some great tips on how to utilize the chart. They even get to wrack up "rewards" for completing their tasks as an extra boost of motivation.
Other ideas she gives to stay motivated is to listen to motivating music or a podcast while knocking out your tasks. You could set a timer and only "clean" for an allotted time so the task isn't too time-consuming.
Consider completing chores at the same time so it feels like a team effort. My husband and I try to take the approach when we are both home together. We will clean the house together dividing and conquering!
After dinner we both help clean up dishes and store away leftovers before moving on to more fun evening activities.
2. Chalkboard Chore Chart
This could be as simple as painting a chalkboard wall in your house and using it as a space to write up your own weekly chore chart for you each to check in with. Etsy has some cute pre-made chalkboard chore charts you can hang up and use to keep everyone on track.
If you have kids this would be an easy way to include them in the work too. Everyone can take turns checking off different items during the week so everything doesn't end up falling on one person in the family.
If you have kids it is really important to include them in the action! You are training them for adulthood. They need the practice and push to be responsible for cleaning up their space so they don't grow up being clueless on how to maintain their own homes.
If you have young kids they usually want to help. Make the effort to encourage their enthusiasm (I promise that enthusiasm won't last forever, you have to tap into it while it's there). Even if their "help" makes things harder contributing to taking care of your home is a valuable lesson worth taking the time to teach them.
Kids need the chance to feel like their efforts to help at home matter and are valued.
3. Chore Magnets
Magnets are so easy because you can put them right up on the refrigerator! The fridge is a place that everyone in the home frequents daily. Etsy has plenty of options or if you are super crafty you could even make your own!
These cute wooden round magnets for the fridge are extra adorable. One way to use them could be to take them off the fridge and place them in a jar when you've completed the task. Another idea is to use a dry erase board to divide up tasks and then move them to a section for completed work once you've finished up.
These magnets offer flexibility to move them around and organize them in a way that makes most sense to you. One tip before giving out tasks is to find out which things you each prefer doing and then the things you really just don't enjoy.
Try to rotate the tasks that cause the most dread so no one gets burned out having to complete them week after week.
4. Creating a Command Center
A command center is a board or area of your house that important items like keys, schedules, bills, and a chore chart can be posted to keep everyone organized. Here is an example of a board you could buy or create for a wall in your home that is both pretty and functional.
The command center is customizable to meet the needs of your family. If you have kids it can be a place to post a family schedule so no one's activities get missed.
For chores you can use the magnets or just create a list to post here so the needs of the home are visible to everyone. Basically it is just another great tool to communicate to one another what needs to be done.
You could include a meal plan here so everyone knows what is on deck to be cooked next, making rotating who makes dinner a little easier.
5. Go Digital
Another way to organize duties in your home is through your phones or computer! Google tasks are a great way to make a list that you can easily check off once they are completed. Chore Check is an app that allows you to create chores for everyone in the family and if you want everyone can earn an allowance by participating in the work that needs to be done.
The OurHome app allows you to organize tasks, grocery lists, a calendar, allowances, and more.
Whatever tool you use to keep everyone accountable to the tasks that need to be completed to keep your home well cared for, be sure it's something that you all will be able to easily access and remain accountable to. Periodically make sure you check in and see if the system is still working.
Hopefully these tools will help you both avoid feelings of stress and resentment when it comes to caring for your home. Intentionality and organization in your marriage goes a long way to keeping the joy as most of us live very full and busy lives!
Photo Credit: ©GettyImages/Nattakorn Maneerat
---

Amanda Idleman is a writer whose passion is to encourage others to live joyfully. She writes devotions for My Daily Bible Verse Devotional and Podcast, Crosswalk Couples Devotional, the Daily Devotional App, she has work published with Her View from Home, on the MOPS Blog, and is a regular contributor for Crosswalk.com. You can find out more about Amanda on her Facebook Page or follow her on Instagram.