How Do I Know If I am Enough for My Husband?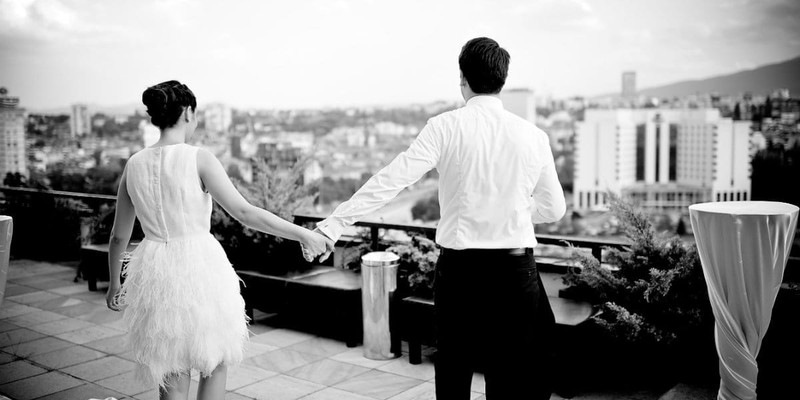 I cuddle up to him as he sits and reads on the couch. I sheepishly look into his eyes and wish he could see the turmoil of my heart. "Do you love me?" I ask and wait with baited breath for his response.
Tenderly he lifts my chin and smiles, "Of course I love you."
And I know he does. In the time I have known him he has never done anything to make me believe otherwise.
Yet I doubt. I wonder if he loves me. I wonder if I am enough.
Rewind fifteen years to a collection of women sitting around a u-shaped table. I was twenty-something, in a room of other up-and-coming twenty-somethings who had been chosen for a "preacher's intensive" with a world class speaker. She was introduced and the room silenced in awe.
"What have you got to prove?" she asked.
And one by one, we acknowledged what we had to prove.
All who went before me answered something along the lines of, "I have to prove Jesus is the Son of God who died for the sins of the world." Very spiritual, God-fearing answers.
I started to freak out. While I loved God with all my heart, it wasn't the first thing to pop into my mind when asked what I was trying to prove.
When it came my turn to answer I swallowed hard knowing I was about to make myself vulnerable.
"That I'm good enough," I shrugged. "Not a very godly answer."
There was a hush in the room as our mentor responded, "But an honest one."
While a decade and a half has passed between my admission and today, it appears I have not changed. I still find myself trying to prove I am enough. Even to my husband, the one man on earth whom I don't need to prove myself and has never made me feel less than enough.
But let's be honest, though there is no reason for me to feel this way, I regularly feel I am not enough.
Because I regularly don't feel enough, I have trained myself to know I am enough. And there is a big difference. I have learnt to silence feelings and go with what I know. Knowing trumps feelings every time.
Knowing will not work when it is rooted in yourself. It has to be rooted in something stronger. The mothers at school drop-off will not help you know you are enough. Your husband cannot convince you you are enough. Knowing you are enough only comes through the Word of God.
You are enough as a homemaker.
Proverbs 14:1 "A wise woman builds her home, but a foolish woman tears it down with her own hands."
I am not the greatest homemaker. My home looks more like a bomb site than the cover of House and Garden. But building your home has nothing to do with pendant lighting or color palettes. Building the home is a matter of the heart. A wise woman builds her house with love, laughter, peace, kindness, patience - I think they're called the fruit of the Spirit. So what if the dishes are piled high and the beds aren't made, if the fruits of the Spirit are at work within the family, the home is built.
You are enough in the bedroom.
Song of Solomon 4:9-10, 12 "You have captured my heart, my treasure, my bride. You hold it hostage with one glance of your eyes, with a single jewel of your necklace. Your love delights me, my treasure, my bride. Your love is better than wine, your perfume more fragrant than spices."
"You are my private garden, my treasure, my bride, a secluded spring, a hidden fountain."
There are times when I look in the mirror and feel I am not enough. Some parts of my body I wish were bigger and other parts I wish were smaller. Now I can get all hung up on this, but it benefits no one. And it is not truth. Song of Solomon says I am captivating; a delight; my love is better than wine.
Girlfriend, you are more than enough. Your husband chose you. He was excited by the thought of having you all to himself when he got down on one knee. You are anything but boring. You have no idea how intoxicating you are.
You are enough of a woman.
Proverbs 31:28-29 "Her children stand and bless her. Her husband praises her: 'There are many virtuous and capable women in the world, but you surpass them all!'"
Women tend to downplay their achievements. They naturally shy away from praise and accolades. Therefore it is with confidence I say, woman, you are more incredible than you think you are. If only you could see yourself the way others do. The way your husband does. You would see of all the amazing women on the earth, you are greater than them all.
No, you may not feel like you are enough. But feelings are unreliable. Know. Know you are enough. In the eyes of your husband and in the eyes of God, you are more than enough.
Publication date: September 28, 2015