10 Marriage Goals Every Couple Should Have for 2021
Janet Thompson

Crosswalk.com Contributing Writer

2020

29 Dec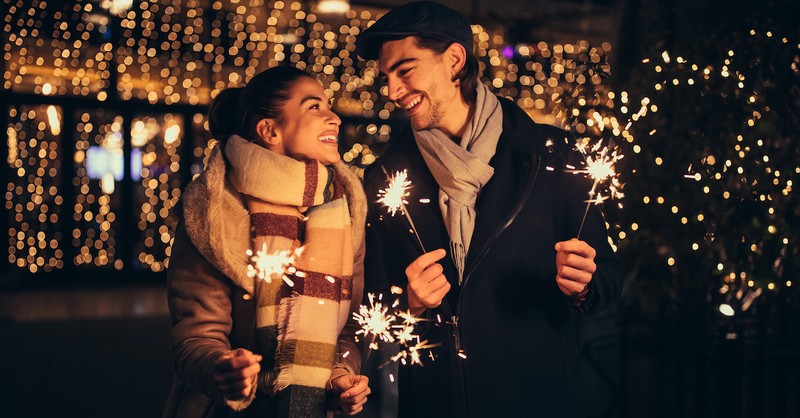 My husband and I celebrated twenty-eight years of marriage on December 19, 2020. Even though our anniversary is a sleigh ride away from Christmas, we try to get away for a couple of days to reflect on the past year and set goals for the coming year of marriage. As we look over our list and check it twice, we often find we didn't even come close to meeting all our goals. Some we'll carry over to the next year, others are no longer applicable, but it's always encouraging when we check off those we managed to accomplish.
Praying and brainstorming over the next year, we each set a few personal goals but our focus is arriving at those we mutually agree will enhance our marriage and family. Some years, the lists are longer than other years. We're not trying to reach a specific number, but we do want each goal to be achievable.
Photo credit: ©GettyImages/bernardbodo
Why Should We Have Marriage Goals?
Our annual goal setting and review has helped us maintain spiritual, personal, and marital growth in our relationship. Even if you're not typically a "goal-setting" person, you probably do set some expectations for your marriage: where you're going to live, what type of a house, how many kids, where will you work, what church to attend . . . . Life is full of decisions and married couples make most of them together. Here are a few parameters to consider when setting goals:
Schedule alone time together and pray—Ask God to be a part of your goal setting and to give you courage, patience, and peace.
Set maintainable goals—it's ok, even good if goals stretch you both. But if they're not realistic, you may not take them seriously or give up on attaining them. Don't set goals you'll "try" to maintain. If you don't think you're going to do them, then reconsider something more doable.
Set measurable goals—For example, if you want to grow your savings, establish a specific dollar amount and steps to reaching that goal. If the goal is to move, agree on a timeframe and a particular neighborhood or city. You'll both know when you've reached these types of goals.
Set purposeful goals—We don't typically pursue something we don't feel has value or purpose. So before you set any goals, determine why they're meaningful to you as a couple.
Not meaningful to your in-laws, friends, or even your kids . . . they may benefit from your goals . . . but you must want them enough to push through even when it's difficult. Ask each other why you want these goals and discuss how you'll work together as a team to achieve them.
2020 has been a hard year for everyone. Little did we know as we ushered in the New Year that we would soon be experiencing a pandemic and recession that has touched everyone's life and put unexpected challenges on most marriages. And we don't know what to expect in 2021, but if our marriage is secure, we can make it through together in sickness and in health, in good times and in bad, for richer or poorer because we're united as one in marriage.
Therefore a man shall leave his father and his mother and hold fast to his wife, and they shall become one flesh. - Genesis 2:24
So they are no longer two, but one. Therefore what God has joined together, let man not separate. - Matt. 19:6
The man who finds a wife finds a treasure, and he receives favor from the Lord. - Prov. 18:22 NLT
10 Marriage Goals Every Couple Should Have for 2021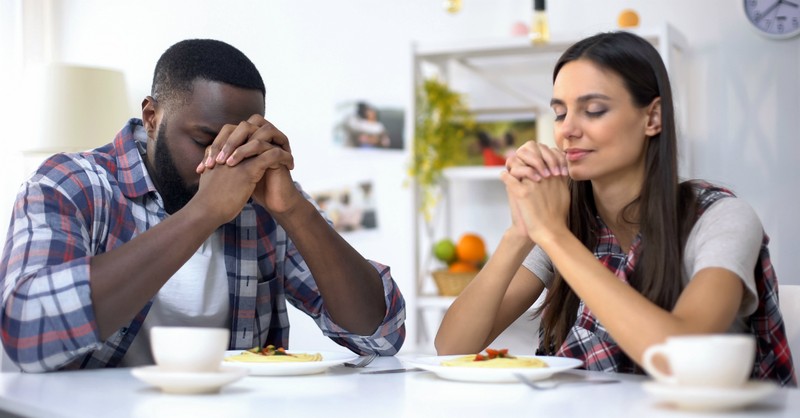 Marriage Goal #1 — Love Jesus More Than You Love Each Other!
There's a myriad of things vying for first place in our marriages—jobs, kids, finances, possessions, each other . . . But the Lord clearly said we should put no other gods before him. He wants to be at the center of our lives as husband and wife. He must be the head of our homes. Keeping Jesus first in our relationship ensures a more Christ-like attitude in actions and decisions. Other goals fall into place when we run everything by Jesus together in prayer. It's not just an esoteric goal, it's survival.
"Though one may be overpowered, two can defend themselves. A cord of three strands is not quickly broken." - Ecc. 4:12
Marriage Goal #2 — Mature Spiritually
As each partner grows closer to God, marriages strengthen. Envision a triangle with God at the top and the husband in one lower corner and the wife in the opposite corner. If the spouses stay in their separate corners, they're the farthest apart. But as each spouse moves up his or her side of the triangle, they move closer to God and to each other until they meet together with God at the pinnacle of the triangle.
Often we're in men's and women's Bible study groups but consider joining, or starting, a couple's Bible study to grow in your faith together. It's so important to pray together daily, more than just before meals. If this isn't already a daily habit, make it a goal to start and finish your day holding hands and sharing your praises and prayer requests. Praying together is an intimate, integral part of marriage with blessings you wouldn't want to miss.
"So that the body of Christ may be built up until we all reach unity in the faith and in the knowledge of the Son of God and become mature, attaining to the whole measure of the fullness of Christ." - Eph. 4:12-13
Photo credit: ©GettyImages/Motortion
Marriage Goal #3 — Financial Stability
Having a family budget helps to live within your means with extra set aside for emergencies. The beginning of the year is a perfect time to evaluate income versus expenditures. If you don't already have a budget, there are software programs that can assist with creating one to help pay off debt and match what you're spending with what you're making.
If you do have a budget, sit down together quarterly to evaluate how you're doing and any adjustments to make. Meeting with a financial advisor could provide guidance and direction if this is a difficult area for you both. Disagreements over finances plague many marriages. Don't let money issues come between you.
"Owe no one anything, except to love each other, for the one who loves another has fulfilled the law." - Romans 13:8
Marriage Goal #4 — Serve One Another
Discover ways to make your spouse's life easier. You've probably heard it said that marriage is a compromise, but then we're each only giving 50% and expecting 50%. That's a lose/lose scenario. Imagine your marriage with each of you giving 100% lovingly and expecting nothing in return. Mutually submitting to each other as you each submit to Jesus. Discuss practical ways to lighten the other's chores and responsibilities.
"Through love serve one another." - Gal. 5:13
Marriage Goal #5 — Improve Your Health
Covid was a surprise that no one could have anticipated, but it's always advisable to stay in good physical condition by eating healthy, maintaining an ideal weight, exercising, and treating our bodies as the valuable gift God gave us. It's an ideal goal for the whole family's wellbeing. When I was a Registered Dietitian, I would encourage wives to love their husbands by preparing him foods his body loves.
"Why do you spend your money on junk food, your hard-earned cash on cotton candy? Listen to me, listen well: Eat only the best, fill yourself with only the finest." - Isa. 55:2 The Message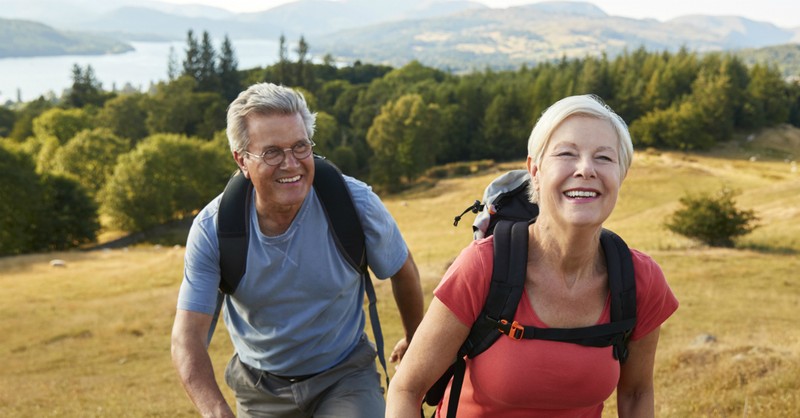 Marriage Goal #6 — Keep Your Relationship Fun
Plan date nights, even if it's sitting home watching a movie together or playing a game or cards. We've been through a serious year and it's important we find time to lighten up, laugh a little, and most importantly . . . keep our sense of humor. Turn off outside distractions and sit together just talking, no phones allowed. Communication is key to any relationship. Share your thoughts, dreams, desires, hopes, and yes, concerns. Make time for the one you love emotionally and physically.
"Enjoy life with your wife, whom you love." - Ecc. 9:9
Marriage Goal #7 — Find Mentors or Be Mentors
The Bible speaks often about one generation teaching and training the next generation and what better place than in a marriage. Both the husband and wife benefit from having a spiritually older mentor in their life but also seeking out a couple who can mentor you in your marriage is invaluable. A couple who has been through the trials and experiences of marriage is a wealth of knowledge and wise counsel for younger couples. If you're the older couple, find a younger couple you could gift with your time and mentoring. If you're a younger couple, look for an older couple who you admire in their marriage and relationship.
Developing friendships with other couples who share your values and beliefs provide joy, encouragement, support, and fellowship.
"As iron sharpens iron, so one person sharpens another." - Prov. 27:17
Marriage Goal #8 — Think Long Term
It's never too early to start discussing long-term goals. Where do you want to be in ten years? Twenty years? When and where will you retire? If you're already retired, will you be able to stay where you are now or should you start planning for long-term care facilities? Do you have a will and a trust? My husband and I kept moving that goal from year to year. We knew we needed to do it but neither of us was ready to put in the effort. But when we finally did our research and consulted experts in the field, it was such a relief to check that off our goals list.
"Plans fail for lack of counsel, but with many advisers they succeed." - Prov. 15:22
Photo credit: GettyImages/monkeybusinessimages
Marriage Goal #9 — Emergency Plan
No one can anticipate the future but with a plan, you're prepared for unexpected occurrences. Does your family know the escape route if there was a fire, flood, or earthquake? I know a couple who has an emergency metal box with important documents, extra cash, pictures, flashlight, etc. they keep by their bed if they have to leave in a hurry.
It's advisable to have extra water, medication, and nonperishable food if you weren't able to get to the store. Brainstorm together different scenarios you might encounter and how to be prepared as best you can. If 2020 taught us anything, it's how quickly life can change but also how resilient we are when we don't panic.
"Commit to the Lord whatever you do, and he will establish your plans." - Prov. 16:3
Marriage Goal #10 — Commit to Evaluating 2021's Goals!
Make a commitment to each other that at the end of 2021, you'll sit down together to review your 2021 goals and make new ones for 2022. You'll probably carry some over and revise others, but you're on your way to strengthening the unity of your marriage bonds.
"With all humility and gentleness, with patience, bearing with one another in love, eager to maintain the unity of the Spirit in the bond of peace." - Ephesians 4:2-3
Personalize the 10 Goals
You might have additional goals to set that apply specifically to your marriage and maybe you'll only want to tackle a couple of the ten listed above if goal setting is new to you. But here's one goal never to forget: Saying "I love you" and a hug is a simple timeless way of strengthening all marriages and heals countless wounds and misunderstandings. Let that be your goal every day, every year.
"Above all, love each other deeply, because love covers over a multitude of sins." - 1 Peter 4:8
---