Opposites Attract -- and Drive Each Other Nuts!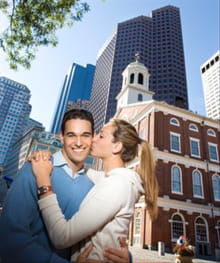 A fresh perspective…
Tobi Layton
When they say opposites attract, they must be thinking of my husband, Ryan, and me. Never were two people more different, yet so mysteriously compatible. Ryan is a pessimist. I am a hyper-optimist. While he gripes about the nuisances of our 70-year-old house, I squeal about how charming the cracked windows and chipped paint are.
I am a planner. Ryan is a take-it-as-it-comes kind of guy. My idea of a great day is one where I don't sleep or eat, but get a multitude of projects done. As a teacher, I am currently on a "break" from work, a time I've looked forward to for weeks. Not so I could slow down, but so I could tackle numerous items on my to-do list that were too big to be done after work.
Ryan, on the other hand, needs his down time, and lots of it. His idea of a perfect day is one with nothing to do but sleep, snack, fool around with his dogs, watch TV, and spend time with me. Herein lies the problem.
I can't count the times Ryan has begged me to stop working and watch a movie or just relax with him. The problem is, as soon as I lay down, I fall asleep. And if I'm not tired, I can't stop talking about the forty-two unrelated things on my mind. Sometimes my husband just laughs at my rambling. Other times, he gets agitated at my flightiness.
I get equally frustrated with his laid back attitude. I want him to do things around the house and I want them done in my time and in my way. I also want him to do things with me, rather than just be with me.
In six years of marriage, we've had our share of arguments on these issues, and I'm sure we'll have many more. But I also think we're starting to realize that our differences compliment each other. I have encouraged Ryan to try new things and he, in turn, has taught me how to relax (a little).
When I worry that I'm not "doing" enough for God, Ryan reminds me that part of my job is to "be still." I've encouraged him to plan ahead a little more frequently, while he's helped me to relax and leave things in God's hands.
I bring light to dark situations with my optimism. Ryan helps me to be more realistic when making important decisions by seeing the not-so-rose-colored view of things.
We're beginning to find a bit of a balance in the way we spend our spare time. I agree to watch an entire movie without clipping magazine ideas or grading papers. He agrees to go on a walk or work on a few projects with me. In fact, just the other day, Ryan planned an entire afternoon of washing and waxing our cars.
We don't have a system perfected yet, and probably never will, but more and more we're able to appreciate the unique qualities with which God has blessed us, qualities that in turn, are a blessing to our marriage.
A seasoned perspective…
Deborah Raney
After three decades being married to my husband, I'm convinced that God has quite a sense of humor when it comes to marriage. When I met Ken thirty-three years ago I was attracted to his quiet, thoughtful ways. He seemed to calm my always-on-the-go, doesn't-know-a-stranger personality in a way I'd never experienced. I liked that.
Until we got married.
Overnight, what had looked like mysterious and shy, suddenly seemed more like rude and antisocial. What had felt like calm in the storm, started to look suspiciously like stuck in the mud. And what I'd deemed "practical and analytical" morphed into "unromantic and critical." I sure hadn't changed. So it must be him, right?
Well, of course, that's just one side of the story. Seems my "fun and outgoing" quickly started to get "annoying and loud," and the virtuous part of the virtuous woman Ken thought he married suddenly became judgmental and demanding.
I went into marriage certain I could, if not change, at least tweak the parts of Ken's personality that weren't quite what I'd ordered. I spent too many years on that frustrating project. I finally gave up. It was impossible. He was impossible.
With tears, and a lot of prayer, I conceded that, much as I loved him, I was stuck with a man who didn't have a hospitable bone in his body, who didn't share my deepest dream (to have twelve children!) and whose inner alarm clock didn't go off until ten a.m., while mine rang sharply at six.
How could we have been so wrong about our compatibility? Was there any hope?
Long before we said, "I do," we settled one thing: we meant it when we vowed "till death do us part." So once the option of changing the other person was off the table, that left acceptance as our only recourse.
A funny thing happened on the way to acceptance. I woke up one morning and realized that not only had I slept in a bit, but Ken was already up and at 'em. Our clocks gradually continued to adjust, and for the past ten years, we've pretty much risen and gone to bed at the same time. A small miracle.
Our first (unplanned) son was such a blessing that Ken decided he wanted another one — at least one — right away. By the time we had four, it seemed like a dozen and I couldn't have been happier.
And this woman who wasn't content unless she had someplace to go and some people to see, now cherishes her time at home. So much so that my ever-more-outgoing husband sometimes has to persuade me to go out with him.
On the way home from church last Sunday, he planned a spur-of-the-moment dinner for twenty (twenty!) at our house, and as I questioned his timing — and the size of his guest list — I couldn't help but laugh at how far we've come.
The Lord knew exactly what He was doing when He brought two very different people together. We just had to figure out how to work with Him.
Discussion:
Read Genesis 2:18 and Ecclesiastes 4:9-12
In what ways are you and your spouse opposites?
How did those differences cause you to be attracted to each other? Did marriage change your perspective?
In what ways do your differences cause conflict between you?
Have you seen ways that God uses your opposite traits to strengthen you individually? As a couple?

Originally posted December 30, 2005.
---
Deborah Raney's first novel, A Vow to Cherish, inspired the World Wide Pictures film of the same title. Her books have won the National Readers' Choice Award, RITA Award, Silver Angel for Excellence in Media, and have twice been Christy Award finalists. She and her husband, Ken Raney, have been married for 37 years. They have four children, and four grandchildren, and enjoy small- town life in Kansas. Visit Deborah's website at http://www.deborahraney.com.
Tobi Layton is a fifth grade teacher and freelance writer. Tobi has been married for ten years to Ryan Layton, a high school biology teacher. Tobi and Ryan have three small sons and enjoy a menagerie of goats, sheep, dogs, cats and deer on their farm in southeast Missouri.
Tobi Layton is the daughter of Ken and Deborah Raney. The Raneys and the Laytons share an August 11 wedding anniversary.