Prayers for Patience with Your Spouse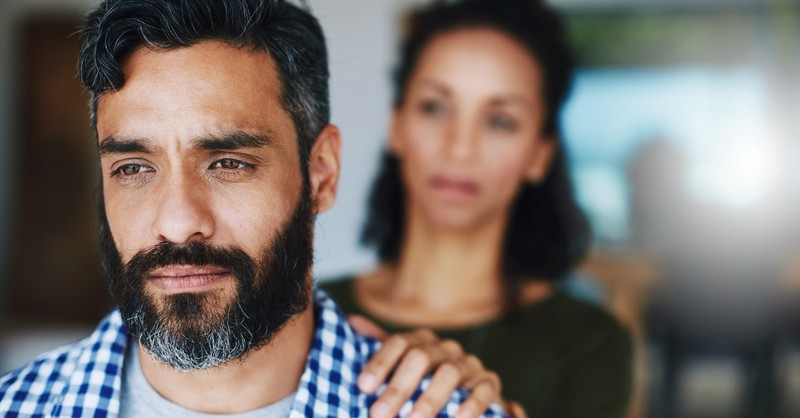 I'm not sure what it is about a spouse that can irritate you more than anyone else in the world. The funny thing is, they're also the person we love most in the world—assuming you're in a happy marriage—and yet, the contradiction is startling.
For example, the other day, my husband walked into the room, and I was instantly irritated. He hadn't done, said, or insinuated anything. He had merely entered. The poor man was bewildered when I snapped an annoyed, "yes?" – interpretation: "what do you want, why are you here, why are you bothering me, you absolute irritant that you are?"—he just wanted a pair of scissors, and he retrieved them and then escaped like the smart man he truly is.
But sometimes, it's not just an irritable wife. Sometimes it's a personality difference. Your husband may be Type-A while you're easy-going and fly by the seat of your pants. Or maybe, you married a picky eater while you are a foodie and want to try all the various foods. Differences can cause a lot of tension, and too often, we try to downplay them as insignificant when, in actuality, they can become big wedges if we let them go unrecognized.
Then we can even go deeper and more serious into the need for patience when it comes to significant differences such as financial, spiritual, child-rearing, etc.
In short, our need for patience with our spouse will be there in whatever form of severity that may come. So, what type of prayers can assist us with our personal struggle to find patience for the person we're supposed to love more than anyone else?
1. Prayers for a Slow Temper
Whoever is patient has great understanding, but one who is quick-tempered displays folly. Proverbs 14:29
I will be honest here and attest that a quick temper has never helped a situation. In fact, because of the extreme lack of thought that goes into an impulsive and emotional reaction, it's often like gasoline on a fire.
Praying for a slow temper is a good way to counteract the prejudices of a short temper. The kind that often leaves you looking and feeling and acting foolish. By praying for a slow temper, you're accepting the responsibility to think before reacting, assess a situation with logic, and refrain from emotional sprints into chaos. A slow temper will save you a lot of trouble.
2. Prayers for Fortitude
Let us not become weary in doing good, for at the proper time we will reap a harvest if we do not give up. Galatians 6:9
Fortitude is another form of patience, but it insinuates endurance. Becoming weary with a trying spouse can lend itself to such exhaustion that it can create a new set of problems. But understanding that enduring through the situation, not giving up, and not bowing to the pressure of tossing in the towel can lead to reward is a great realization.
Today, society has taught us that if a situation is not bringing us peace, we should escape it. We deserve happiness and fulfillment; therefore, anything outside of that makes us a victim of the undeserved. But that's not how relationships work. Not really. They require persistence, tolerance, and unconditional love that is willing to forge through the muck of the bad parts of a relationship.
This type of patience is priceless. When you take a peek at the fortitude your spouse has had to engage in to have patience with you, you also gain a new appreciation for how much they put up with. It goes two ways, and praying for the extra stamina is a gift you can give even amid severe irritation.
3. Prayers for Submission
The Lord will fight for you; you need only to be still. Exodus 14:14
It's in our nature to pick up the proverbial sword and go to war. Defense or offense, we want to be sure we're not taken advantage of, abused, ridiculed, annoyed, or harassed. This isn't any different in marriage—even in stable, healthy marriages. It's in our nature to fight.
Think about the application of prayers for a slow-temper and then for endurance and combine that with a prayer of submission before the Lord. Instead of creating our own battle strategy, or our agenda for justice, we come before the Lord in an admission that right now, our spouse is not the most loveable nor the engaging person we married. We need His grace to see this through. We need Him to fight our battles for us.
If you're blessed with a marriage where both of you are believers, you have the added advantage of the Holy Spirit working in both of your hearts and minds. But it takes stepping back and sitting down in order for the Spirit to do His best work. Otherwise, He's just pushing along behind us, waiting for us to get out of the way so He can solve this more peaceably. And who can not include this verse into their repertoire of prayers for patience?
Above all, love each other deeply, because love covers over a multitude of sins. 1 Peter 4:8
In many ways, the idea of praying for the ability to love seems overdone in a world where the idea that all we need is love has made it almost cliché and removed from it the power that true, unconditional love really has. This type of love is coupled with forgiveness. Praying it into existence in your marriage is no small feat but yields great rewards. It also protects from the spirit of bitterness - the idea that you're owed something you're not receiving. It aids in patience as you learn that you can tolerate the annoyances simply because love covers them.
Marriage isn't easy. It never was, and it never will be. Patience is something we desperately need, but when we pray for patience, it's important to be specific. What type of patience do we need? Patience for our temper? Our endurance? Our war-hungry self? Or just patience to love without finding fault, requiring apology or justice, or even insisting on change?
Whatever type of patience you need—and maybe it's all the above—be cautious that you don't discount the element of praying for it. God is ready to meet our needs and has promised He will do so. A thriving marriage built on His foundations is part of His design, so He will support it, but as we seek Him and allow Him to have that influence.
And as always, if you're struggling with the simple things in marriage, like, say, your husband happens to walk in the room—realize the struggle for patience may have nothing to do with them. It may have everything to do with you. And that is a big first step in taking the journey in prayer to gain as much patience as you possibly can. Because, after all, sometimes we first have to have patience with ourselves before we can extend it to others. Such is the way of human nature.
Photo Credit: ©iStock/Getty Images Plus/laflor
Jaime Jo Wright is the winner of the Carol, Daphne du Maurier, and INSPY Awards. She's also the Publishers Weekly and ECPA bestselling author of three novellas. The Christy Award-Winning author of "The House on Foster Hill", Jaime Jo Wright resides in the hills of Wisconsin writing suspenseful mysteries stained with history's secrets. Jaime lives in dreamland, exists in reality, and invites you to join her adventures at jaimewrightbooks.com!