5 Reasons Marriage Is the Adventure of a Lifetime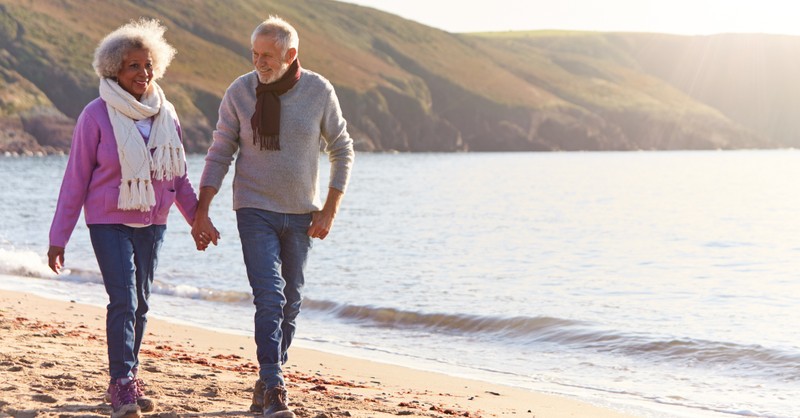 Marriage always entails an element of the unknown. It's a big step to commit your life to your partner "till death do us part." Traditional marriage vows acknowledge the fact that your future as a couple involves uncertainties.
"[F]or better, for worse,
for richer, for poorer,
in sickness and in health."
So say the traditional wedding vows, implying that both joyous and difficult times may come, you may enjoy wealth or you may struggle financially, you may enjoy good health or you or your spouse may face illness.
All these unknowns are what make the marriage vows important. They are a promise made in a time of joy and celebration meant to hold up when trials come. The uncertainty implied in the marriage vows are not only solemn, however; they also reflect that marriage is an adventure, and part of the joy of an adventure is the unknown.
In fact, in many ways, marriage can be viewed as the greatest adventure we can embark on in this life. So whether you are a newlywed and have only recently said your marriage vows or are a marriage veteran with years behind you, it can be helpful and encouraging to reframe your view of marriage as an adventure that you get to live every day.
Here are a few ways to consider the adventure of marriage as a blessing.
1. You Will Learn More about Yourself Than You Ever Thought Possible
You may think you know yourself quite well and are very self-aware, but then you live in close physical and emotional quarters with your spouse. This person will see you at your worst as well as your best.
They will see your flaws, your weaknesses, and your quirks like no one else will. It's important to prioritize and work on communication in your marriage so that when you need to discuss sensitive topics with your spouse your conversations can be productive rather than hurtful or harmful.
Oftentimes, if you are open to what your spouse has to say regarding habits, behaviors, or opinions you have long held close, you can experience incredible growth. The Lord often uses the dynamics of marriage to edify us and draw us closer to him.
There have been times my husband has pointed something out to me and allowed me to see a pattern in my life (both good and bad) that I never would have been able to identify on my own.
Often, these kinds of conversations with my husband are genuinely surprising, but over time I can look back and see that "iron sharpens iron" (Proverbs 27:17), and because my husband was open and honest with me, I was able to understand myself better and cultivate more empathy for others.
2. You Have a Built-in Support System No Matter What Life Throws Your Way
If you spent any or all of 2020 married, you've assuredly already faced a lot with your spouse. We never know what personal or global challenges we will face as couples.
A few that come to mind for my own marriage are moving to a new city, starting new jobs, navigating changing friendships, and getting pregnant. These are all adventures in and of themselves, and things for which we absolutely need support, sound advice, and encouragement.
Your bond with your spouse will be strengthened as you face these adventures together. Supporting your spouse as they decide whether to make a career change, setting down roots in a new community together, and working together to prepare for a baby are all challenging, but there are so many worthwhile moments interspersed amidst the stress and uncertainty.
Perhaps it may help to slow down and take note of these moments, or even to write them down. While things are in flux, it is normal to want to reach a resolution and alleviate the stress, but if we lean into the journey with our spouse, opportunities for joy will likely open up.
3. You Have Someone with Whom to Explore and Experience New Things
While 2020 wasn't a good year for global or even national trips and 2021 is tentative as well, there are still plenty of ways to explore and experience new things with your spouse.
In fact, quarantine pushed my husband and me to take walks to parts of our city we had never seen before, to explore new ways of cooking, and to pay more attention to the growing things that were popping up in gardens and parks all throughout the spring and summer, to name a few things.
These were little adventures that may seem simple and mundane, but looking back, they truly built lasting memories for us and lent some joy and hope to the initial weeks of quarantine.
Having someone with whom to share both simple adventures like a walk through the neighborhood or a monumental adventure like a tour across Europe is a blessing that allows us a space to give of ourselves and our thoughts as well as to open up to the thoughts and insights of another.
4. You Will Be Exposed to New Things That Wouldn't Otherwise Have Crossed Your Path
Even if you and your spouse have similar personalities and interests, there is bound to be something that they are interested in that you never would have given a second thought to if you weren't married to them, and vice-versa.
Perhaps your spouse really enjoys cooking gourmet meals, researching a period of American history, or seeing how many miles he/she can log in state parks. Take a few moments to consider the interests of your spouse and you will likely find that they have opened up a new world for you, too, even if you haven't adopted these things as your own hobbies.
For example, my husband is a very talented chess player, and when I married him I didn't even know how to play chess, so this opened up the opportunity for him to teach me. We sometimes have "chess dates'' in which we find a comfy spot at a local coffee shop and spend a weekend morning playing a few games (he always wins).
He is also an amateur coffee connoisseur which makes trying new types of coffee fun. I enjoy these opportunities to learn more about subjects that I probably wouldn't have developed a deeper interest in otherwise. These adventures into new topics and hobbies have enriched my life and have served to strengthen my connection with my husband.
My interests in holistic health and nutrition, running, and gardening and plants have likewise inspired my husband and added inspiration to our marriage.
5. You Will Be a Firsthand Witness to God's Work in Another Person's Life
Living life so closely with another flawed human being is often challenging, but you also are privileged to be the one with a front-row seat to the work God is doing in your spouse's life. In fact, as discussed earlier in this article, God oftentimes uses spouses to further that work! Following the Lord is an adventure as well, and getting to witness your spouse's journey of growing more like Christ is truly a blessing and an adventure.
How can you seek to live more into marriage as an adventure in 2021?
Photo Credit: ©GettyImages/monkeybusinessimages
Veronica Neffinger wrote her first poem at age seven and went on to study English in college, focusing on 18th century literature. When she is not listening to baseball games, enjoying the outdoors, or reading, she can be found mostly in Richmond, VA writing primarily about nature, nostalgia, faith, family, and Jane Austen.