Creative Ways to Make Friends As a Couple
Janet Thompson

Crosswalk.com Contributing Writer

2013

14 Oct

COMMENTS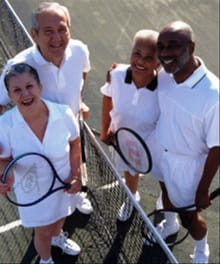 "You sure do have a lot of friends!" a friend exclaimed laughingly.
"That's what we prayed for," my husband, Dave, and I answered in unison.
When we were newlyweds, Dave and I prayed specifically asking God to bless us with Christian "couple" friends. God answered beyond our wildest expectations and He continues blessing us with new friends.
Ours was a second marriage for both of us. I had been single for 17 years, so my friends were mostly single and Dave, only single for several years, had focused on work and his kids. We knew it would be important for us to have a social life comprised of couples who shared our values and beliefs, so we said an intentional prayer that God would bring friends into our married life.
Looking For Friends Outside the Box!
Dave and I met in a small group Bible study that Dave was co-leading through Saddleback Church, where we were members. This group was for people in the business world, but there were several couples in the group, so we had a head start on our quest for "couple friends."
We were also willing to look outside our church home of Saddleback Church, so when I heard about a Marriage Builders class offered at another local church, we decided this was perfect preparation for our upcoming marriage. And you guessed it...we made another group of friends, had a great time socializing with the couples group at this church, and the pastor who taught Marriage Builders officiated at our wedding. A couple we made friends with in the group videotaped the ceremony for us.
While considering where to go on our honeymoon, I heard an advertisement on the radio for a cruise to the Caribbean with Calvary Pastors Chuck Smith, Jon Courson, and David Hawking. I thought: What a great way to spend our honeymoon, on a cruise with hundreds of Christian couples. It didn't matter what church they attended—we were all in the family of God. It was great fun being the "newlyweds" on the cruise and we came home with a new group of friends.
Come Join Our Small Group or We'll Form One
Dave and I were intentional about inviting other couples we met at the gym, at church, in the grocery store, friends of friends, to join our small group Bible study. Soon the focus of the group changed from business-oriented to topical and everyone was welcome to join. As the group expanded, so did our circle of friends.
Several years into our marriage, Gary Smalley came to Saddleback with his Making Love Last Forever conference. Dave and I took a training to lead Making Love Last Forever couples groups and found ourselves leading a group of much younger couples, who had been married longer than we had, but were newer in their faith. The couple who hosted that group in their home refers to us as, "The most influential couple in their faith journey." That's humbling.
We're Moving—Opportunity for New Friends
We bought a "writing" cabin in the mountains and immediately started making new friends in the community, even though we were "weekenders." We attended the local church, invited neighbors to walk, had couples we met over for dinner, hosted game nights...Soon people were saying I should run for mayor because I knew so many people in town.
Then two years ago, we made the major move from California to the mountains of Idaho where we knew no one except our daughter's family, who live over an hour away. I wondered how we would make new friends, but I didn't wonder for long. Again, we joined the local community church where the members embraced and welcomed us. Soon we had invitations to potlucks, football parties, game nights, and social events. A neighbor became my best friend and walking buddy—even though our theology differs—we both love the Lord.
Vacationing with the Family of God—A Glimpse of Heaven
For our 20th anniversary, we decided to celebrate...just as we did on our honeymoon...with a group of Christian couples we didn't know on the "Love Song Couples Getaway" in Maui. It was the best vacation of our married life, and in just one week, we made friends with couples who have become near and dear to us from all over the United States, Canada, and Australia.
Staying in Touch
The friend I mentioned in the opening line, who commented on all our friends, was reacting to the recap of our recent trip to Southern California. We told him about:
Lunch with the wife of the host couple of the Making Love Last Forever group, whom we hadn't seen in 10 years after they moved away. We picked up the conversation like we had never been apart. I discovered on Facebook that they would be in "So Cal" the same time as us—Facebook is a great way to keep in touch with friends.
A reunion with three couples we met on our Love Song Couples Getaway.
Enjoyed a lovely sunset dinner with couples from the original small group Bible study where Dave and I met.
A week at our mountain "writing" cabin socializing and visiting with friends and neighbors.
Friendships Are Our Witness
In Praying for Your Prodigal Daughter, I tell the story of my daughter, Kim, contemplating becoming a Christian and worrying that she might not have any friends. Then she said, "Well you and Dave have so many friends and you're always having a good time. I guess I don't need those friends who won't accept me." When she made that comment, Dave and I had only been married five years …we were just getting started making friends.
As Christians, we need to remember that someone is always watching us to see how we interact with others and are we open to fellowshipping with people we don't know well.
We must also befriend nonbelievers or how will they learn about the blessings and joys of knowing Christ. But those we "hang with," and share our lives with, should share our morals and values, and we should be a support system for each other.
"A friend is always loyal, and a brother is born to help in time of need."—Proverbs 17:17
Janet Thompson is an international speaker and an award-winning author of 17 books, including Woman to Woman Mentoring: How to Start, Grow, and Maintain a Mentoring Ministry, Face-to-Face Bible study series, Dear God, They Say It's Cancer, Dear God, Why Can't I Have a Baby? and Praying for Your Prodigal Daughter. Janet is the founder of Woman to Woman Mentoring and About His Work Ministries. Visit Janet at womantowomanmentoring.com.
Be friends with Janet Thompson:
www.womantowomanmentoring.com
on Facebook
on LinkedIn
on Pinterest
on Twitter
Publication date: October 14, 2013