How Should Christians Deal with Loneliness?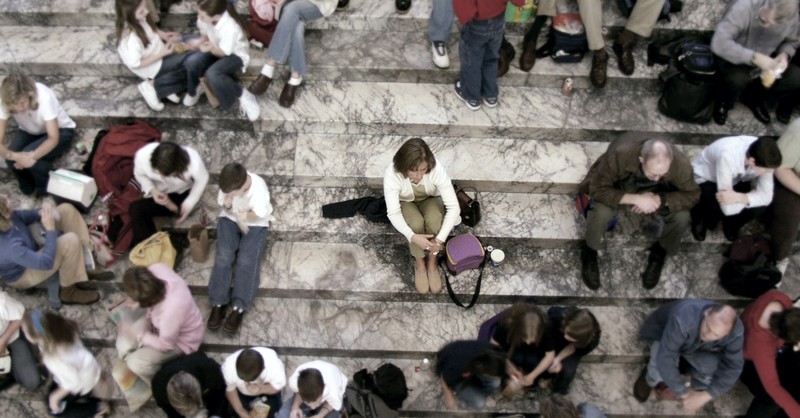 Dealing with loneliness is difficult. Maybe you have been dealing with loneliness for a long time. If you are dealing with loneliness today, know you are not alone. I have personally been struggling with loneliness for many years despite being around a lot of people. You can be around hundreds of people yet still feel lonely.
1. Turn to God in Prayer
The best thing to do when you are struggling with loneliness is to turn to God in prayer. 1 Peter 5:7 says, "Cast all your anxiety on him because he cares for you." God is always there for us even when others are not.
Talking with God in prayer is a great way to help with loneliness. When you turn to God in prayer, be open and honest. Pour your heart out to Him. The Lord is not afraid of our feelings. He knows exactly how we feel, but He wants us to come to Him and tell Him.
I know from my own personal experience that going to the Lord in prayer has drastically helped my loneliness. We are never really alone because God is always with us. Even if no one else is there for us, God is always there.
He promises to never leave us or forsake us (Hebrews 13:5). Through the good times and the bad times, God will always be there. Turn to God in prayer today and tell Him about the loneliness you are feeling. He will be there for you and give you the comfort you need.
The Lord tells us, "Come to me, all you who are weary and burdened, and I will give you rest. Take my yoke upon you and learn from me, for I am gentle and humble in heart, and you will find rest for your souls. For my yoke is easy and my burden is light" (Matthew 11:28-30).
2. Read God's Word
Dealing with loneliness is extremely difficult, but reading the Bible is a great way to help you not feel so alone. The Bible contains the absolute true words of God. Everything written in it is true and reliable (2 Timothy 3:16-17).
This means we can believe and trust what the Bible tells us. God's Word reminds us that we are not alone. Opening your Bible to the Psalms is a great way to help with feelings of loneliness. The psalmists are raw and open when they are sharing their feelings with God.
It is not hard to relate to the writers of the Psalms. One of my favorite Psalms to turn to when I'm feeling is Psalm 23. Psalm 23 reminds us that God is with us through the hills and the valleys,
The Lord is my shepherd, I lack nothing. He makes me lie down in green pastures, he leads me beside quiet waters, he refreshes my soul. He guides me along the right paths for his name's sake. Even though I walk through the darkest valley, I will fear no evil, for you are with me; your rod and your staff, they comfort me (Psalm 23:1-4).
Remember that God is always with you no matter what. Reading the Bible and meditating on its truths can help us feel less lonely because we know God cares about us and loves us as His dearly loved children. If you are feeling lonely today, open your Bible and see what God needs to tell you.
3. Get Out into Nature
Getting out into nature is another way to deal with loneliness. I make it a priority each day to get out at least 30 minutes to spend in nature. I enjoy walking, but you can do anything you like, such as talking with God outside, reading outside, listening to music outside, painting outside, or anything else outdoors.
Being outside makes you feel better and happier. The nice sunshine and the cool breeze can help you feel more alive and less alone. You can even bring a friend with you as you go on an outside adventure. The possibilities are endless! Try to take time each day to get out into nature and enjoy God's beautiful creation.
4. Volunteer
Volunteering is a beneficial thing to do when you are feeling lonely. Often, pouring your time and energy into doing something to help others can help you feel less lonely.
When you volunteer, you are given the opportunity to help others and assist them in an area they are struggling in. You can volunteer at a rescue mission, a soup kitchen, a church, or an animal shelter.
Volunteering brings great happiness and joy to your soul. It helps you look to others and look beyond yourself into the lives of others. Plus, spending time with others is sure to help with loneliness too!
5. Start a New Hobby
Starting a new hobby can help loneliness. As I mentioned earlier, I have been struggling with loneliness for a while now. A couple of years ago, I got into the hobby of photography, and it helps to get my mind off loneliness.
Even though I'm normally alone while I am doing photography in nature, I have found I feel most at peace while I'm doing something I enjoy. Picking up a hobby can help stretch your creative side or your athletic side.
Different hobbies could be writing, drawing, painting, singing, photography, running, a sport, cooking, learning an instrument, learning a new language, or anything else! Starting a new hobby keeps your mind focused on something you enjoy and can help relieve feelings of loneliness.
6. Consider Getting a Pet
If you are struggling with chronic loneliness, consider getting a pet. When a person has a pet, it can help them have increased feelings of happiness, fulfillment, and purpose. A pet is with you at all times and loves to spend time with you.
Dogs are especially good at making you feel loved and special. Even just petting an animal can help you feel happier and less alone. Pets are great companions to keep with you throughout their lives.
As a disclaimer, it is always best to prepare yourself that you most likely will outlive your pet. My family lost our dog in 2016 to cancer, and it was a devastating event that still stays with us today.
It is best to prepare yourself that your pet will most likely not outlive you, but still cherish the time you have together.
7. Connect with Other People
A final way of dealing with loneliness is to connect with other people. This might sound obvious, but if you're like me, being around other people might make you feel lonelier. I have noticed that if I am around people that I know truly care about me, I don't feel as lonely.
It is only when I'm with people who are not my real friends that I feel lonely and want to go home. Maybe you can relate. Try connecting with people who truly care about you and love you. These true friends will help you not feel as lonely because they love you and want to spend time with you.
Even if it feels scary and hard, try to step out of your comfort zone and connect with others who truly care about you. If you find that you do not have any real friends, try searching for new friends who love the Lord. God does not want us to walk through this life alone.
For further reading:
What Does the Bible Say about Loneliness?
Who Is Our Antidote for Fear and Loneliness?
How Does the Bible Help with My Loneliness?
Photo Credit: ©iStock/Getty Images Plus/spfoto
---
Vivian Bricker loves Jesus, studying the Word of God, and helping others in their walk with Christ. She has earned a Bachelor of Arts and Master's degree in Christian Ministry with a deep academic emphasis in theology. Her favorite things to do are spending time with her family and friends, reading, and spending time outside. When she is not writing, she is embarking on other adventures.