What to Do When Your Spouse Becomes a Stranger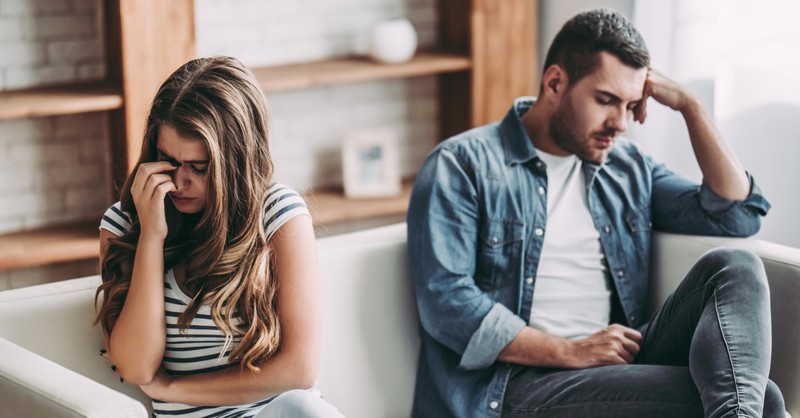 We enter into marriage expecting to see change, growth, and maturity. We hope to spend our lives growing closer to God and to each other. However, change comes drastically and unexpectedly for many, causing one spouse to feel like a stranger to the other.
Below we'll explore some reasons why this can happen. While this is not an exhaustive list, I pray it will help in navigating these situations. If you or someone you know is living this reality, you are not alone.
1. Unrepentant Sin
One common reason for a spouse to feel like a stranger is they have unrepentant sin in their life. Let's say your spouse has fallen into substance abuse, pornography, or gambling addiction. You might start to notice a change in their behavior. Over time, as the addiction takes a greater hold of them, they might become almost unrecognizable.
Because the enemy seeks to keep us isolated in our sin, someone with an addiction will often start making excuses and stop spending quality time with their spouse. Addiction often leads to lying, manipulation, and erratic behavior. Perhaps you'll notice they are more easily agitated, or they might complain of exhaustion. They might seem distant and disconnected.
What do you do in these situations?
First, pray. Ask God to give you wisdom and discernment. Ask God for the courage to address these issues with your spouse and ask that their hearts be softened and ready to hear your concerns. Remind yourself of the love you have for your spouse. Don't go to them out of anger but rather concern.
Following the example laid out in Matthew 18:15, you should not gossip about your spouse to your friends but instead address your spouse directly. Let them know you've noticed a change in their behavior, that you feel disconnected and that, if you're honest, you feel like you're living with a stranger. If your spouse is fighting addiction and their behavior has become so erratic that you don't feel safe confronting them, take an elder or trusted friend with you. You shouldn't put yourself in harm's way.
While you should be honest about what you're observing and how you're feeling, be mindful of your word choice. If you know your spouse is dealing with an addiction, then address it head-on. But if you only suspect it, be careful not to throw out accusations. Instead, state your concerns and ask questions. Represent the love and compassion of Jesus, not the anger and disappointment you likely feel in your own heart.
If your spouse confesses sin and addresses the issues, then by the grace of God, you should be able to move forward and restore your marriage to its once healthy state. If your spouse won't listen to you, the next example we're given in Matthew 18:16 is taking one or two others with you. This could be elders from your church or trusted friends. If your spouse still refuses to listen, your church leadership should be made aware, as stated in verse 17. But don't lose heart; the Lord is faithful to forgive and restore his children.
You can find encouragement from Daniel 9:9, "The Lord our God is merciful and forgiving, even though we have rebelled against him."
2. Illness
Mental and physical illness can strike at any age. It's possible to marry a bright and cheerful person today, and they become depressed or overcome with anxiety five years from now. Perhaps you married someone with an OCD or bipolar diagnosis and, while they always managed it well, now suddenly it's spiraled out of control and has become all-consuming.
Perhaps your spouse has been diagnosed with debilitating arthritis or cancer. Any chronic pain, prolonged treatment, or heavy medication can cause irritability and seemingly change personalities. Then there are diagnoses of Alzheimer's and dementia. These diseases, like so many others, can completely alter a person's personality, and, sadly, the patient will continue to digress and become less and less like themselves.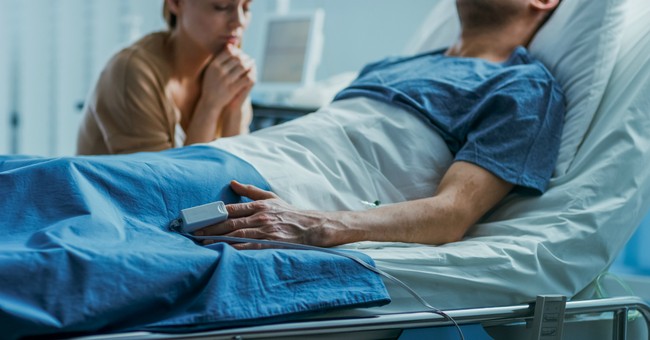 Photo credit: ©GettyImages/gorodenkoff
What do you do in these situations?
If poor health is altering your spouse's personality, you should first and foremost seek medical attention. Once your spouse has received medical care, it might be a good idea to seek biblical counseling. Many mental illnesses have a spiritual element to them. For instance, if your spouse suffers from OCD, they might very well need medication, but they would also likely benefit from a biblical counselor helping them to trust God and entirely rely on his sovereignty.
Even if your spouse is dealing with an illness like Alzheimer's or cancer, biblical counseling can not only help them respond to their illness in a God-honoring way but can also help you as you process the changes these illnesses bring. Another thing to consider in light of any illness is your marriage vows. Whether you spoke traditional vows or not, your commitment to your spouse was in sickness and in health. Sickness does not exempt you from fully loving your spouse and honoring your marriage vows, even though you feel like you're living with a stranger.
Pray for your spouse. Pray for healing. Pray for yourself that you would have patience and understanding. Ask God to give you a sacrificial heart that is joyfully willing to die to self day in and day out to care for your spouse in their suffering.
You can find encouragement from Revelation 21:4, "He will wipe away every tear from their eyes, and death shall be no more, neither shall there be mourning, nor crying, nor pain anymore, for the former things have passed away."
3. Trauma
We wake up each morning not knowing what the day will bring. A day can start with uneventful regularity and end with any number of life-altering events. Perhaps your spouse has been the victim of a hate crime, rape, or workplace abuse. These traumas can cause severe depression, distrust and can alter the personality.
Perhaps your spouse has survived a car accident, a robbery, or the loss of a loved one. These incidents can also lead to depression, anxiety and take a once cheerful person and turn them into someone who can hardly face the day.
Past trauma can play a part in this as well. Sometimes adults think they have dealt with trauma or abuse from childhood, but then something in adulthood will trigger the memory and a physiological response. This can cause your spouse to regress to childlike behavior, cause them to isolate themselves or, depending on the trauma, cause them to act out in self-harm or even threatening harm to those around them.
What do you do in these situations?
Be patient. Be kind. Be gentle. Pray for your spouse that God would give them healing, comfort, and the ability to see their trauma through the lens of Scripture. Pray for them and with them. Offer a listening ear and then listen. If your spouse fits in this category, medical attention might be necessary, as well as counseling. Again, what your spouse needs is help to see their trauma through the lens of Scripture. They need to be reminded of God's never-failing love and faithfulness to his children.
Creating a safe environment and reminding your spouse that you can be trusted will go a long way in their healing. But remember, healing from trauma is often a lengthy process. As with an illness, it's vital that you remember your marriage vows, seek to love and honor your spouse and seek to honor God in how you treat your spouse even when they feel like a stranger.
You can find encouragement from 2 Thessalonians 3:16, "Now may the Lord of peace himself give you peace at all times in every way. The Lord be with you all."
Living with a spouse that feels like a stranger is certainly a form of suffering. While none of us wants to suffer, we can still live a joyful life and rest in the truth of John 16:33, "I have told you these things, so that in me you may have peace. In this world you will have trouble. But take heart! I have overcome the world." We serve a risen Savior who has tasted suffering beyond imagination. Through the comfort he provides through himself, the Holy Spirit, and the local church, you and your spouse will get through your sufferings.
Related Resource: Listen to our new, FREE podcast on marriage: Team Us. The best marriages have a teamwork mentality. Find practical, realistic ideas for strengthening your marriage. Listen to an episode here, and then head over to LifeAudio.com to check out all of our episodes:
Photo credit: ©Getty Images/Vasyl Dolmatov
Beth Ann Baus is a wife and mother of two adult sons. She is a freelance writer and author of Sister Sunday, My So Much More, and His Power, Our Weakness: Encouragement for the Biblical Counselor. In her writing, Beth often pulls from her own experiences of abuse, anxiety, depression and OCD. Beth has a heart for homeschooling, women's ministry, and is an ACBC-certified Biblical Counselor. She loves serving alongside her husband and pointing couples to the Word for strengthening their marriages and home life. You can find more from her at www.bethannbaus.com.