Wives Need Their Husbands to Ask "Is This Okay?"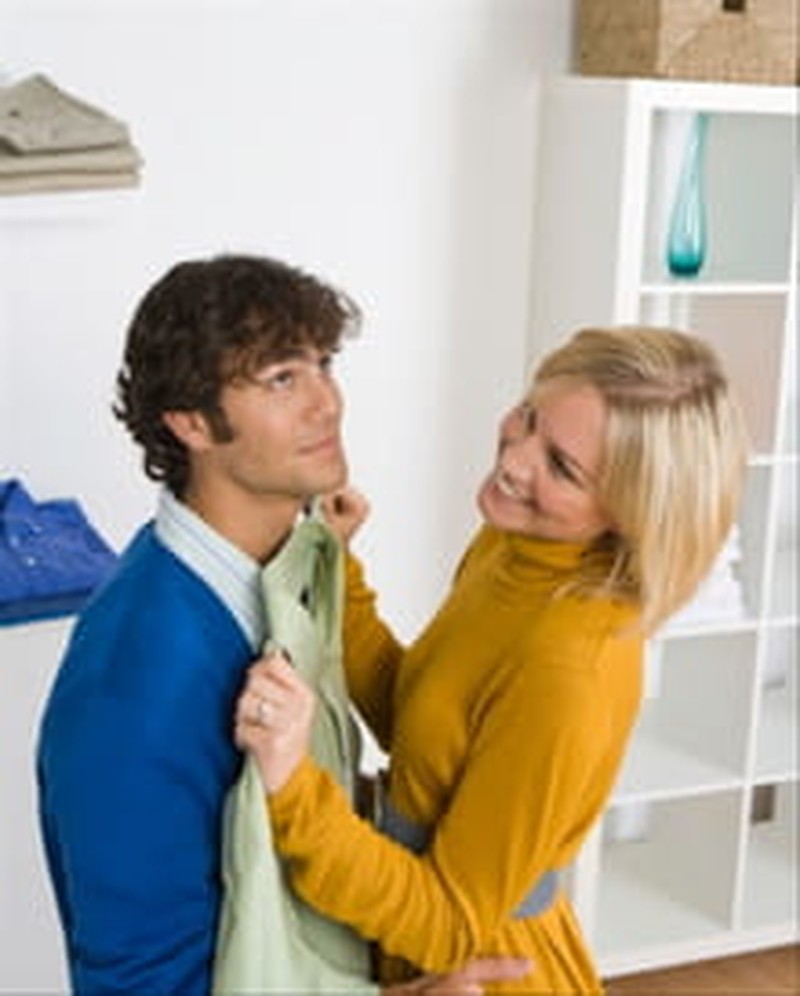 It took me 25 years to learn this.
Rita and I are getting ready to go someplace where we will be in the presence of other people. A party, a restaurant, church, a wedding, a funeral. Some place that requires me to look a little sharper than my typical home-office schlub look.
I'm not a big clothes guy. I'm glad to be an author, which allows me to stay at home in comfy jeans and a raggedy long-sleeve T for days on end. With the new technology, I even do most of my radio-production work at home, sending and receiving audio files through the Internet.
Anyway. I totally understand that sometimes wrinkles, frayed collars, styles from the 1980s, and clashing colors and patterns are bad. While complementary colors, seasonal awareness, polished shoes, and general tidiness are good. I'm not a total dweeb. But I respect my wife's opinion and want her to not be embarrassed by me.
Here's the big lesson I learned, and now I pass it on to you.
I used to stand in front of my closet and get mad at my wife because I knew when I finally came down the stairs she would find something wrong with what I was wearing. I would say, "Ready to go?" and she would find fault, just as I knew she would. "How old is that shirt?" "If you're going to wear those pants, I need to iron them." "That tie is too wide." "Those socks? Really?"
Of course, she means well. She married a handsome guy and doesn't want anyone at the event to think that she isn't taking care of her man. Besides, her tone isn't mocking, she's just trying to get it right.
The problem was that I was wasting precious energy attempting to figure out what she was going to say before she even said it. That is not a good place to be. So one day, instead of getting angry, I just gave up. I threw on what I thought was a reasonable outfit—nice jeans, oxford shirt, tweedy jacket—and trudged down the stairs.
Instead of saying, "Ready to go?" I said, "Is this okay?"
Brilliant! Suddenly, I had given her permission to judge. Permission to make an adjustment. Permission to second-guess me in this one area of life in which I was not an overachiever.
Strangely enough, on that particular day there were no wardrobe malfunctions. She said, "I think button one more button," and that was it. That day, I had struck fashion gold and learned a new trick for maintaining marital accord.
Since then, prepping for social gatherings has been a piece of cake. After asking, "Is this okay?" I have submitted to such formidable tasks as changing a shirt, putting on a tie, and standing by the ironing board in my boxers while Rita pressed my pants. None of which were a problem. After all, I had asked her opinion. When she gave it to me, she was actually following my instructions.
The benefits of my new discovery are many. There's never a fight about what I'm wearing. Less time digging in my closet. I look presentable. And we're making better use of each other's gifts. She's better than me at fashion. I'm better than her at modeling men's clothes. (Although she looks good in my shirts, but that's another story.)
A couple things to remember. First, when you say, "Is this okay?" use a tone that's matter-of-fact. Don't sneer it. Don't roll your eyes. The goal is to get a quick honest assessment, and if she suggests a change—minor or otherwise—just do it.
Second, if you give your wife permission to make a negative comment, it's not a negative comment at all. It may sound like one, but really it's an opinion you requested. Keep that in mind.
Like so many great ideas for husbands, this one has several parallel applications. "Is this okay?" or "What do you think?" can be used when picking a restaurant, a movie, vacation destination, or any number of decisions that need to be made.
Of course, not every choice should be thrown up for discussion. The longer you've been married, the more likely you are to know each other's preferences. Some choices like china patterns and drapes are better left totally to your bride. Which leaves you with complete executive authority over lawn fertilizer and driveway sealer.
Gentlemen, asking your bride's opinion early is always better than having her second-guess you after the decision has been made. Insisting on her input helps you maintain the illusion that you are in control.
Takeaway
The great benefit of sharing and listening to each other's opinions on the small stuff is that you're well-rehearsed when it comes to the big stuff.
"If I want your opinion, I'll give it to you." Samuel Goldwyn (1879–1974)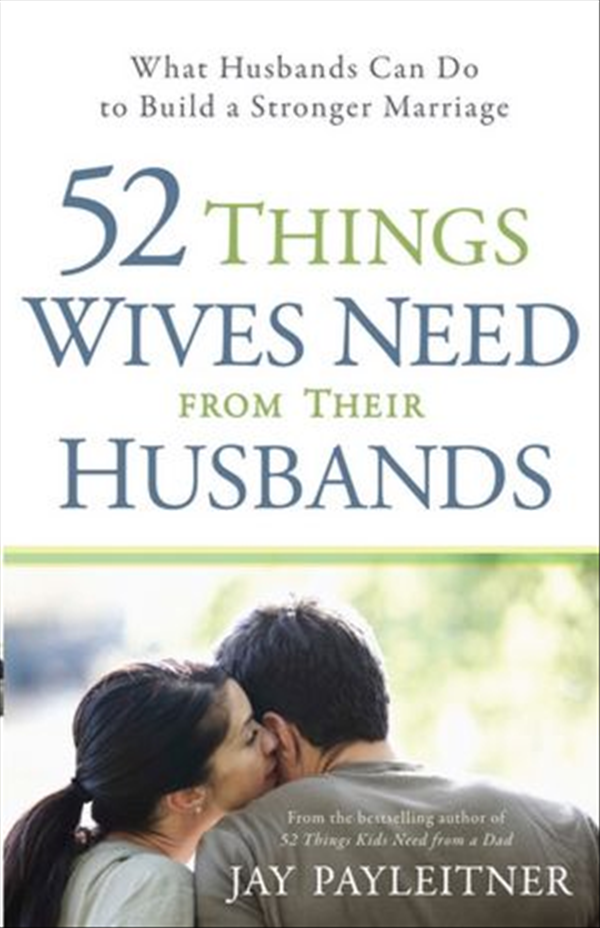 Article excerpted from 52 Things Wives Need from Their Husbands (Harvest House Publishers, Eugene, Oregon). Copyright 2011 by Jay K. Payleitner. Used with permission. All rights reserved.
Jay Payleitner is one of the top freelance Christian radio producers in the United States. He has worked on Josh McDowell Radio, Today's Father, and many others. A bestselling author, his books include 365 Ways to Say "I Love You" to Your Kids. He's also a popular speaker at men's events and served as executive director of the Illinois Fatherhood Initiative. Jay and his wife, Rita, make their home in the Chicago area.