Should My Spouse Know about My Struggles with Body Image?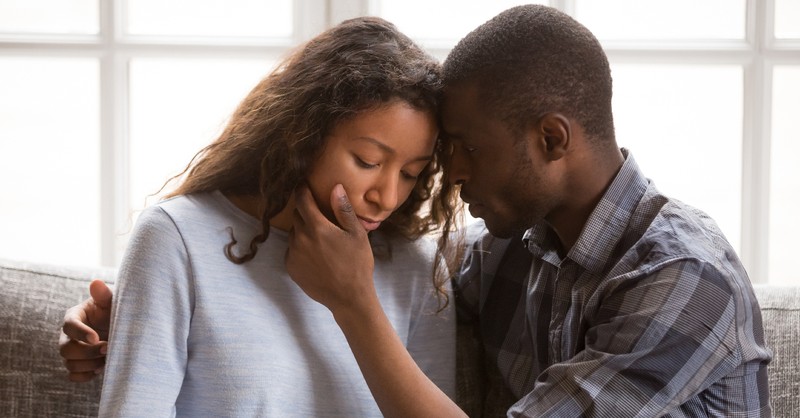 There are inner struggles each of us fights in the battleground of our minds. For some, these struggles manifest themselves as falsehoods in the perception of how we view ourselves. The fragile status of these issues makes it easy to keep the feelings, thoughts, and worries within. Body image and how we view ourselves when we look in the mirror are often one of the most prevalent inner battles fought within. Yet if you are married, should you share struggles with your body image with your spouse?
How Marriage Changes Things
In 1 Corinthians 7, Paul explains how when two souls enter into marriage, there is a changed status from just being single. The body of a husband belongs to the wife as well, and likewise, the wife's body belongs to the husband. This is not an arrangement meant to be of control, power, or unkindness, but rather mutual respect, safety, and upon the basis of love. This sacred relationship should be a place where vulnerabilities, truths, and fears can be shared without fear. Opening up and sharing about struggles with body image is a courageous choice to make, but it can also be one where support and love can enter into the situation.
How to Share
Sharing hidden insecurities is no easy feat. Satan will seek to intervene and invoke fear of rejection, judgment, and hesitancy to share things with your spouse. That is why it is important before entering into the discussion to prepare. Remember that you and your spouse are both fallen and sinful humans, and therefore are not perfect, but you can invite perfection in through the Holy Spirit. Pray and invite the Holy Spirit to foster an atmosphere of clear communication, safe vulnerability, and understanding clear of judgments. Openly share what you feel the Lord is leading you to share. Be mindful that communication can at times be misunderstood, so be careful not to make your spouse feel as if they are the culprit behind your issues or the blame. Rather, explain your perceptions of yourself through example. Lastly, invite the Lord to cultivate more intimacy through this communication so that in the end, you both will be brought closer to Him and each other.
Stronger Together
King Solomon wisely stated in Ecclesiastes 4 that, "Two are better than one, because they have a good return for their labor: If either of them falls down, one can help the other up….a cord of three strands is not easily broken." This conveys that when God is invited into the marriage and into the toils faced in marriage, He brings about strength in unity. Sharing about anything personal or delicate requires a gentle and thoughtful hand and a compassionate and loving response. Inviting the Holy Spirit into these situations will assist in navigating such roads. Be mindful that your spouse cannot "fix" your image issues, but they can be a part of the road to truth and healing.
Therapy Is Okay
Thankfully, the modern age has become less reluctant towards therapy and seeking treatments. I am a recovering Anorexic with Body Dysmorphia, and it took many years before I was even willing to admit that I had a problem. Once I did, much of the road to recovery was assisted through therapy. Therapy cultivated a safe space for me to uncover what the inner issues really were and helped reveal the roots of why I fell into anorexia and body dysmorphia. The answer is different for everyone, and it is not as simple as blaming Hollywood comparisons or lacking control in one's life. There are real triggers, traumas, and events that can lead to the mind harboring a false image of one's self. Therapy can be an option towards recovery, but much of the recovery also comes from support at home. That is why sharing with your spouse about what is going on can make the years to come healthier and geared towards truthful awareness of self.
Freedom to Find
It can feel incredible terrifying to share your innermost struggles with someone else, let alone someone you are married to and desire to appear perfect to; yet there is freedom in sharing. Hopefully, in inviting the Holy Spirit in before the discussion and praying that their heart will be receptive and encouraging to the situation, you will find an atmosphere of compassion. Prayerfully, you will also find a freedom in releasing the burdens and chains that the enemy is seeking to keep you locked up within the confines of your own head, and through that freedom, you will begin the road to recovery.
Prayer
Father God,
Thank You for the person reading this article today. Father, we know that You see us as whole, loved, and made spotless in Your sight. In our own sight, we often call ourselves names, focus on our imperfections, and falsely view ourselves in the mirror. We come before You Father to ask for help breaking these chains of lies that seek to define us. We also ask for the courage to share with our spouses the hidden struggles we are facing. We know that it is not an easy fix, but we also know that we can truly be healed through love, empathy, and support. Help our spouses to not respond in defensiveness, coarseness, or anything hurtful. Instead, work within their hearts so that they may respond as You would respond. May Your Spirit abide within their hearts so that together with You, true worth, true healing, and true understanding of our images can be seen.
In Jesus' Name,
Amen
Photo credit: ©GettyImages/fizkes
Cally Logan is an author and US History teacher from Richmond, Virginia. In her free time, she enjoys mentoring youth and spending time in nature. Her book, Hang on in There, Girl! Will be available everywhere on April 1, 2022. Check her out on Instagram and Twitter, @CallyLogan and TikTok Cally_Logan.