Survive Your Divorce
Whitney Hopler

Crosswalk.com Contributing Writer

2004

10 Aug

COMMENTS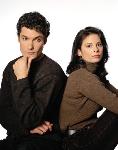 Divorce breaks God's heart. And if you're facing one, your heart is likely broken too. No matter how much you want it to be otherwise, your marriage may indeed be over. But God isn't finished with His work in your life.
Here are some ways you can survive your divorce and find hope afterward:
• Face the truth. Don't deny the ugly realities of what is happening in your marriage. Honestly try to understand the factors that are causing stress between you and your spouse.
• Make every reasonable effort to save your marriage. Do whatever you can do - within reason - to try to save your marriage before proceeding with the divorce. Explore the situation creatively and look for win-win solutions for both you and your spouse. Ask God to help you, even if your spouse doesn't welcome His help. Go to marriage counseling, and enhance the work you do during the sessions by keeping a journal, praying, striving to communicate with your spouse like never before, being sensitive to gender differences in communication, and being gracious and loving in giving and receiving constructive criticism. If your spouse is abusive, separate for your own safety and seek the help of law enforcement officials, counselors, and others to protect yourself and encourage your spouse to seek healing.
• Consider a trial separation. Rather than rushing into divorce, try separating temporarily to give you each time and space to work on the issues, while leaving the door open for future reconciliation. Before one of you actually moves out, plan strategies to deal with issues such as finances, legal matters, household logistics, and relationships with mutual family members and friends. Don't be vindictive; consider your spouse's needs as well as your own. When communicating with other people about your situation, use discretion and tell them only what they absolutely need to know.
• Grieve for your marriage. If you cannot save your marriage, gradually let go of the emotional attachments you've invested in it. Don't be afraid to cry. Pray about your thoughts and feelings. Talk to trustworthy friends. Adjust your lifestyle so your schedule doesn't revolve around your missing spouse. Channel your anger toward trying to find solutions rather than venting rage. Acknowledge that some of your expectations were unreasonable or unimportant. Seek to learn from your past mistakes. Realize that God is with you in the midst of your suffering. Make choices that respect yourself, living as a victor rather than a victim. Focus on positive thoughts. Serve other people through volunteer projects so your own problems will fade into the background. Take good care of your health, eating a nutritious diet and getting the proper amount of exercise and sleep.
• Forgive. Rely on God's strength to help you forgive your spouse - and yourself. Release destructive bitterness and resentment, focus your anger on motivating repentance and healing, and offer to restore and reconcile broken relationships whenever possible.
• Use your divorce as a catharsis for change. Offer your pain to God and invite Him to use it to mature you. Look to God alone - not things or people - for the comfort and strength you need. Ask God what He wants you to learn from your struggles, then pray and read the Bible to listen to His answers. In every situation, practice asking yourself what Jesus would do, then make your own decisions accordingly. Assess your attitudes and behaviors honestly and with humility, and deal with your sin by confessing and repenting. Know that God can use right now, right where you are - so decide to bloom where you're planted.
• Practice tough love with your former spouse. Speak the truth in love. Pursue forgiveness instead of revenge. Respect your former spouse's right to make wrong decisions. Develop confidence and self-respect. Look for common values. Put your thoughts in writing to your spouse to have a tangible record of your concerns. Then personally deliver the letter.
• Prepare a settlement offer. Make sure you have a competent attorney to help you navigate the complicated legal issues involved in your divorce, including child custody and property division. Before a settlement meeting, meet with your spouse and make a full disclosure of your assets and liabilities. Pursue church mediation if your spouse will agree to it. Advise your spouse in writing of your proposal. When making the settlement offer to your spouse, do so in person. Do all you reasonably can to settle out of court, if possible.
• Help your children through the process. Realize that divorce hurts children deeply. Be sure to tell your children that you and your former spouse still love them and don't blame them for the breakup of your marriage. Spend significant amounts of time with each child individually, giving him or her opportunities to fully express thoughts and feelings.

Listen without getting defensive to your children's honest questions, anger, fear, etc. Do all you can to create consistency and security in your children's environment, such as keeping traditions. Keep your promises. Encourage your children to contact the non-custodial parent whenever they'd like, and to visit as often as possible.

No matter what, don't ever criticize your former spouse in front of your children. Remember that your former spouse is also your children's mother or father. Don't use your children to relay messages to your former spouse; communicate directly instead. Let your children's teachers know about the divorce so they can understand the stress your children are under. Make every effort to include your children in decisions that affect them. Be patient with your children, giving them plenty of time to adjust to the major changes in their lives. If you don't have custody, be sure to always keep your visitation appointments and pay your full child support payments on time.
• Let go of the past and move into the future with hope. Accept the reality that your marriage is over. Admit that you are powerless to control events and other people, so stop trying. Refrain from blaming your former spouse for whatever goes wrong in your life. Instead of trying to protect your former spouse, allow him or her to face the natural consequences of his or her decisions. Forgive your former spouse and yourself. Rather than live in regret, learn what you can from your mistakes so you can make better decisions in the future. End relationships with people like former in-laws or others who can't genuinely accept you as a single person. Carefully consider whether or not you can emotionally handle a friendship with your former spouse, and do what's best for you.

Take time to relax and take care of your health. Choose fear less and choose love more. Rely on God more than you do on yourself. Ask God to show you anew how He sees you so you can more fully understand your identity. Ask Him to give you the fruit of His Spirit: love, joy, peace, patience, kindness, goodness, faithfulness, gentleness, and self-control. Develop and strengthen relationships with other Christians.

Enjoy your freedom as a single person. Be content with what you have, and be reasonable with your expectations for the future, giving yourself plenty of time before jumping into new commitments. Discover that your joy doesn't depend on your circumstances, but on your relationship with God. Ask God to help you heal to the point where you can be equally fulfilled as a single person as you would be as a remarried person. Seek to experience God's love more deeply every day.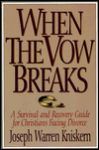 Adapted from When the Vow Breaks: A Survival and Recovery Guide for Christians Facing Divorce by Joseph Warren Kniskern, copyright 1993 by Broadman & Holman Publishers. Published by Broadman & Holman Publishers, Nashville, Tn., www.lifeway.com.
Joseph Warren Kniskern is an attorney with more than 28 years of experience. Throughout his career, he has based his approach to legal issues solidly on Scripture. He is affiliated with the Christian Legal Society, and has been cited on Who's Who in American Law. Kniskern is also the author of the Broadman & Holman book, Making a New Vow: A Christian Guide to Remarriage and Blended Families, and resides with his wife, Cheryl, and son by remarriage (Chase) in Weston, Florida.