The Cross & the Pen: Still Holding Hands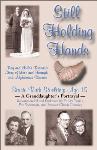 Welcome to "The Cross & the Pen," Crosswalk.com's author-to-author interview column. I have not had the pleasure of meeting Stacie Ruth Stoelting face-to-face, but as soon as I heard about her...and then saw a video of her energetic, passionate speech to a group about the dreaded disease Alzheimer's...I felt we were kindred spirits. That kinship goes deeper than writer to writer. It's more that she has a deep, deep love for Jesus and the grandparents whose lives influenced hers in such a powerful way. So, we chatted via email. Want to listen in as we talk about her book, Still Holding Hands (Publication Consultants)?

Eva: Stacie, let's start where most people start with a book: the cover. I noticed a couple of things right away. One, The photographs of your grandparents from wedding day to later in life ; two, your age at the time of writing the book, and three, that this book is recommended by celebrities. So, let me begin with this question: Who were your grandparents and how long were they married? (Stacie, tell me a little bit about how they met, when and where they married, etc.)

Stacie: I'd love to share with you about them! First of all, let me share with you who my grandparents are to me. They are role models, Christian human heroes! To others, my grandparents are Christian friends, a faith-filled, romantic couple whose romance never died, friendly and loving, outgoing, and kind. (Oh! I should mention this. People have commented about how they observed my grandparents holding hands in church and acting so "in love" even after decades of marriage. Wow! That's what I call romance!! I, too, am a romantic and hope to have a marriage as beautiful as theirs.) They lived out their faith in the Lord in practical yet beautiful ways. They really loved each other- and other people!

Eva: You were 15 when you wrote this "portrayal." What inspires a 15 year old to such an accomplishment?

Stacie: Well, a deep desire arose from within my soul ... out of indescribable pain and grief over my grandpa's battle with Alzheimer's, I wrote. In fact, I truly felt prompted to write. What inspired me, I believe, was the Lord because I believe that He wanted our story to be told so that it could comfort, touch, inspire, and witness to countless others!  I have seen all of these effects taking place and it excites me!

Eva: You had quite a few celebrities endorse the book. Again, impressive. Who are they and what have they had to say about it?

Stacie: Wow! This is a subject about which I am extremely exuberant!!! Randy Travis, Pat Robertson, Senator Chuck Grassley, Shirley Jones, Miss Iowa 2001, David Osborne, Pam Thum, Andrea Boeshaar, and Kathi Macias have endorsed or agreed to endorse the book and its mission!!! Even Lynne Cheney sent a note of encouragement to me after I presented a book to her! I praise God!! Glory to God for such blessings! 

Eva: Your book is tag-lined "Ray and Hilda Beamers's story of love and triumph over Alzheimer's Disease." At such a young age, what did their story teach you about Alzheimer's?

Stacie: It revealed to my previously blind eyes exactly what millions of families have been and are facing. This disease is a tragedy. Irreplaceable individuals are afflicted with Alzheimer's. Loved ones then despair. Families desperately search for answers.  I believe that the Lord is leading me to help these families and provide answers when no one else seems to do so...

I have the answer for Alzheimer's: faith in Jesus Christ. That is the only triumph for this terminal disease! Alzheimer's may have taken my grandpa's earthly mind but his soul was kept safe by the Good Shepherd, Jesus Christ! We won! We won through Christ. Papa is in Heaven enjoying a new mind- he is physically, mentally, and spiritually whole!

Eva: You remind me of a song I heard this morning. The words are: "It's a fixed fight, it'll be all right." Moving on, and I think this is an even more important question, Stacie. What did their story teach you about love and marriage?   

Stacie: It taught me true love, true faith and true faithfulness. ...Amazing love!! Sometimes, Alzheimer's caused my grandpa to do terrible things! Violence, foul language, bad behaviors, etc. all appeared in my Papa Ray because of Alzheimer's. Yet Grandma still caressed his cheek lovingly, held his hand tenderly, spoke gently, complained infrequently, and prayed frequently. Their faith and love are an amazing testament to my amazing Lord!

Eva: And [what did you learn] about God?

Stacie: That God is with us even when our world is falling apart in front of our eyes. As in Psalm 134:6-8, He is there to comfort, love, strengthen, and guide us when our hearts are weakest, our bodies frailest, and our minds most confused...  I saw and am seeing -firsthand- that Romans 8:28 demonstrated clearly in our lives: the Lord is using our hardest hurt to bring the greatest good by my/our sharing the Gospel!

Eva: You've been touring.

Stacie:  Yes!

Eva: Tell us about what that's like, to retell their story in front of audiences, to sign books, to meet celebrities....

Stacie: It's been extremely exciting!! Retelling our story before audiences has been an almost surreal experience. I open my heart to them... I share a huge piece of my life with my audiences... I put out a tremendous amount of energy because I speak, act, read, and sing all in one program! Also, it is something very intimate to share... But, sometimes God calls us to do things which we never thought possible! In this case, the Lord has given me strength when I've needed it most!

Most of all, audiences continue to overflow with emotion. I have seen grown men cry. I have had many people cry on my shoulder. They thank me for what I am doing...  I pray for them. The responses have been overwhelming for me! Such encouragement, kind words, prayers, etc. have poured forth from many people!

To sign books:  I have met a lot of different people and learned unusual names in the process as I sign... It's exhausting but exhilarating, too!

To meet celebrities: WOW!! It has been so miraculous! The Lord has taught me a lesson about how every person in the public eye is a normal person whom Jesus loves just as much as He loves the "unknown." Jesus has taught me to be wary of being a "respecter of persons." (See Acts 10:34.) Each celebrity whom I have met has been humble, gracious, and kind! I admire them all in different, special ways. I thank God for them!

Eva: What's next for Stacie Stoelting? 

Stacie: My ministry is dominating my time... But, I'm currently being thrust into a decision about making a CD of my singing for the Lord. People have been extremely encouraging about my singing and have requested CD's so that's been exciting! I love to sing and compose Christian songs (I wrote one about my struggle with losing Papa Ray to Alzheimer's and I hope to have it on the CD.) Also, I am in the midst of writing another book... Prayerfully, I hope that it will be as helpful as the first. College is also on my mind. Thanks for asking!

Eva: Stacie, I always ask my fellow authors to pray a short prayer with me. Would you pray for those who suffer from Alzheimer's and their loved ones?

Stacie: Dear Lord Jesus, today, right now, I ask You, Lord, to spread Your Word to the families now suffering! Please, open their hearts to You! Let them receive Your comfort, love, joy, and peace. And, Lord, please grant the caregivers strength. Father, in Jesus' name, I ask You to help all families who have suffered or are now suffering from Alzheimer's. If it is in Your will, please allow my ministry to be blessed and continue to help them. Please, Lord, if it is Your will, please provide a cure for Alzheimer's. Thank You for providing a cure for the human heart. Please, reveal Yourself to the hurting families and victims. I love You, Lord. Thank You for always being with us! I commit everything to You. In Jesus' name. Amen.

To learn more about Stacie, her ministry, her book or about the Alzheimer's Association go to: www.stillholdinghands.org.


Award-winning national speaker, Eva Marie Everson is the author of Shadow   of Dreams, Summon the Shadows and the recently released and highly anticipated Shadows of Light. She can be contacted for comments or for speaking engagement bookings at www.EvaMarieEverson.com