10 Things a Husband Needs but Doesn't Know How to Ask For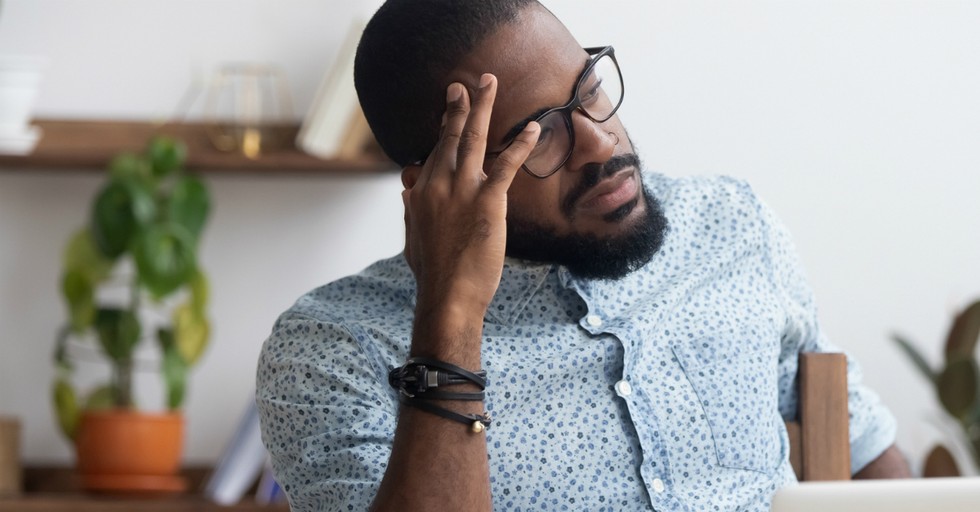 I saw a recent social media post with a tone that exhorts ladies to "find yourself a man who . . . " The extensive list of expectations is so exhaustive, I got tired just reading it! It is easy to look at my husband sometimes and think he has got it all under control. His shoulders are broad, and he just handles things. He is almost superhuman sometimes—like a machine; he takes it all in stride. So what does my husband really need from me? What if he does not express any needs? Believe it or not, our hunkier halves have needs too.
Here are 10 things a husband needs but doesn't know how to ask for.
Photo Credit: © Getty Images/Fizkes
1. Show him respect.

Slide 1 of 10

"Let each one of you love his wife as himself, and let the wife see that she respects her husband." (Ephesians 5:33)

Nothing feels better than when my husband loves me well. But men spell love R-E-S-P-E-C-T. Often this respect shows up in small ways. How do I joke with him around the house? How do I speak to him in front of others? Do I question his decision-making? Humor that hints of insult can pierce the soul of a man, especially when it comes from his beloved wife. Honor him in front of others, sincerely. No, we do not always agree with everything he does or says, but we can convey the message that we trust him, and we trust the Lord in all circumstances.

Photo Credit: © Unsplash/Joshua Adam Nolette

2. Discover his love language.

Slide 2 of 10

Dr. Gary Chapman's book The 5 Love Languages is a great place to begin learning about filling one another's love tanks. Do you know what language to speak to capture his attention?

Quality Time: Watch the game together, walk around the golf course, or just be present while he is working. I heard a story of a wife who goes duck hunting with her husband. She is light on the hunting but heavy on the quality time. And he knows when you spend time with him doing something you are not especially interested in that you are doing it just for him.

Acts of Service: Do something he would not expect but would appreciate. Cross something off his to-do list like taking out the trash or going through the car wash.

Physical Touch: Rub his back, scratch his head, or give him a massage. Be the one to initiate intimacy.

Gifts: They can be simple and do not have to be expensive. Is there a book, tool, or gadget he has had his eye on? Does he like takeout from a particular restaurant? Make a list of some of his favorite things, and make an effort to give them.

Words of Affirmation: Notice something that he is doing or has done. Cheer for him. Let him know you see his efforts and appreciate them.

Photo Credit: © MoMo Productions

3. Be his cheerleader.

Slide 3 of 10

Your encouragement plays a vital role in your husband's overall success and well-being. Stephen Arterburn in The Secrets Men Keep: How Men Make Life and Love Tougher Than It Has to Be says, "A little encouragement from a wife might result in a man who is free to be all he was meant to be, all he has longed to be, and all God has wanted him to be." He knows he's not perfect, but knowing you are by his side through thick and thin gives him the freedom to press forward into his calling.

Related Resource: Listen to our new, FREE podcast on marriage: Team Us. The best marriages have a teamwork mentality. Find practical, realistic ideas for strengthening your marriage. Listen to an episode here, and then head over to LifeAudio.com to check out all of our episodes:

Photo Credit: © Getty Images/monkeybusinessimages

4. Make home a safe place.

Slide 4 of 10

Do not compare him to anyone else. Sometimes we do not realize how singing the praises of someone else's husband makes him feel like he is coming up short, even when that is not our intention. We can imagine how it would feel if he seemed more thrilled about how one of his buddies' wives kept the house, looked great, made better meals, etc. Notice as many positives as you can, and be thankful for what he is doing. He does not need to be reminded of his shortcomings.

Many times a man will feel successful at work, only to come home and feel inadequate with his wife and family. The ripple effect can be a husband who spends more time at work and away from home. Patrick Morley in Understanding Your Man in the Mirror says, "Virtually all men believe that they are, or have been, a difficult husband to live with." We have all been difficult to live with at times. By giving him our trust and encouragement and by expecting the best from him, he will feel more appreciated and successful at home.

Photo Credit: © Getty Images/fizkes

5. Remember he is human.

Slide 5 of 10

To expect perfection is to hold him to an impossible standard. He already knows he is not perfect, and he wants your assurance that you love him despite his flaws. Mike Young, Executive Director of Noble Warriors men's ministry, sheds light on what this means to a man. "Taking time to reassure him and your love for him is gold to a man." I sure am thankful when my husband forgives me and shows me grace when I make mistakes or have had a bad day, and he deserves the same.

Photo Credit: © Getty Images

6. Prioritize intimacy.

Slide 6 of 10

This may be the one need he does express. But sex is more than just a physical need. Genesis 24:67 tells us that Isaac "was comforted after his mother's death" when he took Rebekah as his wife and knew her intimately. Sex meets a soul need for your husband.

For a faithful husband who is honoring the wife of his youth, her body will be the only one he enjoys for as long as both shall live. Ray Ortlund, President of Renewal Ministries, writes in Rejoice in the Wife of Your Youth: Letter to a Would-Be Adulterer, "One powerful safeguard against adultery is pretty obvious: happiness in your wife that lasts a lifetime." Us wives get to bless him in this way and give him that happiness. Put it on the calendar if that's what it takes. You'll be glad you did.

Photo Credit: © Unsplash/Christiana Rivers

7. Take care of yourself.

Slide 7 of 10

You do not need to look like anyone but yourself. Your husband married you for you. Do not put yourself down or feel pressure to be like anyone else. Physically, emotionally, and spiritually, pursue being the best you you can be. A loving husband appreciates your efforts.

Photo Credit: © Getty Images/monkeybusinessimages

8. Let him have time with the guys.

Slide 8 of 10

Men need a band of brothers to help them be their best, but he may not find them if he does not get a nudge from you in that direction. One deterrent that often keeps men from being involved in men's ministry and finding that brotherhood is the pull they feel to keep what precious free time they have for their wives, children, and obligations around the home.

Make sure he knows he can have guilt-free time with other men, especially for the pursuits of spiritual growth and forming those iron-sharpening-iron bonds. And yes, those bonds can form while fishing, hunting, or golfing, not just at church.

Photo Credit: © Getty Images/monkeybusinessimages

9. Pray for him.

Slide 9 of 10

The Power of a Praying Wife is an excellent resource for praying over your husband. Pray together if you can, but pray for him alone as well. Write out a verse like Colossians 1:9-11 and give it to him.

"That you may be filled with the knowledge of his will in all spiritual wisdom and understanding, so as to walk in a manner worthy of the Lord, fully pleasing to him: bearing fruit in every good work and increasing in the knowledge of God; being strengthened with all power, according to his glorious might, for all endurance and patience with joy.

Photo Credit: © Getty Images-B-C-Designs

10. Help him understand how to love you.

Slide 10 of 10

He is not a mind-reader. He would prefer you tell him what you need rather than keep guessing at it and failing. Many men have it in their hearts to do the right thing, but they do not always know what that is. It will take some time after marriage to communicate our needs lovingly and patiently to one another, but it is worth it to build years of understanding and safe communication. We have a lifetime together! What an opportunity to get to know one another and develop a closeness and understanding that cannot be matched. Life is too short to waste time playing games.

It does not take long before most married couples realize that the ideas they have for marriage on their wedding day slowly give way to reality. Ladies, I do not know about you, but I am certainly guilty of having high expectations for him without considering what my husband needs from me. While we both love to serve and give to one another, I am thankful he does not hold me to such expectations every day.

If you are blessed to be married to a good man, show him an attitude of gratitude for everything he is and wants to be. Deep down he still has that boy inside who wants to carry the mantle, rise to the challenge, and be king of the hill, and we play a major role in helping our husbands find strength for the battles they face every day. Nothing means more to him than knowing you are in his corner, and you have got his back.

References:
The 5 Love Languages

The Secrets Men Keep: How Men Make Life and Love Tougher Than It Has to Be

Understanding Your Man in the Mirror

Rejoice in the Wife of Your Youth: Letter to a Would-Be Adulterer

Photo Credit: © Getty Images/jacoblund