10 Ways to Practice Compassion with Your Spouse in Stressful Times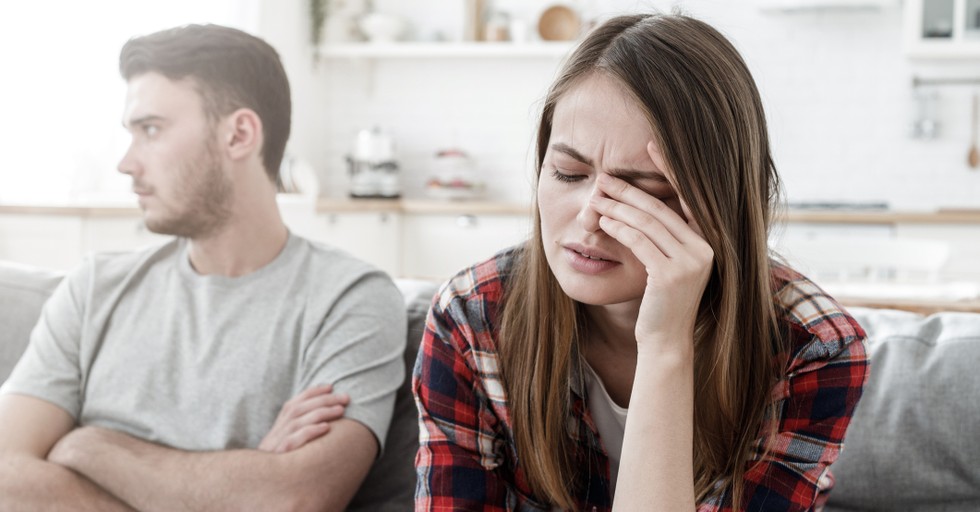 Jesus is the ultimate example of a compassionate heart. As the coming Bridegroom for His Bride, the Church, He shows us how to practice compassion towards our spouse (Revelation 19:7; 21:9).
Often we may think of compassion as mostly a feeling, but in looking at how Jesus responded to it, we see how it's fulfilled in action by meeting practical, spiritual, and physical needs.
Looking at His example gives us insight in how we can walk compassionately with our spouse, especially during stressful times.
Below are 10 ways Jesus teaches us how to put compassion into practice for our spouses.
Photo Credit: © Getty Images/Damir Khabirov
1. Jesus Is Willing

Slide 1 of 3

Compassion moved Jesus to be willing. "Moved with compassion, Jesus reached out with His hand and touched him, and said to him, 'I am willing; be cleansed'" (Mark 1:41, NASB).

Even with a couple's willingness, compassion often wears down after time. At first in most relationships, a husband or wife is willing to do whatever a spouse wants or needs, desiring to meet their every need.

However, over the years, many spouses lose their willingness to compassionately reach out to one another. Sitcoms like "Everybody Loves Raymond," portray the indifferences that can build up between spouses.

Sadly, a husband or wife can fall into a routine of indifference, where each other's needs are overlooked and ignored. Still Galatians 6:9, encourages, "Let us not become weary in doing good, for at the proper time we will reap a harvest if we do not give up."

In marriage it's vital to keep a check on our hearts and attitudes. It's important to ask ourselves if we've lost our willingness to practice compassion towards our spouse, to see if we've built up a resistance towards doing so, especially if our spouse has disappointed or hurt us over the years.

While we may feel great compassion for others, it might be difficult for us to recognize if our hearts have grown hardened towards our husband or wife.

2. Jesus Is Observant

Seeing others' desperate situations often moved Jesus to compassion. "When Jesus landed and saw a large crowd, He had compassion on them and healed their sick" (Matthew 14:14).

Likewise, we're urged to, "Carry each other's burdens, and in this way you will fulfill the law of Christ" (Galatians 6:2).

As spouses, when we see our husband or wife struggling emotionally, spiritually, or physically, maybe worn out by responsibilities, illness, or stress, we can step in to compassionately offer prayer, support, comfort, and relief, by taking care of some of their responsibilities and helping to carry their burdens.

Romans 15:1, reminds us, "We who are strong ought to bear with the failings of the weak and not to please ourselves."

3. Jesus Runs Interference

Compassion motivated Jesus to run interference by stepping in and stopping the attacks by the devil against people who were being oppressed. Matthew 9:36 explains how "When He saw the crowds, He had compassion on them, because they were harassed and helpless, like sheep without a shepherd."

Sometimes our spouses need us to run interference for them, to step in a situation and help support and resist attacks being brought against them. Whether it's from people or spiritual forces, we can offer strength and help to them in troubled times.

Photo Credit: © Getty Images/fizkes

4. Jesus Is Tenderhearted

Slide 2 of 3

One day as Jesus approached the town gate He saw a widowed mother's only son, deceased and being carried through the town (Luke 7:12). The sight moved Him to compassion. "When the Lord saw her, His heart went out to her and He said, 'Don't cry'"(Luke 7:13).

Because Jesus heart was tender, the woman's tragic situation moved Him to compassion. "Then He went up and touched the bier they were carrying him on, and the bearers stood still. He said, 'Young man, I say to you, get up!'" (Luke 7:14)

With compassion from a tender heart, Jesus gave the son back to his mother (Luke 7:15).

Likewise keeping a tender heart towards our spouse prepares us to compassionately respond when we see our husbands or wives in distress.

5. Jesus Encourages Others

Matthew 9:35, describes what happened when Jesus met people. "Jesus went through all the towns and villages, teaching in their synagogues, proclaiming the good news of the kingdom and healing every disease and sickness."

We can help encourage our spouses by reminding them of the Good News they have in Christ Jesus. Reminding them of all the benefits they receive through Salvation is uplifting during stressful times.

Speaking encouraging words of life to your spouse on a daily basis is a way of practicing compassion during stressful times.

6. Jesus Meets Shortages

When Jesus saw people's lack, needing nourishment after their supplies were depleted, He said, "I have compassion for these people; they have already been with Me three days and have nothing to eat" (Mark 8:2).

In the feeding of the 4,000, Jesus recognized the shortage that needed to be filled. We too, when our spouses may be lacking in something, can make the extra effort to provide what is needed.

While Jesus performed a miracle in multiplying the food, a spouse can compassionately step in to fill what is missing in a husband or wife's life, too.

Photo Credit: © Getty Images

7. Jesus Leads

Slide 3 of 3

"When Jesus landed and saw a large crowd, He had compassion on them, because they were like sheep without a shepherd. So He began teaching them many things." (Mark 6:34)

Sometimes a spouse gets off course, wanders away, or lost and like Jesus, we can help by giving them direction and getting them back on track by telling the truth.

Rather than dumping them or pointing fingers, it's compassionate to help lead our wayward spouse back to God's truth and protection.

James 5:19,20 explains, "My brothers and sisters, if one of you should wander from the truth and someone should bring that person back, remember this: Whoever turns a sinner from the error of their way will save them from death and cover over a multitude of sins."

8. Jesus Restores Vision

As Jesus passed by two blind men sitting by the road, calling out to Him, He asked what He could do for them (Matthew 20:30-32).

Matthew 20:34, describes how, "Jesus had compassion on them and touched their eyes. Immediately they received their sight and followed him."

Sometimes our spouse loses their vision for their life, family, or career, maybe not in a physical way but in an emotional and spiritual aspect.

With compassion, we can gently help restore their hope for the future through prayer, counsel, and reaching out.

9. Jesus Provides Comfort

Living compassionately with our spouse involves offering comfort during troubled times. Through receiving God's comfort we learn how to offer comfort to our husbands and wives.

As Jesus is a perfect representation of God the Father (Hebrews 1:3), His compassion shows us how to bring comfort to our spouse.

Like 2 Corinthians 1:3,4 explains, "Praise be to the God and Father of our Lord Jesus Christ, the Father of compassion and the God of all comfort, who comforts us in all our troubles, so that we can comfort those in any trouble with the comfort we ourselves receive from God."

10. Jesus Shares in Our Suffering

In times of suffering, we are assured Jesus understands and is with us to share in our suffering.

"For just as we share abundantly in the sufferings of Christ, so also our comfort abounds through Christ." (2 Corinthians 1:5)

Sometimes a spouse may go through times of suffering, where all we can do is be with them and compassionately share in their experience.

Photo Credit: © Pexels/Luis Quintero