Why Compromise Is Not the Secret to a Great Marriage --This Is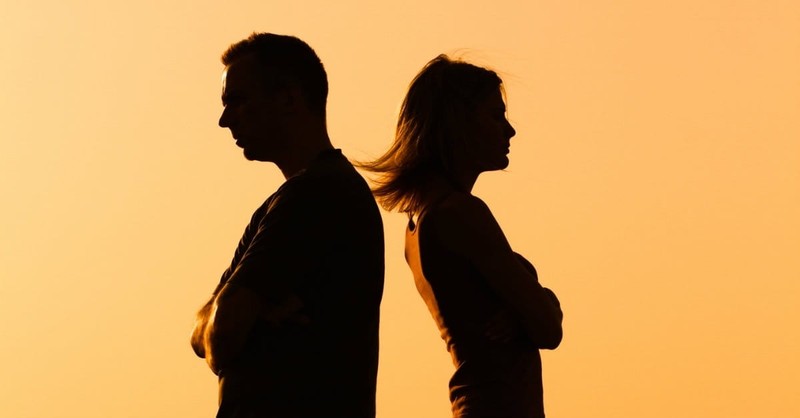 Compromise is a critical strategy for getting along.
Teachers teach it during playground battles and group projects. Parents employ it during family dinners out, Friday night board games, and vacation activities. Managers use it with their teams; negotiators use it in the board room.
Compromise means everybody gives up something. The idea is that people learn to sacrifice something, to take turns or meet in the middle to secure peace.
If I compromise in my marriage to resolve conflicts or make decisions, it means that sometimes (half the time, if I'm a stickler), I let my spouse get his/her own way. But I probably feel like the rest of the wins are owed to me.
The danger of a marriage—or any relationship—that is centered around compromise is the inevitable weaving of selfishness into the paradigm.
We might intend to compromise out of love or affection, but by definition, compromise suggests that we give up something to gain something else. Harmony and decision-making are practical reasons, and sometimes require a compromise (especially with immature people who are incapable of seeing the bigger picture).
But I'm not convinced that compromise is a Biblical strategy in marriage.
Love is.
Duh. We all know that. Love is why we get married in the first place.
But what happens in the relationship when we don't agree on a regular basis? When we don't feel or act loving toward one another?
Sometimes, love has trouble competing with self-preservation.
We are not naturally wired to be others-oriented. Selfless love is a gift of the Holy Spirit, a choice we put on daily, hourly, and moment-by-moment.
In contrast, compromise is a logical and calculated attempt to at least get something for myself. It appeals to our flesh and benefits our flesh. True, it solves problems in the moment.
But if compromise was the solution for making happy marriages, Jesus wouldn't have to remind us to "'Love your neighbor as yourself.' There is no commandment greater than these" (Mark 12:31).
Your spouse is your closest neighbor. And you fight about real issues, not trivial things like bushes that need trimming. (Well, you might fight about that, too. It happens.)
If you remember your childhood, compromise didn't necessarily produce lovingkindness and selflessness.
I recall pouting, establishing long memories and mental checklists, and developing an "it's-my-turn" perspective about my privileges whenever I was forced to compromise with my brother.
I suspect that the use of compromise in our childhoods created a generation of adults who think everything in marriage should be and can be fair.
That's a dangerous expectation.
Why Do We Compromise in Marriage?
We have to ask the question why. Why do we compromise or try to make compromises in marriage?
We want to make our spouses happy. We want peace. We're tired of fighting. We think we can swallow our own disappointments. We think we won't keep score or hold grudges.
Why are we giving in and what are we holding on to?
Are we attempting to meet in the middle of a disagreement so everyone gets something?
Are we giving up in defeat (i.e. this marriage will never get better)?
Are we giving the gift of love, with no strings attached?
The Bible calls #3 agape love (John 3:16). Sacrificial love. It doesn't come easily. That's why we take an oath in front of a room full of people on our wedding day.
We promise to love, honor, and cherish. We don't promise to meet our spouse in the middle so no one is happy. We don't promise to put our spouse first half the time. We commit to the ongoing lesson of learning how to love one another.
So here's where compromise and love get interesting. This is where we look past semantics to the heart of the issue about what makes a marriage great.
Most married couples develop a compromise mentality: share the chores equally, take turns having time "off." Guys' and girls' weekends. Purchases you want, purchases I want. It seems fair and it promises a healthy partnership.
Nothing is wrong helping one another or taking turns.
But God Calls Us to More
We are instructed to share generously and bear one another's burdens. Make our marriages a living example to the world of how God's love works.
If we start examining all the Scriptures that exhort us to love and care for one another, we won't see compromise in the instruction.
Biblical marriage is a picture of God's love for us. Jesus is the Bridegroom, and we are the Bride. And Jesus dies for us. For no logical reason except love.
Other Biblical stories echo the same theme:
In his book, Hosea is a husband pursuing his unfaithful wife. Over and over. No compromises. Just love.
Solomon describes a husband and wife enraptured by each other's sexuality in A Song of Songs. There are no "my needs/your needs."
In the book of Ruth, Boaz buys Elimelech's field, marries Ruth, and has Obed for the benefit of Naomi's legacy. Boaz gives, and someone else reaps the benefit.
The Biblical picture of marriage is loving sacrifice.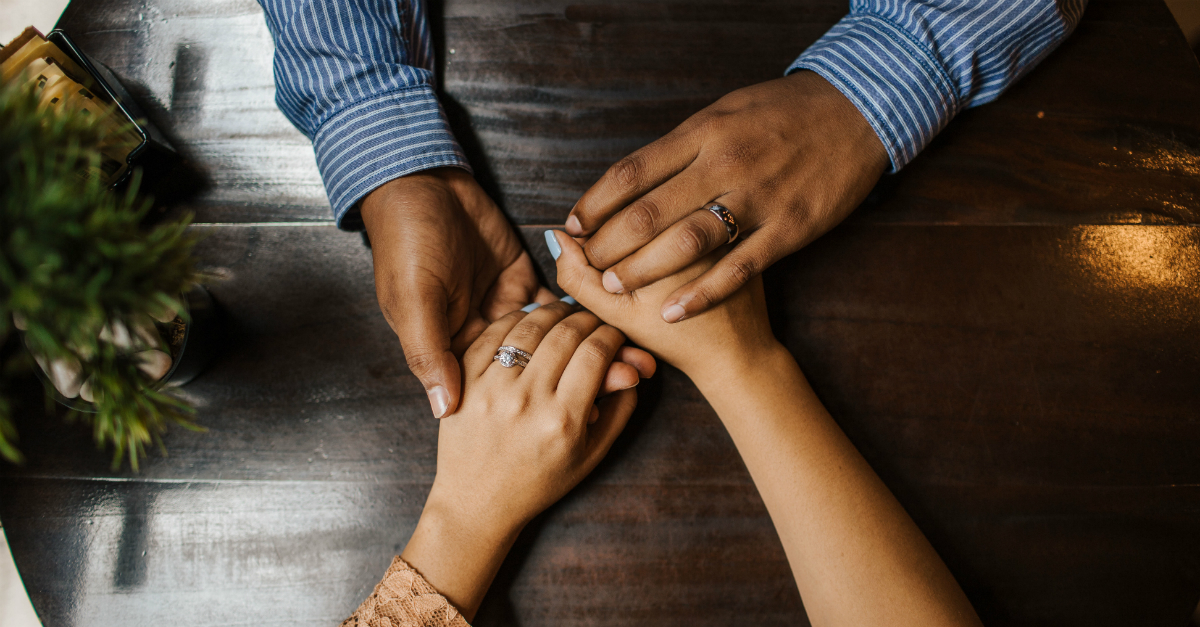 Photo Credit: ©Pexels/Luis Quintero
Does That Mean Compromise Is Wrong in Marriage?
Compromise is practical, but it is not a marriage-builder. It is not loving in an agape way.
Look at some Biblical commandments about how to love one another (married or not). Jesus told his disciples, "A new command I give you: Love one another. As I have loved you, so you must love one another. By this everyone will know that you are my disciples, if you love one another" (John 13:34-35).
Compromise isn't a terrible tactic. It can be profitable. But God designed an even better way to build a strong marriage: love.
We are commanded to love. A command is an order, an injunction. It's not a suggestion. And the Greek word for love here (and in the verses that follow) is agapao, which means "to have goodwill, to have a preference for, to regard the welfare of."
It doesn't compromise. It thinks of the other person first. Then it gives lavishly.
You might be thinking there are lots of compromises in the Bible. True. Consider a few:
Laban and Jacob compromise about Jacob wanting to marry Rachel but having to marry both Rachel and Leah. (That works out great for everyone, doesn't it?)
Solomon offers to cut a baby in half to solve a dispute between two women who both claim the baby is hers. In response to the compromise, the real mother offers to give her baby away before she sees him killed. The compromise reveals love and sacrifice.
Moses gives excuses to God about becoming the leader of the Israelites, so God gives him Aaron as a spokesperson. This is an act of love by God, not cutting a deal with Moses. God chooses to show mercy and patience with him. (FYI--Aaron isn't always a great helper to his brother. Remember the golden calf?)
You can drudge up Bible story after Bible story to find people who asked God to change his mind or hold back his anger or give more chances, and most of the time, God does it.
But none of these instances are compromises. God gets nothing back. He just gives. He just loves. He sacrifices and forgives and woos hearts back to himself.
So What Is the Secret to a Great Marriage?
It's the 100% Rule.
Yeah, you've probably never heard your married friends talking about this strategy.
They talk about meeting in the middle and making chore charts. Those are strategies to safeguard rights and privileges. They come from a 50/50 mindset. Divide everything equally, keep our separate spaces, guard ourselves.
The alternative to a 50/50 perspective is the 100/100 rule. If we truly want to be like Jesus, we must love like Jesus.
And he held nothing back. He got nothing. He only loved 100% of the time. Giving 100% of himself.
100% love is bold and risky. You might get taken advantage of. You might lose a lot. But you might win the marriage you always wanted.
It's what Peter refers to when he exhorts wives to respect their husbands in 1 Peter 3:1-3. He's not speaking about a social hierarchy; he's explaining that spouses are often won over by a selfless spirit of love and deference from their believing spouses. Agape love is irresistible.
And if both husband and wife live by the 100% rule, both are being loved and no one is having to compromise something now to get something else later. Every act is a gift of love and grace to one another.
How Do You Develop a Strategy of Love Instead of Compromise?
1. Rethink entitlement.
Life is a gift. Marriage is a gift. Dedicate yourself to benefitting your spouse.
"Jesus looked at him and loved him. 'One thing you lack,' he said. 'Go, sell everything you have and give to the poor, and you will have treasure in heaven. Then come, follow me.'" Mark 10:21
2. Forgive liberally.
Choose to understand, clarify, and ask forgiveness.
"If you love those who love you, what credit is that to you? Even sinners love those who love them." Luke 6:32
3. Defer to your spouse.
Prefer his/her needs over your own.
"Be devoted to one another in love. Honor one another above yourselves." Romans 12:10
4. Show love.
Learn your spouse's love language. Seek to understand his/her emotional triggers. Reassure through words and actions.
"But God demonstrates his own love for us in this: While we were still sinners, Christ died for us." Romans 5:8
5. Value the sacrifice.
Love is not a feeling. It's a decision.
"If I give all I possess to the poor and give over my body to hardship that I may boast, but do not have love, I gain nothing." 1 Corinthians 13:3
6. Give generously.
Give up something you prefer for something your spouse prefers. Not to bargain or compromise—just to give. It means nothing if it's reciprocated later with something you want.
"But since you excel in everything—in faith, in speech, in knowledge, in complete earnestness and in the love we have kindled in you—see that you also excel in this grace of giving." 2 Corinthians 8:7
7. Share cheerfully.
Don't keep score. Don't harbor resentment.
"Each of you should give what you have decided in your heart to give, not reluctantly or under compulsion, for God loves a cheerful giver." 2 Corinthians 9:7
8. Serve your spouse.
Ignore other's judgmental comments about being "too good" to your spouse. God is too good to us, isn't He? How does that hurt our relationship?
"You, my brothers and sisters, were called to be free. But do not use your freedom to indulge the flesh; rather, serve one another humbly in love." Galatians 5:13
9. Rely on the Holy Spirit for strength to love.
You can't love well enough on your own.
"But the fruit of the Spirit is love, joy, peace, forbearance, kindness, goodness, faithfulness, gentleness and self-control. Against such things there is no law." Galatians 5:22-23
10. Expect God's power to unleash on your marriage.
You have no idea how much blessing and protection God will pour out on a marriage that models itself after His love. You will be a light to your children and your world.
"And I pray that you, being rooted and established in love, may have power, together with all the Lord's holy people, to grasp how wide and long and high and deep is the love of Christ, and to know this love that surpasses knowledge—that you may be filled to the measure of all the fullness of God." Ephesians 3:17-19
Give your marriage a boost up from polite compromise. Choose to love extravagantly, like God loves us.
Photo Credit: ©Thinkstock
---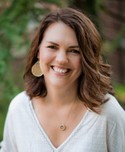 Sue Schlesman is an award-winning author, speaker, blogger, English teacher, and minister. Her second book, Soulspeak: Praying Change into Unexpected Places, won a Selah Award in 2020. Sue has a BA in Creative Writing and a Master's in Theology & Culture. Her material appears in a variety of print, online, radio, and podcast mediums. You can find her writing about life, education, and Jesus at sueschlesman.com and 7prayersthatwork.com, which attract visitors from across the globe.