5 Bits of Encouragement for the Mom Who Has Daycare Guilt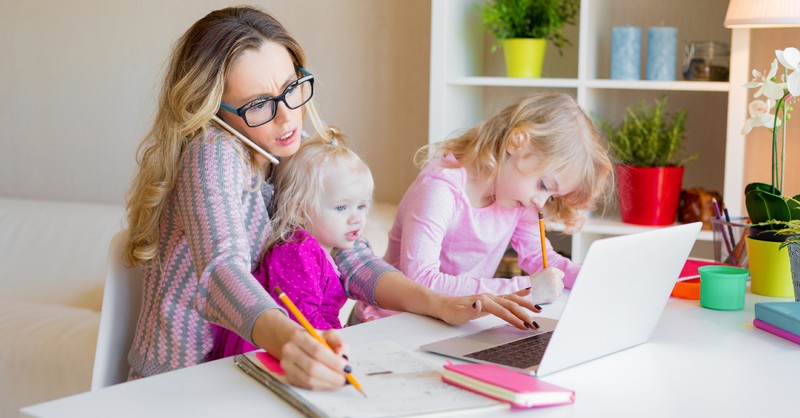 I took my baby boy into the daycare I had carefully chosen and placed him in the arms of the sweetest woman. She was so kind as I looked at her with bleary eyes on the verge of tears. She told me everything to expect and what they would do during the day and sent me on my way. I looked back in the room before I left, and my little one was happily lying on the floor, grabbing at his feet. All of the other children looked happy. Everything about it was comforting, but I was still emotional.
Fast forward a couple of years, and it is time to drop off my second child. Like most second-born children, this one was completely different from her big brother. The staff peeled her off of my shoulder as she wailed and reached for me. It was heartbreaking to watch that screaming, red-faced little girl as I walked away.
I experienced so much guilt about sending my kids to daycare. I emotionally beat myself up for not being able to do it all and for having someone else care for my kids. I wondered if I was ruining our relationship by not being with them all day. I questioned my career choice even though it was one that I deeply loved and had spent years training to do.
It has been a decade since that time, and I wish that I could go back and stop stressing about my decision so much. I wasted time feeling terrible and worried instead of fully enjoying the wonderful job and kids that I had. I wish I could tell myself that you can't do it all, so stop trying! If I could do everything, I wouldn't need Jesus! When I phrase it that way, I cringe to think about the amount of time I spent wishing I could just be more, be better, be all.
Sending your kids to daycare is not a sin. Working is not a sin. Yes, it can be a difficult decision, and may feel sad at times, but all of life is that way. You are not wrong for sending your kids to daycare. You are a complex person, a mom, and more.
So here are some encouraging ideas to remember when you are struggling with daycare guilt:
1. Your Child is Building a Community
The more adults who love a child, the better. Someone else is putting your sweet baby down for his afternoon nap? Praise the Lord for that person who is caring for him! Another adult is wiping sweet potatoes off your little girl's face after lunch? Thank God Almighty for good people who are here to help! These interactions with loving adults are teaching your child that they can trust people, that the world has safe people in it, and that they are loved and important.
My son took his first steps at daycare while I was at work. When I picked him up that day, the teachers clapped and cheered and told me all about it. I had tears in my eyes, originally because I had missed out on this moment but later because I realized how loved he was. I got to share that moment with some sweet people who loved him. I celebrated his other steps. He was not disappointed or upset because I wasn't there that first time. He was proud of his new skill.
You can encourage this community building by loving the daycare workers. Pray for them each night before bed, have your child draw a picture for them, learn their birthdays and get them a small gift card. Involving them in your life, even if it is just your prayer life, will make you feel more comfortable with them and will teach your children that all of the people we are around matter.
2. Your Child is Learning Independence
Your little one may seem too young to learn independence, but the reality is that kids are on the path to independence from the beginning! Maybe they carry into daycare their own blanket, or lunch, or toy, and take pride in that responsibility. They feel special and important when they get to tell you about their day. They learn good communication skills when you tell them about yours. Your little one can feel like a "big kid" when they have a place to go that is all their own. Mom goes off to work, and they go off to daycare.
When parents celebrate this as special and important, the kids will feel that it is. We are raising future adults, and by encouraging their responsibility and independence from a young age, we can set them up for success in the future.
3. Your Child is Learning Social Skills
Preschool and kindergarten teachers often say that their students who were in daycare have an easier time transitioning to a school day. These kids already have experience away from their parents and have learned how to spend the day with a group of other kids. They have learned sharing, listening, routine, even simple things like lining up. Unless you plan to homeschool, you will be sending your little one to school in just a short time, so the daycare years are really great practice for both of you to be fully prepared when the school years begin! Daycare provides opportunities for your child to interact, learn, and grow! She is making friends, resolving conflict, and enjoying herself with other kids her age!
4. You are Emphasizing Quality over Quantity
Being away from our children can actually increase the quality of our time with them because we know that time is limited. Quality time does not have to be child-led or playtime for it to "count." After a long day of work, you likely have plenty of responsibilities at home! You can include your little ones in those tasks with just a bit of patience and flexibility. For example, kids of all ages can help with dinnertime. Babies can sit in their high chairs or bouncer seats, or even car seats on the kitchen floor and watch while you prep the meal. You can talk to them about your day or detail step by step what you are doing.
Kids who are mobile can bring you utensils or bowls. My house has a bottom drawer full of kid-friendly kitchen supplies for this very reason! Once your child is stable enough to stand on a chair, she can join you in mixing or adding ingredients. Whatever task you take on and however you choose to involve your children, remember to focus on the positive and remind yourself that you are still getting this precious time with your children despite them being at daycare during the day.
5. You Matter Too
Whatever your reason for sending your kids to daycare, it is important to remember that you matter too. Working to pay the bills? That matters. Working because you love it? That matters. Moms are selfless and put children first, and that is beautiful and right. But in that sacrifice, do not lose sight of the fact that you, too, are a dearly loved child of God. You matter. You cannot always be everything to your children, and you must take care of yourself along the way.
Do not let daycare guilt turn into a stronghold that the enemy uses against you. Turn that guilt over to your Heavenly Father, who loves you even more than you love your children. Ask Him to guide you in your decisions, protect your children, and remove any guilt from your life that does not come from Him and leads to repentance. You are doing well, Momma!
Photo Credit: ©GettyImages/grinvalds
Megan Moore is a military spouse and mom of 3 (through birth and adoption). A speech-language pathologist by training, she now spends her time moving around the country every couple of years. She is passionate about special needs, adoption, and ice cream.
Related: FREE Podcast for Praying Moms!
Do you desire to be a prayer warrior for your kids? Million Praying Moms is the podcast helping you learn to pray God's Word for your children in the areas they need it most. Join author and speaker Brooke McGlothlin in making prayer the first and best response to the challenges of motherhood. Listen to every episode on LifeAudio.com, and be sure to subscribe on Apple or Spotify so you never miss an episode.
The views and opinions expressed in this podcast are those of the speakers and do not necessarily reflect the views or positions of Salem Web Network and Salem Media Group.
Related video:
You can read Rhonda's full article here!