11 Ways to Make the Family Road Trip Fun
Sarah Hamaker

Crosswalk.com Contributing Writer

Updated

May 27, 2022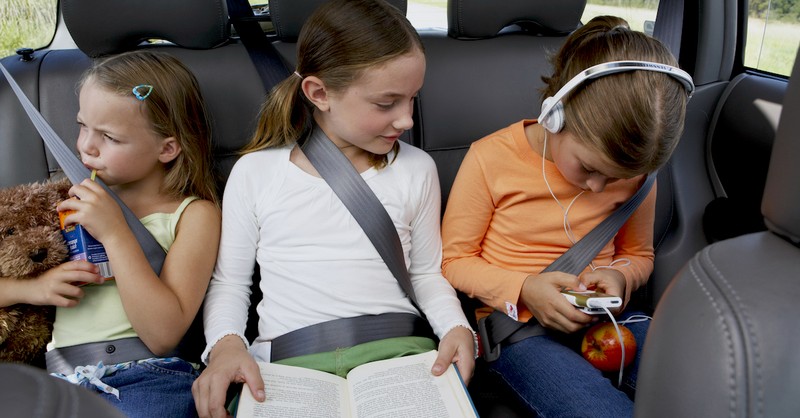 In July 2017, my husband and I, along with our four children between the ages of 9 and 14, gassed up our Kia Sedona minivan and drove 1,700 miles from Virginia to Colorado over four days. After a delightful ten days in the mountains of Colorado, we made the return trip over another four days, taking a different route to give the kids a chance to see more of America. We did the entire car trip without electronic devices for the children (or adults)—and without much fussing from either.
Most parents today dread a family road trip. Whether you have one kid or five, the thought of piling into the car and hitting the open road gives many moms and dads nightmares. As with most things, planning beforehand can save you a world of frustration during the event. The same is true for family road trips. Let me share with you 11 tips for making the family road trip not only endurable but fun.
1. Packing plans.
If your child is over the age of 3, he can pack his own suitcase and car bag. Create a master list for overnight trips with blank space to write how many of each item is needed (like _____ pairs of socks). Hand the list to each child and let them pack their clothes. When my kids were in elementary school, I would have them pack, then each bring the bag and list to my room, where they would dump the contents onto the bed and repack as I called out each item. This kept them from not packing underwear or pajamas but still allowed them to learn how to pack their own bag.
Each child should also take their own car bag, such as a backpack. Again, let them pack it with guidance from you. Focus on quiet activities, such as coloring books and crayons/colored pencils, books, drawing pads, activity books (crosswords, seek-and-finds, word searches), magnetic dolls/kits, travel games, and lap desks. Again, go over the bags before the departure date to ensure pencil sharpeners are included with the colored pencils and other essential items.
2. Schedule stops.
Look at your route and approximate where you'll stop for bathroom breaks and meals. We generally packed our lunch to eat on the road, and preferred rest stops along the highway for our stops. Online maps make this much easier to figure out how often and where you could take a break.
3. Have a traveling calendar.
Think about how your kids could use their time in the car with your scheduled stops and what they'll be bringing. Some kids do really well with a loose structure; other kids don't. If you have more than one child, chances are, one of them will need some guidelines. Depending on your kids, add snacks, stops, and things to do each hour or half-hour. You might not need it, but it's good to have it available just in case.
4. Snack attack.
Everyone will need snacks, and packing some good protein options, such as granola bars, cheese or meat sticks, and shelled hard-boiled eggs, will keep everyone happy until the next meal. Also, make sure everyone stays hydrated with personal refillable water bottles.
5. Car games.
Sometimes, it's great to plan car games as a family, like trying to spot license plates from all 50 states and playing the alphabet game. Twenty questions, two truths-and-a-lie, and other games can be fun and interactive among all passengers. We generally played at least one group game daily on long road trips.
6. Think audio, not video.
Listening to music, podcasts and audiobooks can be highly enjoyable activities while gazing out of the window. When your kids are of different ages and picking the same book to listen to could be challenging, try the Music DJ method. Have one of your kids draw up a schedule before you leave with the approximate number of driving hours each day, then devise a "fair" rotation schedule among the passengers. For example, our two boys had one turn together during our Colorado trip, as did our girls, as their musical/listening tastes were similar. My husband and I had separate turns. During each turn, the person jammed out to the musical or audiobook selection for the duration of their time limit.
7. A surprise bag.
It's also a good idea to have a small bag filled with emergency surprises. These can be little dollar store goodies or larger items, such as a new drawing pad or gel pens. Secret this away and surprise your kids when you've been in the car a while. I used to purchase brand new coloring books for my kids, handing them out after our first stop of the day. They loved the surprise, and it usually kept them occupied for a nice long stretch.
8. Mad money.
It used to drive me crazy when the kids begged me to buy candy or chips at the convenience store when we stopped for gas. That is, until my brilliant idea of giving each child a set amount of cash to spend however they liked during the trip there and back. Suddenly, it wasn't "gimme" but "should I spend my money on this or save it?" It made stopping fun for the kids and much less stressful for mom and dad. The child could keep any leftover funds, making deliberations even more interesting.
This also works for restaurant meals. When we traveled to Colorado, we ate dinner in restaurants. Rather than police their menu choices, we gave each child a per diem to spend on food with the caveat they could keep anything under the set amount when we returned home. Our oldest child kept a record in a little notebook of everyone's spending, and it became a family game to see who could spend the least amount or who would splurge for a milkshake. It also taught the kids a lot about budgeting, and we didn't have to approve or veto every menu choice.
9. Quiet time.
No matter your kids' ages, having a period where everyone's quiet can be restorative. We generally implemented rest time after lunch to give everyone a chance to recalibrate.
10. Rest stop calisthenics.
Sometimes, you have to persuade your kids to use the time outside of the car to get moving—and we adults need it too. In your traveling calendar, include some ideas for quick exercises you can do at a gas station or rest areas, such as jumping jacks, foot races, and hopscotch. It's worth it to spend an extra five or 10 minutes working out some of the excess energy and the stiffness that comes from being confined in the car. Also, consider a lengthier exercise time when you stop for the night (if traveling over multiple days). We tried to find hotels with indoor swimming pools for that purpose.
11. Plan for discipline.
The closeness of a car ride can trigger conflict among kids. By having a plan for when blowups happen, you'll be much calmer in the moment. A ticket system works well for traveling. Layout your top two to three expectations in clear, precise language, such as no yelling and no hitting. Give each kid three to four tickets (depending on the length of the trip and the ages of your kids). Then tell them they'll lose a ticket each time they do one of the targeted misbehaviors. However, if everyone's in an uproar (sibling fighting), then everyone loses a ticket. When you arrive at your destination, each child must have one ticket remaining in order to jump in the pool or whatever the first activity is.
With planning, you can turn a family road trip into an adventure and come home with as many fun memories of the getting there and back as of the vacation spot itself.
Photo credit: ©GettyImages/NoelHendrickson

Sarah Hamaker is a national speaker and award-winning author who loves writing romantic suspense books "where the hero and heroine fall in love while running for their lives." She's also a wife, mother of four teenagers, a therapeutic foster mom, a UMFS Foster Parent Ambassador, and podcaster (The Romantic Side of Suspense podcast). She coaches writers, speakers, and parents with an encouraging and commonsense approach. Visit her online at sarahhamakerfiction.com.
Parents: Need Help Navigating Our Crazy Culture with Your Kids? Listen to Our FREE Parenting Podcast!
Christian Parent/Crazy World with Catherine Segars is available wherever you listen to podcasts. Listen to our episode on battling for your kids in prayer by clicking the play button below:
The views and opinions expressed in this podcast are those of the speakers and do not necessarily reflect the views or positions of Salem Web Network and Salem Media Group.
Related video:
Are you in the trenches with your toddlers or teens? Read Rhonda's full article here!