10 Outdoor Fall Activities to Make Lasting Family Memories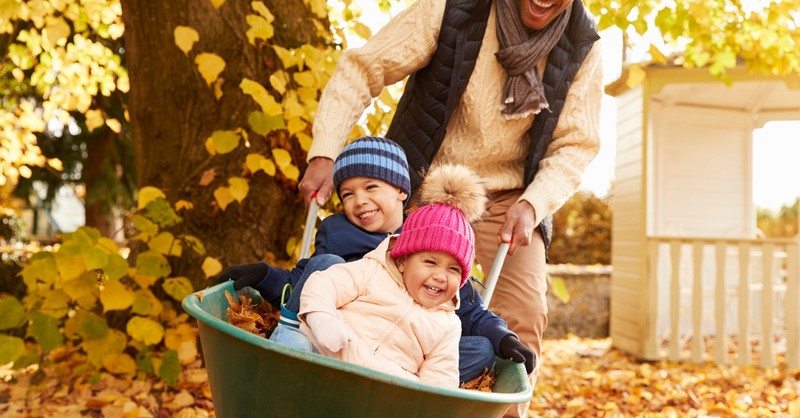 Fall is a great time of year to be outside and to plan some family activities to enjoy all the season has to offer. Depending on where you live, you may be looking forward to the weather beginning to become crisp and cool, the leaves on the trees starting to turn brilliant shades of red, orange, and yellow, and the bounty of fall fruits and vegetables to be on display at local grocery stores.
Does your family have fall activities and traditions that you look forward to every year? Or are you looking to start some new ones, especially ones that encourage your family to be active and enjoy the outdoors?
Seasonal family traditions have been particularly on my mind as this fall season is upon us, since this is my first fall with a child of my own. Perhaps you are in the same situation – or perhaps you are a grandparent looking for fall activities to do with your grandkids, an aunt who loves to see her niece or nephew experience new things, or even a parent looking to plan fun activities to do with close friends who are like family.
Whatever season of life you're in this fall, we hope this list of outdoor-focused fall activities inspires you, helps you reconnect with your family, and perhaps even start some new traditions.
Photo credit: ©Getty Images/monkeybusinessimages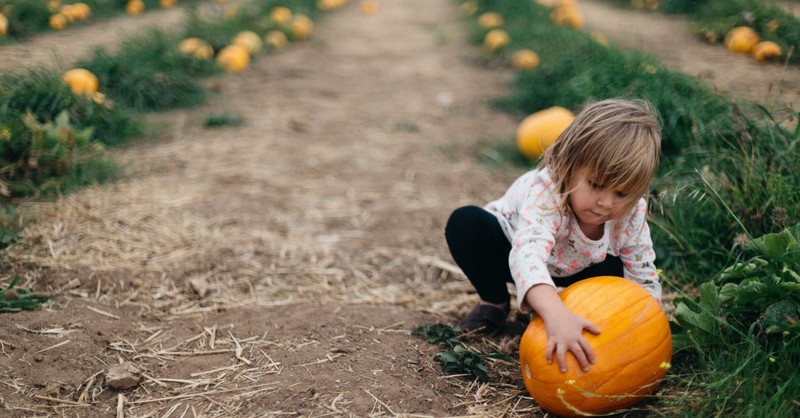 1. Visit a Pumpkin Patch
Pumpkin patches are of course great places to buy pumpkins, but they're often much more than that. Many farms welcome visitors to their pumpkin patch and offer hayrides, corn mazes, snacks and treats (I even got a pumpkin milkshake this year!). There are usually plenty of other kids activities that are great for family fun and making memories.
A quick Google search for pumpkin patches in your area is sure to bring up some options. I've also found it helpful to ask local friends with kids where to go for pumpkin picking.
2. Go on a Hike
Hiking in fall is arguably the best time of year to do it. If you live near mountains, the sweeping views of leaves decked out in crimsons, golds, and oranges can be stunning and perfect to enjoy with the whole family. But you don't have to go to the mountains to enjoy a fall hike. A local state park or simply a neighborhood park is sure to offer an opportunity to appreciate God's beautiful creation and allow the whole family to get some fresh air and exercise.
Make the hike even more fun by bringing a picnic lunch or dinner. If you really want to get in the fall spirit, you could bring an apple crisp or pumpkin muffins as part of that picnic.
3. Go Apple Picking
Similar to farms that offer activities along with pumpkin picking, many farms or orchards make a whole event or festival out of apple-picking season. What better way to spend a fall day than picking apples and enjoying some hot apple cider, apple cider donuts, and perhaps browsing a country store for homemade apple products?
Many orchards offer beautiful vistas perfect for enjoying fall colors, and many also provide additional fun activities for kids. After you pick your apples and bring them home, there is another great fall family activity you can do, which brings us to the next thing on the list.
Photo credit: Unsplash/Patrick Fore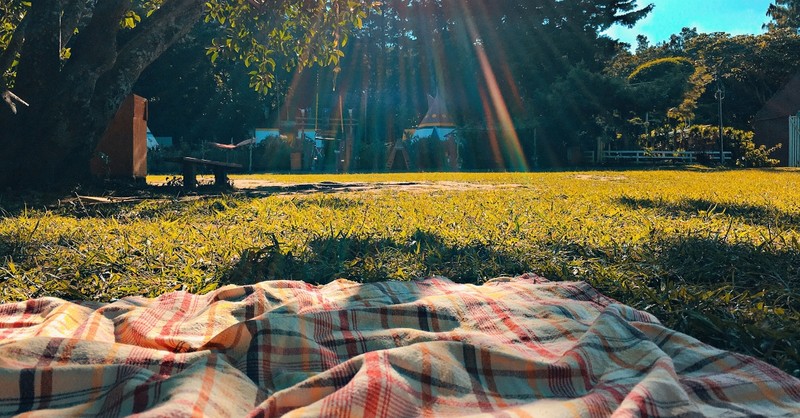 4. Make a Fall-Themed Dinner to Eat Outside
Now that you have all those apples, it's time to look up some recipes! Or, perhaps you have a tried and true recipe that has been passed down for generations. Either way, there are so many delicious fall recipes, such as apple pie, applesauce (a great option for very small children!), apple crisp, and the list goes on.
Pumpkin is another perfect fall ingredient for pies, muffins (I recommend adding chocolate chips), or even soup.
Butternut squash is in peak season in the fall as well, and is especially good in soup with a dash of cinnamon and allspice. Pop some bread in the oven and your home will smell delightfully of fall and you will have a delicious meal to enjoy out on the deck, the porch, or as a picnic at the park. (Just make sure you have an early dinner--it gets dark early these days!)
Cooking is a great way to make family memories. It may be messier, but it's worth it to get the whole family helping out in the kitchen.
5. Attend a Fall Church Event
There's a good chance your church has one or more fall activities planned, and this can be a perfect event for the whole family. Many churches host harvest parties that are great times of fellowship, food, and fun. For example, my church's harvest party includes a potluck, a dessert contest, live music, and activities for the kids.
Other church activities may include a trunk-or-treat event, pumpkin carving, or volunteer opportunities. And if you don't have a home church or your church doesn't host any fall events, see what other churches in your area are doing. Churches are more than happy to welcome newcomers, especially at events like these.
Photo credit: Unsplash/Jennie Clavel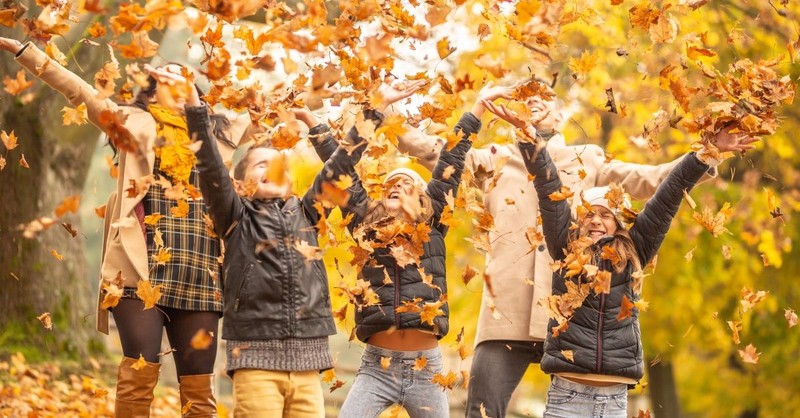 6. Go Leaf Peeping
Depending on where you live, this could entail a road trip. But whether you can see beautiful fall foliage in your own neighborhood or several hours away, the stunning beauty of fall is always worth admiring.
Of course, New England is known for being the ideal place for leaf peeping, but many other parts of the country offer beautiful fall foliage as well, including gorgeous golden aspens in Colorado, colorful maples and oaks standing out among deep green fir trees in the Upper Midwest, and hues of red, orange, and yellow in the Appalachians, Alleghenies, or Great Smoky Mountains.
Family road trips set the stage for memories to be made, and including beautiful fall scenery makes them even better. If you do go on a road trip to admire fall foliage, make sure you look up when your destination is predicted to be in peak fall color.
7. Help the Homeless
Volunteering and helping others is a great way to bring your family together and help others in the process. It's also a great way to demonstrate the love of Jesus in a tangible way for our children. However, helping the homeless can seem daunting or too vague, so let's get more specific.
Many local food banks or shelters would be happy to have help serving those in need. Many churches partner with these organizations, so check with your local church first. You don't have to go through an organization, though. Helping the homeless can be as simple as buying or making some sandwiches and handing them out to those in need as you see them (sadly, it's rarely hard to find those who are homeless in most moderate to large cities).
Fall means cold weather is coming in many parts of the world, so bringing blankets, hats, or gloves to hand out is also helpful.
Photo credit: ©Getty Images/Marian Vejcik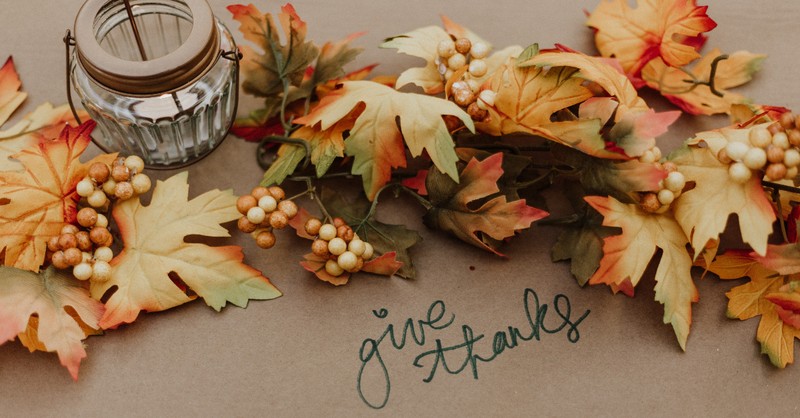 8. Decorate Your Home for Fall
Decorating your home is sure to get your family in the spirit of the season. Simple crafts are wonderful for keeping the younger kids occupied and learning as well. You can likely make some fall décor from items you have on hand or a quick trip to the dollar store will provide necessary supplies. In fact, the best way to bring some fall décor into your home may be to do a little foraging outside!
There are dozens of variations of fall wreaths you could make, fall-themed table centerpieces to add some fall flavor to the family gathering space, or simply have your kids decorate a piece of construction paper with fall-themed drawings, providing fun extras like cotton balls for clouds, glitter for fall leaf colors, or pipe cleaners to shape into pumpkins or other fall things.
Other fall craft/décor ideas are making corn husk dolls, making leaf drawings, pressing leaves or flowers, or making a thankfulness turkey from paper plates, construction paper, and other supplies.
9. Have a Bonfire and S'mores
Who doesn't love the smell of a bonfire on a cool fall evening? You can even recruit the older kids to help start the fire (with proper supervision, of course). If you live in the country, this may be easier, but most towns and cities allow small, recreational fires as well. Once you have the fire going, bring out the graham crackers, chocolate, and marshmallows. Having the family gathered around the fire is a great place to catch up, tell stories, or simply enjoy being together.
10. Write Thankfulness Notes to Your Neighbors
As the holidays approach, we tend to focus more on thankfulness. A simple, but meaningful way to teach your kids about thankfulness and kindness is to write personalized notes to your neighbors and leave them in their mailboxes. These are sure to be even more meaningful if they are decorated with love by your kids, and this simple gesture could spark a deeper connection between your family and your neighbors.
Did any of these activities sound like something your family will undertake this fall? We hope they inspire you to greater appreciation of God's creation, deeper connection with your family and those around you, and more laughter and joy this fall season.
Photo credit: Unsplash
---