4 Signs You're the Mom Who Needs a Break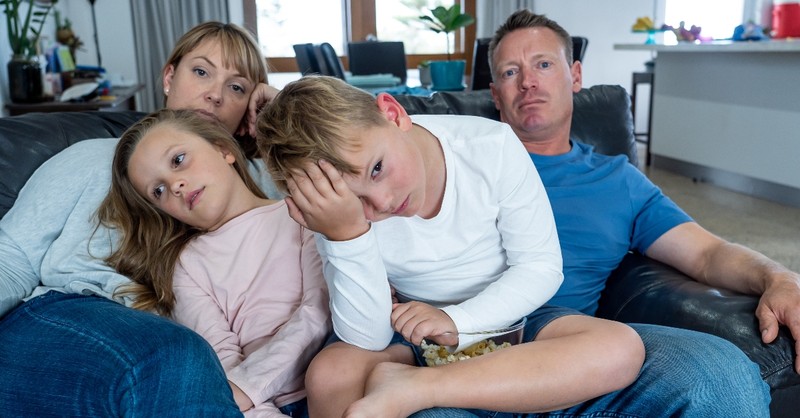 I wanted to be present with my kids, but everything distracted me. While my daughter played outside, an airplane flew over our house, leaving a long jet stream in its wake. As I watched it disappear, a sense of longing filled me.
Where are they going?
I wish I was on a plane, traveling somewhere.
The train of thoughts continued until I heard my daughter yell, "Mama! Mama! Swing me!" Immediately, I turned my attention back to her and pushed her on the swing. But after a few minutes, my mind wandered again. Then, the guilt came because I wasn't staying in the moment and enjoying this time with her. What was wrong with me?
No matter what age your kids are, you've probably felt the exhaustion of being the go-to person for everything under the sun. As much joy as motherhood brings, it also brings a lot of physical and mental fatigue. A break may be the last thing on your mind because who has time for one? You may ask yourself, "If I'm not here to take care of the kids and the daily chores, who will?"
Even though a break may seem impossible, the benefits of taking one are manifold. While you may not be able to take a trip or weekend away, even an hour-long reprieve can replenish and help you face your day with more energy to care for those who need you.
Here are four signs you're the mom who needs a break:
1. You frequently snap at your kids or your spouse.
This doesn't refer only to yelling. It can also refer to a tone of voice that says, "I'm done. Don't bother me." My husband constantly reminds me that my tone and body language say much more than the words themselves. And if I need a break, everything I say has a short, snippy tone and attitude to it. This is usually because my internal fuse has reached its limit.
Another sign you need a break might be that your kids' behavior is constantly causing you to have angry outbursts. You feel like you are on edge all the time, as though you may explode at any given moment. When we are intentional about taking time for ourselves, we are better able to take care of those who need us. Instead of being at our wit's end, we can care for our family from a state of rest. Is this going to be the case all the time? No, but when we do our best to take care of ourselves, God will step in and meet us in our weakness.
"But he said to me, 'My grace is sufficient for you, for my power is made perfect in weakness.' Therefore I will boast all the more gladly about my weaknesses, so that Christ's power may rest on me." 2 Corinthians 12:9 NIV
2. Every time you see a vacation ad, you picture yourself in the middle of the scene.
While taking a vacation every now and then is a great way to replenish ourselves, most of us have to plan for these types of trips. And if we're always daydreaming about time on a beach or somewhere far away, it is probably a sign that we need to a break.
When I pictured myself on the airplane that flew above our home, I knew I needed to take some time decompressing. Sometimes this simply means reading a book or taking a drive in a quiet vehicle. Recently, I spoke to a mom who sits in her car alone for several minutes after running an errand. This is her time to recharge. It doesn't cost her anything and it doesn't last long, but it helps her to enter her home refreshed and ready to take on whatever awaits her on the other side of the door.
Friends, even Jesus took time away from his disciples and the crowd to rest, to pray, and to connect with the Father. If Jesus took this time, what makes us think we don't need to take it?
"But Jesus often withdrew to lonely places and prayed." Luke 5:16 NIV
A break doesn't have to be complicated, pricey, or inconvenient. It can be whatever means you create to give yourself a needed breather to connect with God so you can reenter your home life with a bit more calm and peace.
3. Your energy is depleted all the time, no matter how much sleep you get.
While there are many contributing factors to our level of energy, including diet and exercise, low energy can also mean we haven't taken any time for ourselves. Spiritual rest doesn't refer to a state of inertia or lack of activity but refilling our souls. We do this by spending time with God, engaging in activities that bring us joy, and paying attention to our inner thought life. But when we're constantly running around, escorting our kids from activity to activity with no downtime, spiritual rest is often neglected.
Jesus knew how important it was for us to experience true rest, which is why he said these words to his disciples:
"Jesus said to them, 'Come away with me. Let us go alone to a quiet place and rest for a while.' Many people were coming and going. They could not even eat. So they went away in a boat to a lonely place by themselves." Mark 6:31-32 NIV
Jesus didn't wait until people stopped following him and his disciples or until every need was met. He stopped the disciples in the middle of the chaos and said, "Come away with me." He was intentional about taking this reprieve because he knew this was the only way they would get the rest they needed.
4. You have a hard time identifying things that bring you joy.
When we become moms, our identities often become tied to our kids. It's not an intentional process but one that comes automatically. We spend hours changing diapers, feeding our babies, and making sure they have everything they need. This is a natural part of being a mother. But somewhere along the way, we often lose sight of who we are apart from our kids. We forget our uniqueness and the beauty of our own passions, joys, and pursuits. These unique facets of our personalities are ones God put there for a reason. He has plans for each of us, and when we fulfill them, it brings us a sense of joy and purpose.
"For we are God's handiwork, created in Christ Jesus to do good works, which God prepared in advance for us to do." Ephesians 2:10 NIV
Of course our kids bring us joy. We record their milestones on social media and share them with our friends and family. But I'm talking about activities and experiences other than those with our children. Is there a specific activity you engage in that fills you up and brings a smile to your face? Perhaps you love to paint, journal, or go for long walks in nature. Whatever it is, take time to do it. If you have a hard time identifying something that brings you joy outside of the hours you spend each day with your children, it may be a sign that it's time for a break.
No matter what season of motherhood you're in, you've probably felt like you're being pulled in one hundred different directions at once. Taking a break is not a foolproof method for making this feeling go away, but it will help recharge us. When we take intentional time to care for ourselves, it benefits not only ourselves but everyone around us. We can tackle tasks from a place of refreshment and rest instead of feeling as though everyone is depleting our peace.
Mom, if you need to take a break, I encourage you: take one. It may require asking someone to help you and that's okay. But please, don't feel guilty over the need to rest and recharge. None of us are created in the image of the Energizer bunny. We are created in the image of God, and God took time to rest. We need to do so as well.
Photo Credit: ©Getty Images/Sam Thomas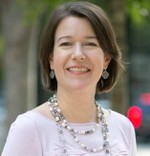 Abby McDonald is a writing coach and the author of Shift: Changing Our Focus to See the Presence of God. Her mission is to empower women to seek God in the middle of life's messes and to share their faith with courage. Abby writes regularly for Proverb 31 Ministries' daily devotions team, and her work has been featured in numerous publications. You can connect with Abby on her website where you can grab a free worship playlist to help you shift your focus toward God. You can also connect with Abby on Instagram.
Related podcast:
The views and opinions expressed in this podcast are those of the speakers and do not necessarily reflect the views or positions of Salem Web Network and Salem Media Group.
Related video:
You can read Rhonda's full article here!