5 Ways Cord-Cutting Helped My Parenting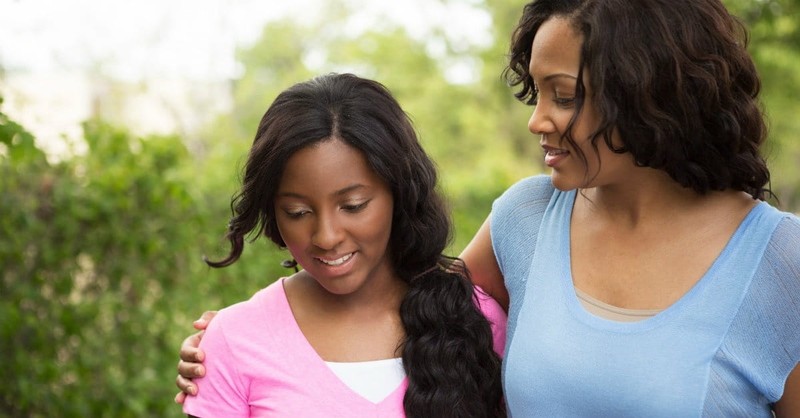 You love your child and want to hold on tightly. I understand.
But there comes a day when you and I have to loosen our grip on our kids and let them fall out of the "nest" so they will flap their wings and learn to fly.
Cutting the cord is not easy, but it's best for your child and for you. And after letting go of my only child a few years ago, I realized how freeing it was, and how much it improved my health, my spiritual life, and my relationship with my now 24-year-old daughter.
Here are three ways cord-cutting helped my parenting and can help yours too:
1. Letting go helped me become an encourager, not an enabler.
When we continue to do all we can to help our children, it makes us feel good. But it makes them feel smothered. And at times, it keeps them from growing up and becoming responsible adults. 
Every child reaches the age where they want their freedom, the chance to make mistakes on their own, and the ability to say "I did this myself." When I started hearing Dana complain each time I stepped in and when I finally tired of hearing "I'm old enough to do this myself" I backed off. And guess what happened when I stood at a distance to cheer her on, encourage her, and let her know I was praying for? She started coming to me and asking for help, advice, or prayer, rather than continually rolling her eyes and resisting it when it was offered. 
You can transition from enabler to encourager when you let your child know you believe in him or her and you'll be standing by when they need encouragement, but you won't be doing the job for them. It might be difficult to say, at first, especially if they WANT your help with everything. But, in the long run, letting go is much easier than hovering over them and trying to hold onto a protective, controlling, or authoritative position that is no longer yours.
2. Letting go helped me become more obedient to God.
Scripture exhorts us to "Train up a child in the way he should go, And when he is old he will not depart from it" (Proverbs 22:6). The last part of that verse implies our children will reach an age where they make their own decisions, travel their own paths, and in some cases choose their own beliefs and values. 
Our task as parents, in addition to training our children in the way they should go, is to help them become less dependent on us and more dependent on God. That happens when we obediently let go and entrust them into God's hands to learn, fail, and even suffer at times, if that's what it takes for them to come back to the Lord. 
When I stopped rushing in to protect my daughter, she became more responsible and, more importantly, she started depending on God, not me. Today, she doesn't need me to look over her shoulder, remind her of appointments, try to protect her, or suggest a better way to do something. In fact, she is often the one reminding me, helping me, and sometimes looking over MY shoulder. By letting her do things on her own, I am allowing her to discover her true need for God and His wisdom and guidance. 
3. Letting go improved my relationship with my child.
When I was writing my book, When a Mom Inspires Her Daughter, I asked daughters ages 12-40 about their relationships with their moms. Through their answers, I discovered that many daughters, regardless of their ages, said their moms worried about them too much. They knew their moms cared for them, but it concerned them, and at times annoyed them, that their mothers worried so much. 
By cutting the cord and choosing not to worry, you are investing in your relationship with your children. You are also giving them the gift of independence and moving from the role of one who stifles, to one who supports. 
4. Letting go improved my health.  
By hanging on to our kids, no matter how old they get, we become stress cases. And stress kills. It really does. 
Prior to writing 10 Secrets to Becoming a Worry-Free Mom, I researched the effects of worry and anxiety among moms. I discovered all forms of worry lead to stress which negatively impacts a woman's health, appearance, relationships, and overall quality of life. Stress prematurely ages us, giving us wrinkles and gray hair! Worry is also linked to ulcers and other health problems.
I began to feel younger and sleep so much better when I realized my child is in God's hands, not mine and that holding on through worry and stress does no one any good. By choosing not to worry, you are investing in your health, which is a gift to yourself and your family.
5. Letting go grew my dependence on God.
I remember the day I took ownership of my faith. I was 19 years old and I had just discovered I could no longer depend on my parents. I had to start depending on God. That lesson has stuck with me and reminded me, as a parent, that my responsibility to my daughter is to see her become independent of me and fully dependent on God. 
More than a satisfying career for her, more than a man of God to become her husband, more than her success and financial independence, I want her to grow in her faith and dependence on the Lord. And the best way I can help her do that is to let go and let her see faith and dependence on God modeled by me.  
Nothing grows a mom more in her faith and reliance on the Lord than stepping back and saying "God, this child is in Your hands. You loaned her to me to raise, now I offer her back to You and realize You can do far more in her life than I can. You can protect her far better. And You can guide her toward Your will so much better than I can."
That is true surrender – leaving in God's hands what is most precious to us. And as you cut the cord with your children, you may find you develop an even stronger bond with the Lord.
Cindi McMenamin is a national speaker and author who helps women and couples deal with the struggles of life. She is the author of 15 books, including When Women Walk Alone (more than 125,000 copies sold), When a Woman Inspires Her Husband, When a Mom Inspires Her Daughter, and her newest book, 10 Secrets to Becoming a Worry-Free Mom, upon which this article is based. For more on her ministry, books, or free resources to strengthen your walk with God, your marriage, or your parenting, see her website: StrengthForTheSoul.com.
Photo courtesy: Thinkstockphotos.com
Publication date: November 4, 2016