5 Ways to Parent Like a Coward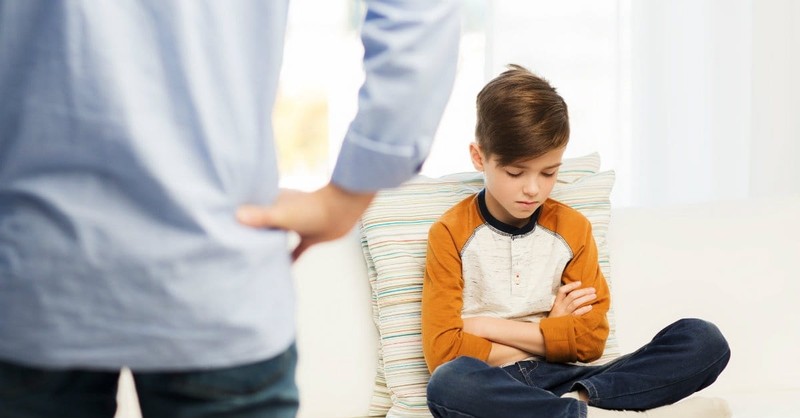 When it comes to our kiddos, lots of things scare us. Most moms and dads are passionate about their children and care deeply about parenting them well. Few things are more frightening than the possibility of being a failure as a parent. Just prior to one of my speaking events, a mom grabbed me saying, "I'm scared I will be the reason my child needs to see a therapist one day." 
Jim Dobson has said, "Parenting is not for cowards." In our quest to avoid failing, we may become either overzealous or timid in our approach. Over the last 10 years I have noticed a parenting trend where both moms and dads operate from a fear-based position, afraid of inadequacy, the child's emotions, failure, risk, and lack of control. 
1. The insecure parent says, "I'm afraid I'm an inadequate parent."
As I was speaking to a group of young moms, one woman expressed the commonly held belief that she is not enough: not caring enough, not sensitive enough, not strong enough, not equipped enough, and not loving enough.
Let me say to the parents who hold this belief, "You are enough. God chose you to be your child's mom or dad. You are not perfect. And that is by design." 
Praise God for imperfection. Just as God perfectly puts families together, He perfectly equips each parent with enough, but not everything needed to raise that little rascal. A perfect parent doesn't need God. A perfect parent would never be able to teach a child about grace and forgiveness, perseverance, and challenges.
A lack of abilities and sensitivities leaves room for kids to learn about repentance, respect, kindness, and unconditional love. Imperfect parents are the most effective people to train their children regarding humility and empathy.  
2. The parent emotionally controlled by the child says, "I'm scared my child will hate me."
Another mom shared she feared correcting her four-year-old daughter. She was convinced correction equaled rejection. This mom worried amending her child's behavior would cause her preschooler emotional damage while negatively and permanently impacting their relationship. When the mom attempted to train her child, her little gal would say, "Mommy, you are hurting my heart." 
There are times our kids will not like us. But if we proceed to parent permissively and neglect to create limits we set the stage for resentment. Kids feel secure when they know mom and dad will keep them safe by enforcing behavior guidelines and stating expectations. 
Kids hold us emotionally hostage when we buy into their threats of hate and anger. If we are unwilling to lead, we will end up with exactly what we hope to avoid—kids who do resent us, who are angry, dependent, disrespectful, whiny, manipulative, and demanding. 
As for the mom mentioned above, I suggested she tell her little one, "I'm talking to your brain not your heart." 
3. The parent seeking perfection says, "I don't want my child experience failure."
Maybe success is the ability to learn from situations and outcomes that don't turn out well. If we get in the way and prevent the life lesson of failure, we will be doing our kids a great disservice. Failure is a quality to embrace. Doing something wrong leaves room for learning. 
Here are five blessings from failure: 
Failure alters perspective while promoting a sense of humor. It points out it is not the end of the world. We learn not to take ourselves so seriously when something doesn't turn out as planned.
 
Failure gives one permission to seek assistance. Failure teaches our kids that asking for and accepting help is a good and smart thing to do.
 
Failure develops the personality traits of grace, forgiveness, compassion, and empathy. We more readily relate to others who struggle when we have experienced failure and disappointment.
 
Failure births patience and creativity. It is the best way to build the tenacity muscles, increase creativity, and develop problem solving capabilities.
 
Failure increases a person's prayer life. It can draw people closer to the Lord. 
When we rescue our children from failure, we rob them of the blessings it can bring.
4. The risk averse parent says, "I don't want my child to get hurt." 
Typically moms fall into the risk averse category. No mom wants her child to get hurt. And most will do whatever it takes to prevent emotional pain or physical injury. 
But… if we want to raise a leader, our kiddos need to experience taking a risk. (Of course I'm not talking about being reckless, careless, or immoral. I'm talking about a little adventure and some uncertainty.) 
Parents, be brave and avoid: 
Being uber-realistic. Let your kids dream and pursue a passion.
 
Rewarding just to "be fair." Rewards are earned. Rewards do not necessarily need to be material. Rewards can be verbal and intrinsic, "Wow I bet that feels really great to have earned that blue ribbon."
Removing obstacles for your children. Let them jump the hurdle, deal with difficulty, and take responsibility for an undesirable outcome.
Raving when the results aren't great. Help your kiddos have an accurate assessment of their strengths and weaknesses. Give feedback that's meaningful, clear, specific, concise, and present it with kindness. Train them how to advocate for themselves when they need assistance or support.
Building our kids' character by allowing some risks increases their confidence and   competence. When they feel secure and loved, they will be more satisfied and successful in life. When we allow them to take a risk and conquer fear they will discover who they are, what they believe, and by doing so increase their dependence on their Heavenly Father. 
The goal is for our kiddos to be who God created them to be. Part of achieving that aim includes conquering fear and stepping out of the boat. 
5. The controlling parent says, "I'm fearful I will lose control." 
Just as mom doesn't want her precious little one to be hurt, dad may be afraid he will have a home where chaos and disrespect run wild. He moves from an unmet demand or expectation straight to punishment. His forceful and controlling approach is propelled by fear, the fear that he cannot control his children. 
This micromanaging, overbearing technique often sounds like threats, lectures, and preaching. The child may comply while he is in his parent's presence but when he is off on his own, resistance and rebellion will result. The very thing the controller had hoped to extinguish will come alive as the child becomes a teen or young adult. 
Rather than worry so much about behavior, be more concerned with developing the child's character. If the child is disrespectful, begin talking about, modeling, and expecting respect. "I treat you with respect, I expect respect in return. Restate your thought respectfully." 
God gave us our children. He knew what he was doing. We can confidently parent from a place of strength. We are free to be imperfect. Train your kids, after all that is the job of a parent. Allow for failure and risk. Don't parent like a coward. Be strong and courageous. 
For more information on parenting styles go to Amazon and pick up your copy of Raising Little Kids with Big Love (toddler- nine) or Raising Big Kids with Supernatural Love (tween-young adult). 
Lori Wildenberg is a licensed parent-family educator, co-author of three parenting books, co-founder of 1 Corinthians 13 Parenting. Contact Lori to schedule her for a seminar, retreat, or speaking event. Go to www.loriwildenberg.blogspot.com to subscribe to Lori's Eternal Moments blog. 
Publication date: October 13, 2016