7 Things That Happen When Your Child Moves Away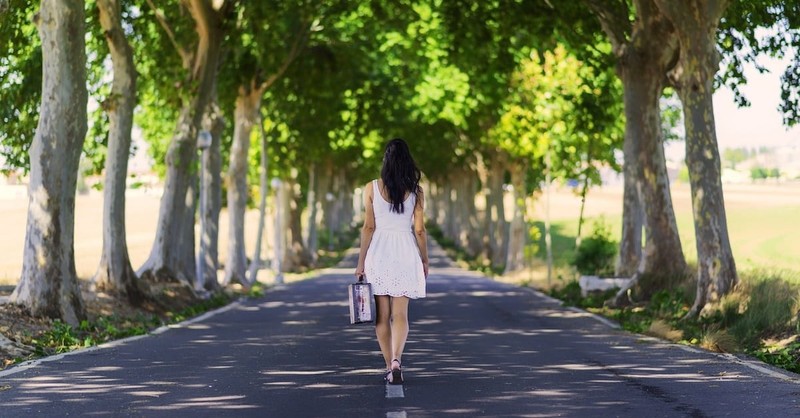 I held on to my son until he whispered, "Mom, I've got to go." Emptiness coursed through my heart as I watched him drive away. After my son Bryant graduated from college last spring, he took a videography job in Montana—two thousand miles away from home—and while I was truly happy for him, I was not so happy for me.
Montana sounded so inaccessible; he might as well have moved to China. Weekend visits were impossible. I didn't know a single person who lived there. Who could he call if he needed someone?
His truck was packed with an old chest, camera equipment, camping gear and one of my grilled turkey sandwiches with pimento cheese. Driving across the country alone was dangerous. I wondered: How can I let him go? Have we prepared him well enough? What if he never moves back home, again? I felt an inward chill as I realized that every state he crossed would be another state standing between us.
When your child moves away, you are taught some hard lessons. But as time has gone by, I've adjusted better than I expected. Here are 7 things I have learned:
1.     To let go.
Childhood is supposed to end—this is life's natural order (even though it feels pretty unnatural, at first). Hovering over my grown children only thwarts their growth and pushes them farther away. As they transition, I must transition also.
2.     To not grieve over what might happen.
Fear is like a heavy freight train sitting on top of a mountain; once it starts heading down the track, it can be pretty hard to stop. Dwelling on what might happen in the future is defeating. Focusing on what is happening in the moment is much better. I've learned to guard my thoughts carefully so that I won't start down fear's fast track.
3.     To establish an emotional boundary.
My son's life isn't my life—sometimes the boundary line can get blurry for me. Bryant's life represents who he is, not who I am. He has the right to choose for himself where and how he will live. He no longer has to answer to me; he has to answer to God. This takes the pressure off of me—which in turn, takes the pressure off of our relationship.
4.     To accept this new season of life.
Trying to keep things the same only causes our lives to become stagnant and impure. Accepting new seasons frees us to grow and learn new things. Helen Keller once said: "When one door of happiness closes, another opens; but often we look so long at the closed door that we do not see the one which has been opened for us." After my son left, I decided I didn't want to long for closed doors anymore. I wanted to open new ones. That meant I had to stop pining away for the past and accept that my life had changed. 
5.     To be an encourager.
In the past, I haven't taken being an encourager very seriously. Now, I see that it is an important new role that I can play in my adult children's lives. I can't tell Bryant what to do anymore, but I can cheer him on as he pursues his dreams and goals. As his encourager, it's important for me to reinforce the good I see in him by saying, "I'm proud of you," or "keep up the good work," every chance I get.
6.     To keep growing.
With God's help, I'm slowly recreating my life after day-to-day motherhood. Even while Bryant was in college, I started writing, speaking and serving in various places. This year, I have been to classes, conferences and done some traveling. Learning, growing and taking risks to do something meaningful has actually been exciting! I've met the most interesting people and learned to do a lot of new things. Goals and self-improvement beat being stuck in the past, hands-down.
7.    To cling to God.
Perhaps God designed life to have different seasons to draw us closer to His heart. Why? Because that's where transformation occurs. That's the place where we feel the most alive. Being in the presence of His love, greatness and excellence rubs off on us.
You may be facing an empty place at your table or an empty room in your home for the first time, right now. Maybe your child recently boxed up his or her things and moved on to college, a new career, or marriage. You might be feeling a little lost. You may be struggling to accept change or longing for doors that are now closed. Perhaps it's time for you to stop holding on to the past.
Remember, if God cares even for the tiny sparrows that fall, then He cares for and loves you so much more (Matthew 10:29-31). God has more planned for you if you are willing to let go and move on. Draw closer to Him as you work through seasons of change. He can teach you how to live beyond the past and embrace a whole new season. One day, after you have learned to enjoy this new phase of your life, you will realize that change can be one of God's greatest blessings.
May Patterson has been writing and teaching bible study classes for years. Her new book, "Seeking a Familiar Face," was birthed from a Bible study she wrote in 2014 called "A Time to Seek." She was trained in small group dynamics for over ten years at Bible Study Fellowship, serving as a leader for four years. She has written for several magazines including Focus on the Family, Upper Room Magazine and Shattered Magazine, among others. She is married to her dear friend, Mike, and they have three grown children. She loves to tell stories, laugh, and talk about the adventure of seeking God. For more information, visit http://www.maypatterson.com.