Am I Doing This Parenting Thing Right?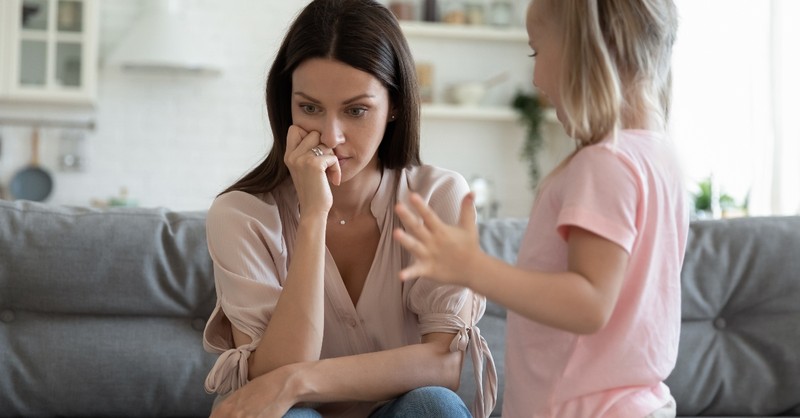 No matter how many kids you have or how old they are, you are always treading on new territory as a parent. They grow, you change, family structures evolve, circumstances and social groups shift; and all the while the question presses in the back of your mind: am I doing a good job?
This is a natural question to ask. We were designed by God with hearts that desire to make an impact, and we long to secure the wellbeing of the people dearest to us.
However, in a world where there are so many standards against which to measure performance, we can easily become overwhelmed and discouraged as the loud and varying opinions surrounding us assert themselves into our parenting approaches.
Whether it comes from social media feeds, that judgmental woman in the checkout line, or even from within our own families, we are frequently confronted with often conflicting views of what makes a good parent.
What Measure of Success Are You Using?
A first step in addressing the question of whether or not you are doing a good job in your role as a parent is to consider what rubric you are using to measure success. When you think of a "good mom" or "good dad," what images come to mind?
Upon my own examination, I discovered that I held a very unrealistic model for acceptable motherhood. Through years of comparison, I had pieced together a mental collage of amiable traits that I had seen in other moms--some came from qualities I had observed in other mom friends of mine, and others were patched together from contextless snippets of Instagram stories, blog posts, and--embarrassingly--even stock photos from Pinterest.
I was gathering all the best aspects of what I noticed around me, and forming a Build-a-Bear-type super mom that I believed was not only an attainable standard, but an expected one.
While it's not an inherently bad idea to glean best practices from those around you, it becomes a problem when you morph them together into a fantastical baseline for your parenting. Aside from the fact that this highlight-reel collage of a good mom was unachievable, it also was based solely on my own personal opinion of what I deemed as valuable.
I needed to repent of this dependence upon myself and return to God's Word as the arbiter of what I actually ought to be reaching for in my role as a parent. The Lord's guidelines for parenting needed to become the lens through which I discerned which approaches to keep and which to let go of.
Read on for a few tools to help you find confidence and peace as you shape your parenting approach in accordance with God's Word. There are two main areas to focus on.
1. The Call of Instruction
There are several prescriptions sprinkled throughout the Bible in regard to parenting, as well as some that can be derived from other basic principles. These can be summarized into one calling: discipleship by means of instruction and love.
Biblical discipleship as parents means preparing our children to thrive as followers of Christ in their adult life. All humans naturally gravitate toward foolishness (Proverbs 22:15), therefore we all need someone to help steer toward the path of wisdom and righteousness, preferably beginning at a young age.
Proverbs 22:6 tells us to "Start children off on the way they should go, and even when they are old they will not turn from it." God specifically calls parents to fulfill this responsibility because they are the ones who know their children the best and care the most deeply about their welfare.
The duty of instruction is likewise included under the umbrella of discipleship. While we don't necessarily need to serve as the sole providers of every type of instruction that our children receive, it is our job to oversee it.
Regardless of the various paths we choose, there is one aspect of our children's education that God does specifically prescribe for all families: Biblical instruction. 2 Timothy 3:16 states, "All Scripture is God-breathed and is useful for teaching, rebuking, correcting and training in righteousness…"
Scripture is the best and most essential tool that we as parents possess when it comes to raising our children, and it ought to serve as the anchor for our families' daily life.
"These commandments that I give you today are to be on your hearts. Impress them on your children. Talk about them when you sit at home and when you walk along the road, when you lie down and when you get up. Tie them as symbols on your hands and bind them on your foreheads. Write them on the doorframes of your houses and on your gates." (Deuteronomy 6:6-9)
2. The Duty to Love
Love--another aspect of discipleship--can be applied in parenting through the hand-in-hand practice of kindness and discipline. Many are familiar with the sometimes controversial passage from Proverbs 13:24, "Whoever spares the rod hates their children, but the one who loves their children is careful to discipline them."
Regardless of your view about spanking as a form of punishment, all believers have a responsibility to discipline their children as a part of their parental faithfulness.
The ESV version of this verse describes the parents who love their children as "diligent to discipline." Discipline is often wearisome work. It can be hard to say no, especially to the people that we love the most.
It can feel exhausting to retain the boundaries that we draw for our kids, especially when you know that a temper tantrum is imminent. But part of the work of a loving parent means being willing to disappoint our kids for the sake of their wellbeing.
It can also feel difficult to walk the line of remaining firm but kind with our children, especially when you are lacking sleep or frustrated by the need to revisit the same issues with your kids over and over again.
In Ephesians 6:4, Paul makes a special point of exhorting parents to couple discipline with kindness: "Fathers, do not exasperate your children; instead, bring them up in the training and instruction of the Lord."
Our role as parents does not stop here at mere kindness, nor at the restraint of our temptation to exasperate them (especially when they are being especially...exasperating). We have a much weightier responsibility to actively love them, pursue their hearts, and value them as image-bearers.
Even on the days when they feel like more of a burden than a gift, our job is to cherish our kids with the type of love that reflects that of our faithful Father.
Consider Jesus' attitude toward children: In an age when children were frequently cast aside, He repeatedly switched gears in a lesson in order to look upon and welcome little ones into His arms. "Jesus said, 'Let the little children come to me, and do not hinder them, for the kingdom of heaven belongs to such as these'" (Matthew 19:14).
We likewise need to arrange our lives and our priorities so that we can bless our kids with time, attention, and the simple but essential gift of genuinely enjoying them. We need to provide not only physically for their needs, but also emotionally.
This duty remains not just during the moments that they make us happy or proud, but also when they are hard to love. If young ones were important enough to Jesus for Him to make room for them in his short three years of earthly ministry, then they should be important enough for us to likewise yield our agendas, resources, and emotional energy on a daily basis for their benefit.
What If I'm Not Doing it Right?
The road of parenthood has a particular way of repeatedly bringing us face to face with the ugliness of our sin. Before becoming a parent, I thought I was a pretty selfless and laid-back person. I also didn't seem to have a swearing or anger problem.
In my brief seven years as a mom, I have been stretched in ways that I never thought I could, and have discovered sinful traits within myself that I never knew existed.
As we put into practice the parental duties laid out in Scripture, we will become increasingly aware of how often we fall short. However, we can find encouragement in the fact that there are two things that Biblical parenting does not require: perfect performance and results.
Look at the characters peppered throughout the Bible--None of them were perfect, and in fact many failed miserably. However, Jesus' specialty is using the weak and broken as a platform for His power and mercy.
Pastor Tim Keller explains, "The gospel is this: We are more sinful and flawed in ourselves than we ever dared believe, yet at the very same time we are more loved and accepted in Jesus Christ than we ever dared hope."
God already knew about the ugly things inside of each of us, and He provided forgiveness through His Son and the power for change through His Spirit. And what's especially beautiful about the Lord's work in the midst of our life as parents is that, as our weaknesses daily draw us toward the habits of prayer, repentance, and dependence upon the Word and the Church, we provide our kids with an example of what it means to live as a child of God.
We learn to look to Him for help through the difficulties of life and parenting, and our children will observe us and, Lord willing, learn to do the same.
No matter how faithfully we grow in discipling and loving our kids, it is not our job to guarantee the way they turn out. Ultimately, the Lord is the One who draws our children to Himself and changes them into the people that we hope they will become. In a poem revitalized by Elisabeth Elliot called Do the Next Thing, we find an encouraging reminder of the distinction between our work as parents and God's work as faithful Ruler:
"Do it immediately, do it with prayer;
Do it reliantly, casting all care;
Do it with reverence, tracing His hand
Who placed it before thee with earnest command.
Stayed on Omnipotence, safe 'neath His wing,
Leave all results, do the next thing."
We can trust our kids with He who loves them even more than we do. Wherever we are in this long journey of parenthood, let's offer both ourselves and our children up to the Lord, and look to Him for the outcome.
Photo Credit: ©Getty Images/fizkes
Julie Davis is a retired ballet dancer-turned-homeschool mom of 3 young daughters. Her passion is for walking alongside fellow believers and reminding them of the grace and power of the Gospel in their lives. She loves to ponder and laugh at the adventures of life and motherhood via her Instagram and blog. Julie and her husband George live in Richmond, Virginia and enjoy hosting friends, getting outside, and sipping on moderately priced bourbon.